It's almost impossible to avoid talking about AliExpress in dropshipping business. As a platform that can import and source products from AliExpress, EPROLO shares something in common with the website. However, there are also differences. Then, which is more suitable for your dropshipping store? The answer may be in the following comparison of EPROLO vs AliExpress.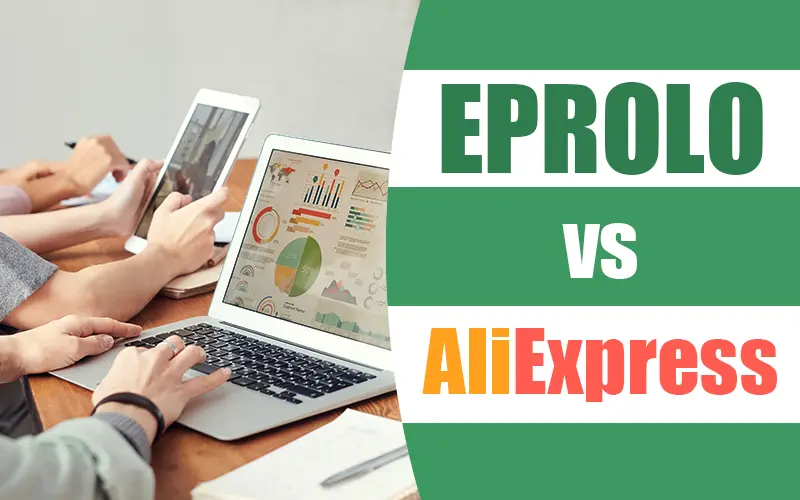 1. EPROLO vs AliExpress Dropshipping Business Model
To compare the two websites, first, you need to know what is dropshipping. To put it simply, drop shipping is a way that online store owners use to fulfill orders. They run an ecommerce shop without keeping inventory. Therefore, they need a business partner to manage great products and ship them to customers. It doesn't need any upfront cost. Online business owners place orders with the dropshipping supplier when they receive orders in stores. Next, they will pass packing and shipping on to suppliers. And dropshipping suppliers will take over order fulfillment. The cooperation between ecommerce store owners and suppliers is called dropshipping business model.
EPROLO and AliExpress are two platforms that support the dropshipping business model. But, there are some differences between them, especially in the way of finding products and handling order fulfillment.
1) What is EPROLO dropshipping business model?
Being a Chinese AliExpress alternative, EPROLO is a platform specialized for people who are running ecommerce stores. It functions as a wholesale market that allows dropshipping store owners to import products and get started selling online. Further, order management, payment and fulfillment are completed in the platform. It has no upfront cost and meets the essential requirements of starting dropshipping.
In a word, EPROLO drop shipping is a business model that storekeepers use as a one-stop fulfillment solution for their online business.
2) How to find dropshipping products on EPROLO?
Find products to sell online is a hot issue among drop shippers. EPROLO provides more than 300 thousand products that cover 107 product categories. They include these: Fashion & Clothing, Jewelry & Accessories, Cars & Motocycles, Beauty & Health, Mother & Kids, Sports & Outdoors, Phones & Accessories, Home Improvement, etc. To better serve dropshippers, the platform has hand-picked Top 100 dropship products. And, it updates new trending products weekly. People can get inspiration from trending items. In addition, EPROLO also provides great products that ship from the US. Those items have a shorter delivery time and meet the demand of fast shipping.
3) How does EPROLO work?
EPROLO dropshipping services include add products to stores, auto-sync store orders, source products, packing, shipping, tracking, and branding. Platforms such as Shopify, WordPress, eBay and others are available to use it.
People can find various dropshipping products on the EPROLO dashboard. Click the button Push to Store, they can import items conveniently. For fulfillment, orders that customers place in the online store will be synced to EPROLO automatically. Then storekeepers can make the payment after confirming the shipping info. Then EPROLO will pack the dropship products in its warehouses and ship them to the customers. A tracking number will be updated once the package is shipped. And dropshipping store owners can track the status directly by clicking the number.
EPROLO can be regarded as a dropshipping sourcing agent. It is available to source from AliExpress and other wholesale websites. People can import AliExpress products with the links. Or they can use the EPROLO Chrome extension. Ecommerce business owners need to submit a sourcing request in the next step. And the platform team will visit the product page, verify and quote the item. The order fulfillment process is the same as mentioned above.
As for the branding service, you can contact the customer support team to customize package boxes, scotch tapes, and gift cards. Shopify store owners can upload their logo and order custom packaging in Account > Custom. To get started selling self-designed products is also possible. EPROLO launches a Print on Demand platform. You will find plenty of POD products and it allows you to make custom design. When the design is finished, people can import their individual trending products to stores.
1.2 AliExpress Dropshipping
1) What is the AliExpress dropshipping business model?
AliExpress is an ecommerce website with over 100 million products. There are thirteen main categories on its home page. The numerous items and large collections make it one of the biggest marketplaces in the world. This advantage makes it a good idea to start dropshipping with AliExpress. So, what is AliExpress dropshipping? To put it shortly, it's a business pattern that online store owners sell AliExpress products fulfilled by AliExpress suppliers.
2) How to find dropshipping products on AliExpress?
AliExpress contains hot selling products from fashion, phones, offices to jewelry, beauty and toys. It has set up a collection of AliExpress best sellers. The website has picked top-ranking items of several categories. It's helpful to see sale volume.
However, not all products on AliExpress are possible to dropship. Many AliExpress suppliers require a minimum quality. They do not accept drop shipping orders. Due to this reason, find dropshipping products on AliExpress could be time-consuming. As dropshipping business developed, the inconvenience becomes more and more protruding. Thus, to better serve the drop shipping business, the website launches a product research tool to help. That is AliExpress Dropshipping Center, also known as AliExpress Booster Program. It's a good idea to use it to find products without contacting customer support to confirm whether they can be dropshipped.
3) How does AliExpress Dropshipping work?
Whether you are running a Shopify store, WooCommerce store, or others, you can start dropshipping with AliExpress. Then how can ecommerce business owners dropship from AliExpress? There are two ways for it.
Use a dropshipping app or extension
Those can help with importing products from AliExpress to the store. Take EPROLO for instance. Its extension supports such a service. People can import products while browsing AliExpress. Click the icon at the bottom right of the item, users can view the product in the EPROLO Import List. When there is an order, users can easily complete the payment on EPROLO. And the platform will pack and ship the product. That is to say, you can deal with AliExpress product orders in EPROLO directly.
Use AliExpress dropship center
Before using it, there is one thing you need to be clear about. AliExpress dropship center, also AliExpress booster program is a product research tool. You can find dropshipping products from different AliExpress sellers and view sale volume on it. You are unable to connect it with your store or pay directly. So, how to use AliExpress Dropshipping Center?
First, you need an AliExpress account. Login to the center you can find and add products to sell. There are hot selling, search by image, and sponsored products section. In the hot selling products section, you can search items by product categories, delivery time, ePacket, free shipping, etc. And you will find results including the product price, order volume, and rating. Click the one you like, it jumps to the product page and you can view all details. If you use search by image, uploading an image and find. Now, the sponsored products section doesn't list any information.
When placing orders, you need to add the product to cart and then pay with your AliExpress account.
2. EPROLO vs AliExpress Delivery
Delivery is a crucial part of the ecommerce business. In this section, we will discuss the comparison according to the following: the shipping options, delivery time and tracking.
2.1 EPROLO Delivery
EPROLO manages warehouses in China and overseas. All dropship products are packaged and shipped from its warehouses. The platform offers four main expresses, which are UK Express, US Express, CA Express, and AU Express. There are several options for shipping. Products can be shipped by DHL, USPS, 4PX, ePacket shipping, Canada Post, Australia Post and others, no free shipping. And you can select one according to shipping costs or other factors.
The delivery time of EPROLO is varied because of the shipping options and countries. It usually takes 5 to 15 days to deliver a package. If the product is shipped from the US warehouse, the time can be cut to 2 to 6 days. In addition, EPROLO provides a shipping guarantee for users to avoid the loss caused by logistics.
Tracking package status is quite simple on the website. EPROLO will update the tracking number once the product is shipped. Users can check the number in EPROLO Orders. It will jump to the status page after clicking it.
2.2 AliExpress Delivery
AliExpress offers more than twenty shipping options. Commonly, it uses AliExpress Standard Shipping, ePacket, Cainiao, S.F. Express, and UPS.
AliExpress shipping time ranges from 4 days to 60 days. It is depended on what options the supplier use. Most dropshipping suppliers use multiple shipping methods to deliver products. Some sellers on AliExpress offer free shipping to attract attention. Of course, they will take destinations and shipping fees into consideration. Sometimes, to reduce shipping costs, sellers on AliExpress will use a slow method. And the package could take months to arrive. For example, ePacket shipping time is 18 to 40 days. Therefore, finding good AliExpress sellers is critical. It can minimize the risk of unacceptable delivery time.
There are two AliExpress shipping tracking methods. One is to track it in orders. People can visit My Orders > Track Orders to see the status. Another method is to use third-party platforms, like Cainiao and 17track.
3. EPROLO vs AliExpress Affiliate Program
Many ecommerce websites have an affiliate program. It aims to attract more people to join the website. Usually, participants will get an exclusive link and can earn commissions.
3.1 EPROLO Affiliate Program
EPROLO Affiliate Program is completely free to join. Participants can get an affiliate link by registering on the platform. Then they can share the link with others and earn commissions.
EPROLO provides 2% commissions on every order. The calculation goes in this way: Commission = Order Amount x 2%. People can check the order amount and the total commission in My Account > Affiliate. Besides, people can get additional invitation fees. Every Shopify store registered from the link will generate a reward of 200 E-Coins which can be converted to $2.
To withdraw commissions, EPROLO supports PayPal only.
3.2 AliExpress Affiliate Program
AliExpress affiliate program is also called Portals Affiliate Program. It's free to join. Participants can choose to promote events, products and APIs.
Commission rates are different based on promotion types and products. People can earn product commissions from tens of millions of items. To check the detailed commission rates, participants need to log into Portals Affiliate and go to Payment Center. It's said that the average site conversion rate is 3.5%. For income, people can view it in Reports.
As to withdraw commissions, AliExpress only supports international bank transfers. And there is one more thing to pay attention to. That is participants should withdraw when the balance is more than $16. Because a $15 processing fee is needed.
4. EPROLO vs AliExpress Reviews
4.1 EPROLO Reviews
Up to now, EPROLO has 910 reviews on Shopify App Store and with a 4.7 overall rating. The most frequently mentioned advantages are helpful customer service, fast shipping, and easy to use. To see more comment details, please click here.
4.2 AliExpress Reviews
Dropshipping beginners may have a question: is it a good idea to start dropshipping with AliExpress? To figure out the answer, the pros and cons of AliExpress need to be clear. Reading comments will be helpful.
Most of the AliExpress dropshipping reviews come from Oberlo and DSers, the platforms to dropship products from AliExpress. The advantage that is often mentioned is massive product quality and categories. Plus, the high traffic and reliable refund policy from AliExpress. But, the disadvantage can not be ignored. Complaints about long shipping times and suppliers' customer service are usual. To read more reviews, people can visit Shopify App Store.