Have you ever thought of making your brand a solid tool to grow sales? If yes, glad to see you here!
Brand building is quite insightful when running a dropshipping business. And EPROLO, a trustworthy supplier, is ready to support your business in branding. We have launched a Branding Project to help. Dropshippers who have stable orders per day can easily start brand building with EPROLO.
See how you can use EPROLO to build your brand!
How to Use EPROLO to Build Your Brand
EPROLO branding services are open to all dropshipping store owners and with features of no minimum order quantity, no inventory fee, and free to signup. We are responsible for everything, from product and package customization to dropshipping.
For Clothing Store Owners
Have you had such an experience? Your customers complain about the chaotic labels and poor packaging, who may never repurchase your products. Meanwhile, as marketing costs rise, you find it more and more difficult to make a profit.
Stop worrying. The best way to solve it is to build your own brand!
To solve online retailers' needs, EPROLO Branding Project is published. Dropshippers who have joined the project can enjoy the following benefits: custom label, custom hangtag, custom packing bag, custom gift card, and custom scotch tape.
Now, let's move to the step-by-step guide of the EPROLO Branding Project.
Step 1. Choose a clothing niche
Starting from a clothing niche is helpful to reduce costs and deepen a brand impression. But how to choose a suitable niche? You'd better first determine your target audience. Due to the fierce competition in the existing clothing market, choosing a smaller niche like organic baby clothes may take the lead.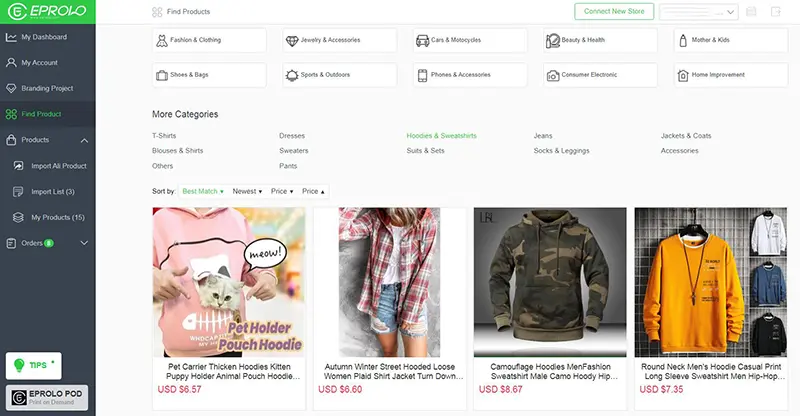 Step 2. Add products to store
It's time to find the specific products. You can find them in EPROLO. We provide over ten categories to choose from: T-shirts, dresses, hoodies, sweatshirts, jeans, sweaters, leggings, and others. After finding your favorite, add it to the Import List. Then you can push the product to your store with only one click and sell it.
If you find an item you want on other websites, like AliExpress, EPROLO can help with sourcing. Try the Import Ali Products feature in the dashboard. Only one link is needed and you can import the item from AliExpress to EPROLO. Find the AliExpress item in Import List and push it to your store.
* Customizable Clothing Types
T-Shirts
Dresses
Hoodies & Sweatshirts
Jeans
Jackets & Coats
Sweaters
Suits & Sets
Pants
Sports Clothing
Step 3. Join EPROLO Branding Project
Go to Branding Project in the dashboard. There are two membership plans – Junior Membership and Senior Membership. The benefits of each plan are different. You can choose one according to your sales and demands.
Junior Membership users need to upload the logo first. Drop down the page and you can see the window to upload files. Remember to use a high-definition picture to ensure customization quality. Now you can make the payment.
Join Senior Membership Plan requires an application. You need to send a screenshot of your store order data and wait for the approval. Once your application gets accepted, you can upload your logo and proceed with the payment.
Step 4. Confirm design diagrams
EPROLO will design the effect drawings with your logo. Your support agent will send the pictures via the message box, email, Skype, or Whatsapp. After you confirm the design diagrams, pictures in your membership benefits will be updated as below.
Step 5: Get orders and customize clothing with your logo
When you receive orders, the store orders will be auto-synced to EPROLO. Before you pay, please make sure that your membership status is "Enable". You can turn it on by clicking the button in Branding Project or directly under the order.
EPROLO will identify the clothing products in your order automatically. And the customization fee will also be calculated. The formula goes with: Customization fee (USD) = 2.00+ 0.50 x (N-1). Click here to learn more about Customization Pricing Rule.
Payment completed, EPROLO will customize the clothing products with your logo. And the clothing will be packed with the custom packing bag and shipped to your customer.
We Provide High Quality Custom Service
EPROLO takes your brand building seriously. With a long-term partnership with over 300 thousand dropshippers, we know what it needs to build a high-quality and trustworthy brand. See what you can get from EPROLO Branding Project!
We make better custom label
We make well-printed custom hangtag
We make superior quality custom packing bag
For Non-clothing Store Owners
For the time being, EPROLO Branding Project is only open to clothing stores. What if you are a non-clothing store owner? Use EPROLO Print on Demand and custom packaging services! These services are open to all kinds of online stores.
As for print on demand, Shopify store owners can use EPROLO POD to design their own products. The platform provides the following products: print clothing, bags, accessories, home decor, home set, etc. By using EPROLO POD, you can upload your design or add texts to make a personalized product. When you finish editing the item, you can push it to your store with one click. EPROLO POD will auto-synced your store orders and fulfill them.
Package customization is loved by 1000+ EPROLO users. Services contain custom scotch tapes, package boxes, and gift cards. For custom scotch tapes, you can go to My Account – Custom Packing and upload your logo. Custom package boxes and gift cards are opened to V5 users on EPROLO. You can contact the support agent for help if needed. When you finish payment, EPROLO will mark your orders and package them with your custom tapes, gift cards, and boxes.
You should not miss EPROLO Branding
Never has been so important to build your own brand as the competition intensifies. Store owners who have stable orders per day show enthusiasm in creating their brand identities.
The trend is reasonable. A brand helps to occupy more market share. Further, it is closely linked with trust. Although costs are required when you build a brand, a trustworthy image is worth investing in. And from a view of emotion, isn't it a proud thing to have a brand?
If you have stable orders and want to grow your business to a higher level, you should not miss EPROLO branding. We offer multiple branding services to fully support you. Build your brand with us now!