Wondering about how to find dropshipping suppliers? There is a comparison of EPROLO VS Oberlo, which may give you some idea.
Both EPROLO and Oberlo are dropshipping platforms. They are parts of the dropshipping business model, which take charge of order fulfillment. So it frees online store owners from keeping finding a supplier for each product. This process not only takes much time, but also it is difficult to make it run smoothly. When using drop shipping business, platforms always help supply products and arrange your customer orders and delivery. Dropshipping store owners only need to find trending products and make as many sales as they can.
According to statistics in 2020, there are more than 24 million online shops in the world. And 22%-33% of online retailers already use drop shipping as the main method to fulfill orders. No matter what others said about dropshipping is dead, it's illegal and unprofitable, the actual growing numbers will never lie. So, don't hesitate to start a dropshipping business and follow us to choose a trusted supplier.
1. EPROLO VS Oberlo dropshipping business model
1.1 How does Oberlo work?
Oberlo was established in 2015, and its parent organization is Shopify. It used to be a popular choice for beginners to connect Oberlo and Shopify. But even there are many eccomerce platforms for online store owners to choose, it's only available for Shopify dropshipping. So how does Oberlo work?
Oberlo is a platform, which connects Shopify store owners and wholesale suppliers. They select and import products from AliExpress. People can find products on Oberlo and see their details on AliExpress, for example, product suppliers and reviews. You can choose it or not by checking the supplier followers, positive feedback, lifetime and customer reviews of the product.
Does Oberlo automatically fulfill orders?
No, Oberlo doesn't automatically fulfill orders. After receiving customer orders, you need to go to the Oberlo dashboard, create an AliExpress account and fulfill them. Sometimes, the order won't be synced in Oberlo, you can contact the support team for help. To continue the ordering process, you will be redirected to the AliExpress website. Then, choose the desired shipping method and place the order. If there are products from different AliExpress suppliers in one order, you just need to repeat the above procedure. And multiple products in one order may be sent with several packages. Besides, for multiple orders, Oberlo can handle them for people who buy a pro plan.
With an Oberlo account, you never worry about where to find products and suppliers.
Install the Oberlo app on the Shopify store. Unlike CSV file drop shipping, you can easily add products and start selling with one click. Even if you don't find the trending products you want to sell online, use the Oberlo chrome extension. It helps to import AliExpress products to your dropshipping store easily.
For each product, you can see the information about suppliers. So you can compare multiple suppliers and choose the one you think is better. In general, the more followers and higher credibility of the online store, the better. Also, the opening time of suppliers on AliExpress can be used for your reference. Choose a reliable supplier that fulfills orders with quality control and guarantees delivery time is important to make dropshipping success.
1.2 How does EPROLO work?
EPROLO is not only a dropshipping platform, but also a supplier. Unlike Oberlo, EPROLO makes order fulfillment by itself. It's in charge of purchasing products, quality control, inventory management, packing and shipping.
EPROLO supports not only Shopify dropshipping, but also is available on other ecommerce platforms, like WooCommerce dropshipping and eBay dropshipping.
EPROLO dropshipping app can be found on the Shopify app store. Install the EPROLO app on your Shopify store, find and import products with one click. If you don't find the dropshipping product to sell, EPROLO developed a chrome extension that enables you to add products from AliExpress. Besides, EPROLO has a free WordPress dropshipping plugin to use. If you own a WooCommerce store, install the plugin on it. Then import products from AliExpress or EPROLO, and start selling products online. Also, you can use EPROLO for eBay dropshipping. Only register an account; you can freely use EPROLO.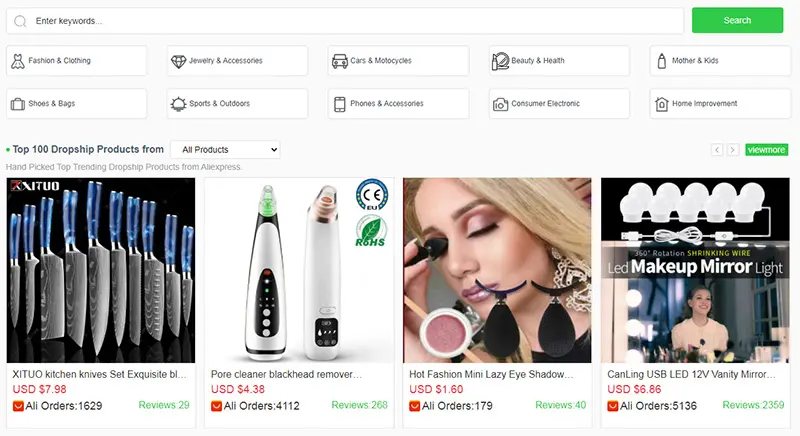 Does EPROLO automatically fulfill orders?
Yes, when you receive orders, all their details will be automatically synced on your EPROLO account. The ordering process is simple. You don't need to import multiple orders and pay them one by one manually. EPROLO supports automatic order fulfillment and bulk orders without an additional fee. Also, because it takes charge of purchasing products, unlike Oberlo, you don't need to pay twice or more to different suppliers. For dropshipping store owners who have many orders a day, it frees their hands and saves their time to sell products.
With EPROLO, there is also no worry about products and suppliers, also quality control problems. The sourcing team keeps working and finding trending products. Even more, there are two quality checking processes with EPROLO. The first is when the product leaves the factory. And the second is after you sell products and before EPROLO delivers them.
2. EPROLO VS Oberlo Pricing
2.1 EPROLO Pricing
EPROLO dropshipping app is pretty suitable for beginners, because it's always free to use before you get orders.
Register an EPROLO account, and connect your dropshipping store. Then, find products and import them to the store to sell online. Until now, you don't need to pay for anything. When your customer orders products, go to log in to your EPROLO account and make payment. So, EPROLO will fulfill orders and sync tracking numbers on your account.
2.2 Oberlo Pricing
Oberlo provided free Starter Plan, Basic Plan ($29.90 per month), and Pro Plan ($79.90 per month) for drop shipping in 2020. And now Oberlo pricing is changed.
Since so many people complained about the high price of its Pro Plan and customer services that did not match the prices, Oberlo makes a change. Now, it offers three plans, and the highest price of them is $29.90 per month. Explorer (free) and Grad ($7.90 per month) users can import 500 products, deal with unlimited monthly orders and use the Oberlo Chrome extension. But you are unable to get bulk orders and real-time order tracking. This is so sad. Because the shipping time has always been an important factor for the customer retention of online business. We have to know where the package is when customers ask about it. In order to make shipment tracking with Oberlo, you have to buy their Boss Plan($29.90 per month). And the most advanced membership plan supports multiple staff accounts, affiliate program, variant mapping and CAPTCHA solver.
Besides for dropshipping, Oberlo also provides "Learning" courses and "coaching" services for each plan, which teach beginners to start. In addition, Oberlo always tell success stories of dropshipping businesses. The good news is that beginners won't lost and get confused about how to start a dropshipping business. But the bad news is that Oberlo doesn't seem to be so committed to improving its drop shipping service quality. The score of Oberlo review on the Shopify app store dropped to 4.2.
3. Delivery times and shipment tracking
3.1 How do EPROLO VS Oberlo ship products?
EPROLO delivers the package by itself. Until now, it keeps shipping the products from the Warehouse in China.
Suppliers on AliExpress fulfill orders, of course, including shipping. And most of products are shipped from China, some from United States or Turkey. So most of packages are also delivered to all over the world from different factory locations in China.
3.2 What shipping methods do they use?
EPROLO provides many shipping methods to choose from. In some countries, it develops the EPROLO express shipping channel. And in other countries, you can choose ePacket, DHL, or other commonly used modes of transport.
Drop shippers on Oberlo always use AliExpress standard and premium shipping methods in most countries. Some also support EMS, DHL, and so on. Different shipping option corresponds to different shipping cost.
3.3 How long are their delivery times?
For EPROLO express shipping method, it takes about 6-15 days. Other methods need different shipping times, and they depend on your shipping option. Recently, EPROLO released a new refund policy. It mentions that if they miss the delivery time of 30 days(in normal circumstances), you can get a full refund.
Oberlo suppliers usually use AliExpress standard shipping to deliver the package, which takes about 45 days long shipping times. In general, they don't accept return. But refunds are being issued if the estimated delivery time of the order has expired.
3.4 Where to check shipping times?
Both EPROLO and Oberlo enable you to check the delivery times and shipping costs before importing products to your Shopify dropshipping store. For each country, it has different shipping methods and related costs.
When you find products in EPRLO and Oberlo, you can choose different countries, see shipping methods, delivery times, and costs. When you add the dropshipping product to the import list, the default shipping cost in your Oberlo account is the cheapest one, often with long ship times. Of course, you can change the shipping country and method before importing products to the online store. So you can calculate the cost and preview the profit. This is the same in EPROLO dropshipping platform.
Setting up a product's pricing strategy in advance can reduce the time required for product upload. This is available for both EPROLO and Oberlo. The difference is the base price on the Oberlo account is the product's unit price, while on the EPROLO account, it's the unit price plus the shipping fee.
3.5 How to track orders?
After selling products, drop shippers directly deliver them to the final customer. However, the online store owner still needs to keep an eye on the package delivery to provide better customer service.
On the Oberlo app, AliExpress dropshipping suppliers will update tracking numbers within 3-7 days after the order is shipped. For Explorer (free) and Grad ($7.90 per month) users, copy the tracking code of the order and paste it into the tracking website. If you have a lot of orders, it seems not a time-saving way. Different packages may have different shipping methods, you need to open many tracking websites and check the status one by one. Also, you can track orders directly on the Oberlo account if only you buy its Boss Plan($29.90 per month).
On EPROLO free dropshipping platform, after the package delivery, tracking numbers will be automatically synced to your Shopify dropshipping store. And they will be traceable online in 24-48hours. This function is available for everyone who places orders on EPROLO, with no additional fee.
4. EPROLO VS Oberlo branded dropshipping
Oberlo
When it comes to building its own brand, Oberlo and shopify do these. It offers Oberlo Business Name generator to help name your online business. Then, you can head to Hatchful, Shopify's free logo creator tool. That's all. AliExpress dropshipping suppliers on Oberlo don't provide any customized packing methods. In fact, you should feel lucky if they don't put their AliExpress store information in the package.
EPROLO
It helps to build your brand in two aspects.
On the one hand, EPROLO promises that it will never put any information that implies you are a third party in the package. Instead, you can ask it to do customized packing, including customized scotch tape, box and stickers. The minimum order quantity for the box is 500 pieces. If your account reach level 4 (The total sales amount reaches $10,000.), customized scotch tape is free to use. Otherwise, you need to pay for it. $30 for 10pcs custom scotch tapes with your own logo or company name. Each roll has 100 meters and can be used to pack around 100 packages. In addition, EPROLO launchs Branding Project to build brands for clothing store owners.
On the other hand, EPROLO developed a Print On Demand Dropshipping app. Online business owners can make custom design for their products, not only the company logo, but also some artworks. There is no minimum order quantity for EPROLO print on demand drop shipping products. You can freely design your products and upload them to your online store. If they don't sell well, no problem, it's easy to delete them and try others. There are not always success stories in online business. 99 failures and continuous improvement can likely achieve the last success. This is not the most important thing; continuous improvement is the real meaning. Of course, if they make many sales, that's great, you can ask EPROLO to fulfill orders.
5. EPROLO VS Oberlo review
EPROLO review
With an overall rating of 4.7, let's see what customers said about this dropshipping app. Click here to see EPROLO review details on the Shopify app store.
Oberlo review
With an overall rating of 4.2, let's see what customers said about Oberlo app. Click here to see details on the Shopify app store.