When dropshipping USA alone, a startup or small business owner needs to juggle plenty of tasks. That's exactly where dropshipping suppliers USA comes into play. These suppliers offer you quick access to authentic products made in the USA. They own safe US warehouse and shorten the long delivery time. Plus, they automate order fulfillment with direct eCommerce platform integration. Hence, these US dropshippers can free up time for you to focus on growing your dropshipping store.
And if you're looking for the best US-based dropshippers, you're in the right place. First, we'll briefly clarify the benefits of working with local dropshipping suppliers in the USA. Then, we'll highlight 12 genuine companies for consideration. Some of them stick to one niche like clothing, beauty, shoes, jewelry, baby products, and more. And other American dropshipping suppliers are carrying a comprehensive product directory.
To know the solid tips to select suppliers and best products, keep reading!
The Benefits of Choosing Dropshipping Suppliers USA
That's a smart strategy if you intend to start a dropshipping business with domestic US dropshippers. Here's the mainly why local US vendors can help benefit your business in a big way:
Sell authentic American products
A recent survey claims that over 70% of the US population prefer buying USA-made products. Teaming up with US dropshipping suppliers can bring you authentic American products to cater to more potential buyers.
Until 2021, the average U.S. consumer spending amounts to around $6075.38 billion. Furthermore, sellers can get cheap-yet-premium products from wholesale US-based dropshippers. Therefore, you can earn a lot by setting high margins.
Deliver items quickly & safely
Most American dropshipping suppliers possess local warehouses in the continental US. Therefore, the distance and delivery time of shipping items to USA buyers is reduced, so is the shipping fee. Additionally, this empowers you to dropship many kinds of products without the hassle of high shipping costs.
When selling online, handling customer complaints about defective products is inevitable. In this case, in-time customer support and return make sense. Thankfully, dropshipping suppliers in the US can offer 24-hour customer service without a time lag. Then, they will process product returns as fast as possible in local warehouses.
Tips on Selecting US-based Dropshippers
Many store owners find themselves hitting a brick wall when picking the right service from tons of dropshipping suppliers USA. So, to ease your work, we'll cover what needs to keep in mind when sourcing a drop shipping supplier.
To control your startup investment, it's vital to check out the price plan of the US dropshippers. Some suppliers offer a free dropshipping service, which is good for startups with low budgets. Meanwhile, you'll need to verify if the US suppliers charge multiple extra or hidden fees
The more warehouses the dropshipping companies in USA own, the better you'll meet your local customers' requirements.
If you've targeted a specific niche, for example, the clothing market, it's a wise move to select dropship clothing suppliers USA. If you prefer to sell all kinds of things rather than niche products, a supplier with wide offerings will be a good choice.
Fast shipping speed can always reduce cart abandonment and boost customer satisfaction and loyalty.
Remember to choose American dropshipping suppliers with concise and clear return policies. A good return policy enables you to provide confidence, security, and trust for your US audience. Plus, it helps improve customer retention.
Aside from the above tips, it's also crucial to identify if the supplier is convincing. To do that, you can check the rating and reviews of US dropship suppliers in professional platforms like the Shopify app store, Trustpilot, G2, Capterra, and more.
12 Best US Dropshippers – The Ultimate List
Now, you know the vital factors to look for when selecting a dropshipping platform. Next, let's walk through the hand-picked 12 best US suppliers for dropshipping, explaining what each supplier offers in detail.
1. EPROLO – Dropship everything in the US for free
EPROLO beats other dropshipping suppliers USA and ranks No. 1 in the list for many reasons. First, it offers a free dropshipping service. Second, it offers a large selection of more than millions of products categorized into 107 niches. Third, it automates dropshipping process by integrating with eCommerce stores built in Shopify, eBay, WooCommerce, and more. As a result, this US dropshipping supplier can take good care of product sourcing, quality checking, packing, shipping, and delivery tracking.
EPROLO also values brand building. It's released a branding project to help startups, small businesses, and entrepreneurs to establish their own dropshipping brand in only a few steps.

Here's an overview of its main features:
Price plan – Free to dropship and no hidden fees.
Warehouse location – Own inventory places in the US, UK, and China.
What to sell – You can dropship Clothing, jewelry, shoes & bags, cars & motorcycles, beauty & health, mother & kids, home improvement, and so on.
Delivery time – Items in stock at the USA warehouse only take 2-3 days to ship. If not, the average delivery time is around 7 -12 days to all addresses in the continental U.S. using EPROLO express line.
Refund policy – For any problematic product, EPROLO offers a 30-day period for a full refund.
Reliability – Serving over 300 thousand eCommerce store owners, EPROLO has received an average score of 4.9 stars out of five in Trustpilot. Besides, more than 1,000 partners give this American dropshipping supplier a good rating of 4.8/5 stars in the Shopify app store.
2. Wholesale Fashion Square – Clothing
Wholesale Fashion Square is one of the US-based dropshippers that focus on the clothing industry. It claims to source premium boutique clothing, jewelry, and accessories from trustworthy wholesale suppliers in Los Angeles, USA.
Here's an overview of its main features:
Price plan – Free to use and do not charge sales tax.
Warehouse location – It doesn't have its warehouse in the United States. All items will be stored at the wholesale vendors USA it works with.
What to sell – It mainly sells women's clothing and fashion items like dresses, activewear, plus-size clothing, hats, and more at wholesale prices with no MOQ.
Delivery time – Orders will be processed before noon and items will be sent the next business day. Note that this supplier ships to U.S. Continental 48 States only.
Return policy – You can return any faulty items for a full refund after acquiring the authorization from the dropship supplier.
Reliability – Get 3 out of 5 stars in Yelp.
3. Salehoo – Worldwide suppliers
Does Salehoo have USA dropshippers? Sure. From its directory consisting of worldwide wholesales suppliers, you can easily find the trusted dropship suppliers in the US. What's more, it embeds straightforward integration with Shopify dropshipping store. Therefore, you can easily upload and sell items to US residents with one click.
Here's an overview of its main features:
Price plan – The basic subscription plan charges $27 monthly or $270 annually. Additionally, the premium one charges $97 monthly or $970 annually.
Warehouse location – It has no warehouse. Its American suppliers will keep the items and ship them to customers directly.
What to sell – Most hot products are available in the niches such as fashion, electronics, health and beauty, home and garden, and many more.
Delivery time – This depends on the US vendors you choose and the destinations.
4. US Direct – Sell everything from US wholesalers
The fourth on the list of dropshipping suppliers in the USA is US Direct. This supplier works with multiple American suppliers, offering over 200,000 dropship products. Better still, US Direct sells high-quality products at competitive prices from reliable US wholesalers.
Here's an overview of its main features:
Price plan – Free to use, but the API Plan charges at least $500 per month.
Warehouse location – No self-own warehouse in the US.
Delivery time – All items will be shipped within the USA directly from wholesale suppliers or manufacturers in 5-7 days.
Return policy – It offers a 30-day credit period when any customer can get a full refund for the defective item.
5. Pet Stores USA – Pet products
Pet Stores USA is one of the top pet dropship product suppliers in the United States. It offers premium pet products from branded US vendors. Plus, it sells all kinds of items at wholesale prices without setting the minimum order.
Price plan – Free to sign up an account to access its products.
Warehouse location – A warehouse situated in Cincinnati, Ohio.
What to sell – Dropship items used by birds, cats, dogs, fishes, and other small animals.
Return policy – It offers a refund if you return the faulty good within 30 days of receiving it.
6. Doba – General dropship supplier
Doba connects you to tons of dropshipping suppliers in the US, as well as the wholesalers and manufacturers. On top of that, it carries with a growing catalog of millions of products to dropship on your store built with Amazon and acts as a reliable eBay dropshipping suppliers, and more.
Here's an overview of its main features:
Price plan – Offer a 30-day free trial chance. After that, you'll have to pay for the Business plan and enterprise plan.
Warehouse location – Items are preserved in the dropshipping wholesale suppliers USA.
What to sell – Home, garden & tools, outdoor, automotive, computers, office supplies, electronics, sports, and so on.
Delivery time – After an order is placed, it'll process the order in 3-5 days and ship within 4-6 days.
Return policy – Any shopper can apply for a refund within 30 days from the delivery day.
Reliability – Get a rating of 3.3/5 stars in the Shopify app store.
7. Sunrise Wholesale – USA wholesale dropshipper
Carrying more than 15,000 products, Sunrise Wholesale is one of the best wholesale dropshippers USA. Its dropship integration system allows you to connect your store of Shopify, eBay, Amazon, and BigCommerce in one click. Best of all, it also products items from famous brands like Canon, Gucci, Apple, D&G, Dior, Disney, etc.
Here's an overview of its main features:
Price plan – A 7-day free trial is available. Thereafter, you'll pay $49 per month for the membership plan.
What to sell – Shoes, toys & games, automobiles, candles, electronics, garden, beauty & health, jewelry, and more.
Delivery time – This US-based dropship supplier usually spends 5-7 days to ship goods to the customers. Furthermore, the items will be delivered the same day they're ordered.
Return policy – It enables you to replace the defective item with a good one as long as you deliver the bad product to the suppliers within 30 days.
Reliability – Get 2.0 out of 5 stars from 14 reviews in Trustpilot.
8. CC Wholesale Clothing – Women's clothing
Your store targets the women's apparel niche? Then, you can't miss CC Wholesale Clothing. It's a US-based wholesaler that claims to update more than 3,500 trendy clothing and fashion items every week.
Here's an overview of its main features:
Price plan – Free dropshipping service and no additional fee.
Warehouse location – It owns warehouses both in California and Missouri.
What to sell – You can dropship hoodies, t-shirts, plus-size clothing, pants, bags, jerseys, socks, and much more.
Delivery time – It ships items to US clients within 8-12 business days via standard shipping and 5-7 business days via priority shipping.
Return policy – Free returns and quick refunds are available for all dropship stores or sites.
9. InfantBlanks – Baby products
In fact, InfantBlanks is one of the wholesale suppliers USA in the baby & kids industry. Though, it still offers dropshipping service by shipping any baby product directly to your American customers.
Here's an overview of its main features:
Price plan – Free to access it the product catalog.
Warehouse location – Located in Irvine, California United States.
What to sell – Baby bibs, blankets, clearance, gowns, hooded towels, hats & caps, pants, and more.
Delivery time – It takes only one day to ship goods to shoppers within the Continental US.
Return policy – If you're discontented with the purchases, this US supplier will issue a refund within 7 days of product receipt.
10. J. Goodin – Jewelry
In the past few years, J. Goodin has earned a good reputation in the jewelry dropshipping market. There is a wide range of jewelry items to choose from. Best of all, you can dropship jewelry products based on different occasions like engagement, cocktail, eternity, weddings, etc.
Here's an overview of its main features:
Price plan – Creating an account to access the product directory is free.
Warehouse location – Its warehouse is located in Southern California, USA.
What to sell – Rings, bracelets, earrings, pendants, necklaces, and more.
Delivery time – The average arrival time is between 24 – 48 hours.
Return policy – Free return is available as long as it's made within 30 days upon receiving your package.
11. Born Pretty – Beauty
Born Pretty is a beauty drop shipper in the US that specializes in nail art products.
Here's an overview of its main features:
Price plan: Dropshipping is free.
Warehouse location – All listed are saved, processed, and shipped from its USA warehouse.
What to sell – Thousands of products are available in the categories like Gel nail polish, Stamping nail, Nail polish, Nail powders, and Nail essentials.
Delivery time: 3-6 weeks for the United States.
Return policy: If the goods you received are damaged or unusable, this supplier will resend a new one or refund it after verification.
12. Kiko Wholesale Group – Electronics
Finally, this list of best US dropshipping suppliers will end up with Kiko Wholesale Group. It's one of the dropshipping suppliers of cell phone accessories products in the US.
Here's an overview of its main features:
Price plan – It won't charge you a cent unless you place an order.
Warehouse location – It stores the products in New York, USA.
What to sell – LED ring light, phone cases and covers, Bluetooth speakers, headphones, chargers and cables, and more.
Delivery time – The fastest shipping time within the US continental 48 states is around 1 – 2 business days.
What Are the Best Products to Dropship in the USA
Finding the best dropshipping products is essential, and it always takes time. First, you need to determine the niche. Second, it's required to do product research on that niche market. To do that, common ways are to go through the online marketplace, monitor competitors the best-selling items, and check new offerings from your wholesale dropshipping suppliers USA. Finally, you'll need to calculate the price, the shipping fee, and more to narrow down the suitable dropshipping items.
If you're in a hurry to target the products, consider the following niche and items. All of them are hand-picked after careful research and evaluation.
1. Clothing & fashion
Women's apparel for fitness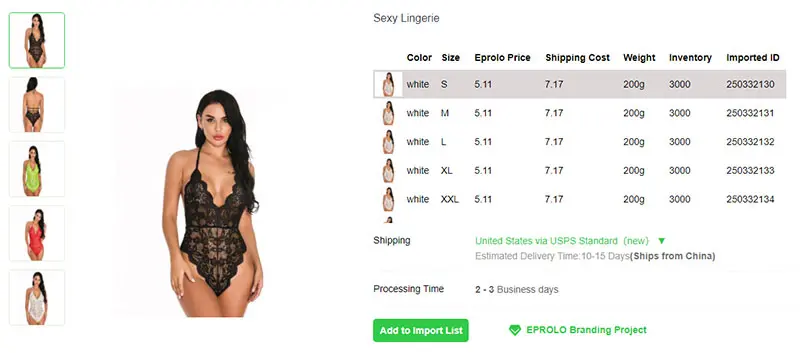 Shoes
Eyelash mascara
Hair Dryer Brush
Nail Polish Kit
3. Health & personal care
Magnetic Bracelet
Ear Cleaner
Electric Neck and Shoulder Massager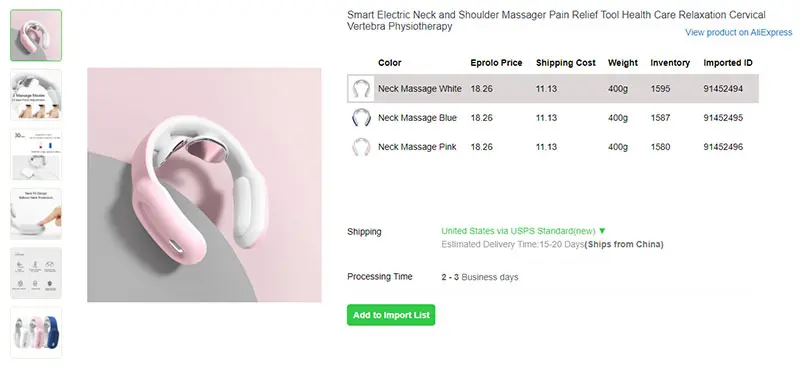 4. Cellphone accessories
Ring light
iPhone tripods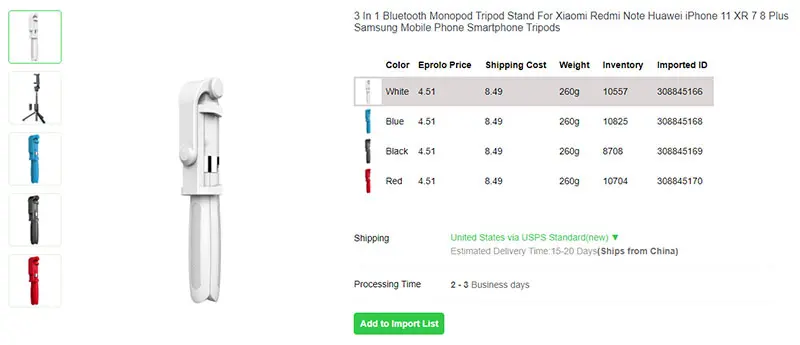 5. Car accessories
Tire Air Chuck Inflator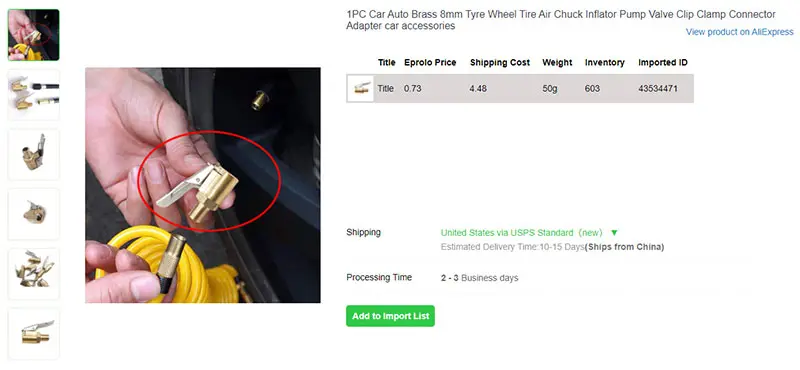 Car Tire Repair Tool Kit
Tire Chain Strap
Q1: Is dropshipping legal in the USA?
Sure. Dropshipping is legal in the United States, as well as Canada, South Africa, and elsewhere. In fact, dropshipping business model works in most countries as long as you abide by all the local laws and regulations.
Q2: How do I find US suppliers for dropshipping?
The old-fashion way is to google online. Or, you can run over the free online supplier directories. Moreover, the listed company above can also directly connect you to multiple dropshipping suppliers in the United States.
Q3: Is dropshipping successful in USA?
Indeed, whether dropshipping USA is successful depends on the time and money you invest and the strategy you make.
Q4: Does AliExpress have US suppliers?
Yes. This drop shipper also works with myriads of suppliers that are based in the US.