You are not the only one who has trouble choosing the right dropshipping partners. You probably would start with a high score website. However, a good rating does not always give an answer but also brings hesitations sometimes. In particular, when you meet two highly rated dropshipping platforms – EPROLO and Spocket – you may not make a decision easily. Those two platforms get high scores in Shopify App Store, which are 4.7 and 4.6 respectively.
So, how is EPROLO vs Spocket? Do they have differences in services? How do you choose a more suitable one that meets your needs? The comparison of EPROLO and Spocket may help.
1. EPROLO vs Spocket Dropshipping
Both EPROLO and Spocket are companies that specialize in dropshipping business. Listing massive suppliers and great products, EPROLO and Spocket are ideal choices for people who are running ecommerce stores. But, there are some differences between the two options. To have a clear picture, let's start with the introduction.
EPROLO Dropshipping
EPROLO is an all-in-one solution for ecommerce business. From finding dropshipping products to build up a brand, the platform gives online sellers a hand. To date, drop shipping items on EPROLO have exceeded 300 thousand. And product categories have reached 107 kinds including clothing, beauty, sports, kitchen, electronics, home decor, pet supplies, jewelry, phone accessories, shoes, etc.
With years of ecommerce experience, EPROLO knows the key to increase sales. That is to choose marketable products. Thus, the platform has set up a collection of 'Top 100 Dropshipping Products.' Those items are hand-picked trending products and are helpful to bring selling ideas. Moreover, EPROLO updates new items every week. For people who want to attract new customers, they could be a good choice.
1) How does EPROLO work?
EPROLO supports online stores built by multiple platforms. WooCommerce and Shopify stores are the two most common. Whatever the platform is, an account is needed. People can simply register one with an email address.
To dropship with EPROLO, shopkeepers first need to import products to ecommerce stores. Click the specific product, people can easily add it to the Import List. Estimated delivery times and shipping methods are displayed on the page. In Import List, shopkeepers can do the following operation: set retail prices; edit product descriptions; and select product images. After pushing the item to the store, shopkeeper can start selling products. Based on China local suppliers, EPROLO offers incredible competitive price, which leaves high profit margins. When the item receives orders, those orders will be auto-synced to EPROLO including shipping info. Then the shopkeeper can pay for the specific product and start the automatic order processing.
Products will be picked, packaged and shipped from EPROLO warehouses. After delivering the package, EPROLO updates the tracking number on both the platform and store. People can real time track the status conveniently by clicking the number and rest assured without anxiety.
2) What are EPROLO featured dropshipping services?
Apart from the dropship fulfillment service, EPROLO also offers product sourcing, branding and other services.
EPROLO not only plays the role of dropshipping supplier but also a sourcing platform. Source from shopping websites like AliExpress, Alibaba, and other wholesale websites is available.
Take AliExpress for example.
There is an entry for importing AliExpress products on the dashboard. Here, people can source the AliExpress product they want by pasting a link or product ID. After clicking the Import button, the specific product can be added to Import List and push to stores. Another method to source from AliExpress is to use the Chrome extension of EPROLO – AliExpress Product Importer. People can import items directly while browsing AliExpress. Just click the icon at the right corner of the product page, the item will be added to Import List.
You may be curious about the further steps such as payment and delivery. To save store owners' work, EPROLO will sync orders of AliExpress products automatically from the store. Dropshipping business owners can check the order in Ali Orders. Then, they need to submit a sourcing request. When the support agent finishes quoting, payment can be done in EPROLO. The platform gives great convenience by taking over communications with suppliers and order fulfillment. That is to say, online store owners only need to submit requests and pay when they receive orders. EPROLO is responsible for the rest of the work.
1 to 1 Support Agent and Super VIP Service
Users of EPORLO will be assigned an exclusive support agent. You can find and contact customer support in the chat window in the EPROLO dashboard. To meet the demand of big order volume users, the platform also provides VIP service. For example, if there are daily orders of one item in your store, you can ask EPROLO to stock up for free. And products can be kept in China and overseas warehouses.
Spocket Dropshipping
Spocket is a dropshipping platform with 80% of suppliers based in the US or Europe. For online business owners who target the American and European markets, it's a nice choice. Not only work with Europe and US based dropshippers, but Spocket also invites suppliers from Canada, Asia, Australia, and Brazil to join the platform. And EPROLO is one of them.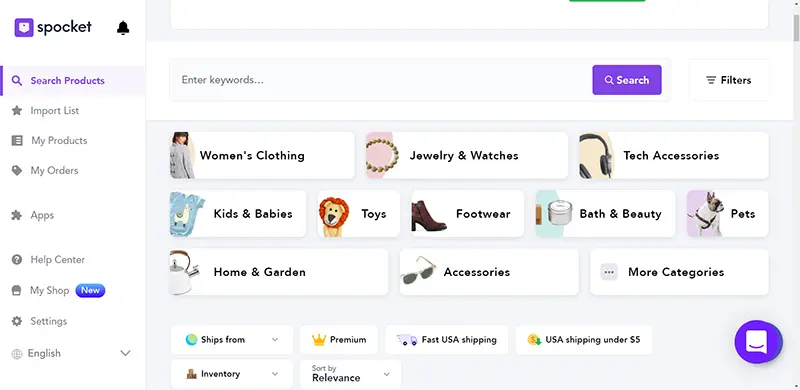 There are eighteen product categories on Spocket App. You can find items such as clothing, bath & beauty, kids and babies, toys, home & decor, accessories, and others. Spocket has classified its products into general and premium. The premium products are featured by high discount rates and fast shipping. Those products are only open to Pro and Empire plan users.
1) How does Spocket work?
Spocket supports platforms like Shopify, Wix, WooCommerce, BigCommerce, etc. After connecting the platform and the dropshipping store, people can add Spocket products to the Import List. Info such as shipping times and available shipping countries are displayed on the product page.
When it comes to fulfillment, Spocket offers automatic order processing and 24/7 customer service. After storekeepers make the payment and dropshipping suppliers receive the order, they will ship the products to customers. What needs to be reminded is that products from different suppliers will not be packaged together. If the customer places two products provided by different dropshipping suppliers, he will receive two packages. Thus, shipping times could be longer than expected. In addition, as the App says, Spocket will handle inventory for all products. However, it is not responsible for fulfilling orders. So, it may mean that Spocket ask suppliers to stock products to speed up the shipping.
2) What are Spocket featured dropshipping services?
Import Products from AliEpxress and Alibaba
Spocket has developed an extension called AliScraper. After the installation, people can import products to Spocket from AliExpress. Users can filter products by destination. Currently, the extension can only import products that support AliExpress Standard Shipping method.
As for importing Alibaba products, the platform sets up access to it. People can finish the authorization in Spocket App. After login into Alibaba, people can start importing products to Spocket. To process orders of Alibaba products, shopkeepers need to place orders on Alibaba. Then shopkeepers can check out in the website cart.
Testing great products that fit for your store is critical when you just start a dropshipping business. Spocket brings convenience to this. Users can order product samples on the platform and verify the shipping speed. Every item is allowed to order five samples. The order button can be seen on the product page. Click the button, you need to fill in shipping info and then pay. The supplier will ship the sample.
2. EPROLO vs Spocket Branding Services
As the online business grows, building a brand becomes more and more necessary. Both EPORLO and Spocket can help dropshipping store owners to build up a brand.
EPROLO Branding Services
EPROLO focuses on the needs of custom packing and POD. Order custom package boxes, gift cards, and scotch tapes are available. There is access to order customized package materials in its dashboard. You can upload the logo and name in My Account > Custom Packing. Those custom items will be kept in EPROLO warehouses and will be used to pack your orders.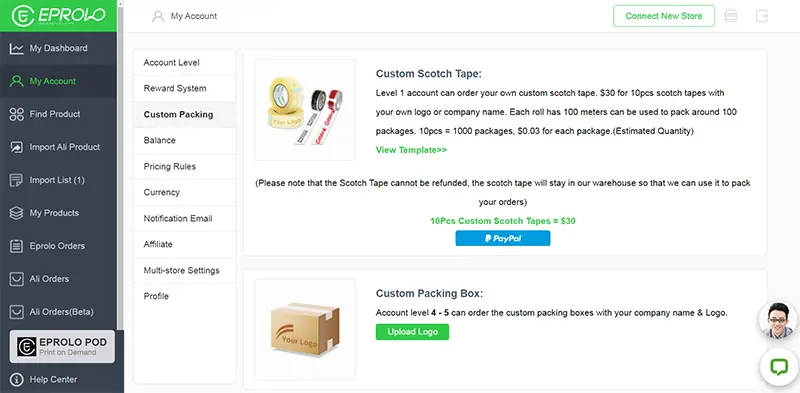 Selling POD products is an effective method to build up one's brand. EPROLO develops a POD system for shopkeepers. People who have an EPROLO account can use it directly. They can visit the POD platform via the entry at the left corner of the dashboard. EPROLO works with manufacturers from America, Australia, and China. People can find varied POD products like T-shirts, bags, curtains, towels, wall decor, accessories, etc. And there is no MOQ. In EPORLO POD, the following operations are available: find POD products; design products; edit product info; import designed items to store.
Spocket Branding Services
Spocket provides a branded invoicing services for its users. By using it, storekeepers are enabled to add an invoice in the package with their brand. People can upload a store image, fill in the email address, phone number, and note in settings. But there is one thing that needs to be noticed. This branded invoicing service is not applicable to all Spocket suppliers. It means that, if your product supplier does not accept adding your invoice to the package, you can not enjoy the branding service. Besides, the shipping price or custom and duty costs cannot be added to the invoice.
3. EPROLO vs Spocket Fulfillment Process
Fulfillment is important to decide whether to use the website or not. People usually consider delivery times, methods and costs when choosing tools. EPROLO and Spocket are platforms that provide drop shipping fulfillment services and support worldwide shipping. Then, how do they work?
EPROLO Fulfillment Process
EPROLO provides various shipping methods to deliver products, such as DHL, USPS, 4PX, and others. When an order is generated, its warehouse team will pick up the product and package it according to the info. Then the package will be shipped to the customer directly.
EPORLO operates several warehouses in China and overseas to complete fulfillment matters. It's a great advantage because it makes many things possible.
The first thing is to shorten shipping time. Generally, products take 7 to 15 days to arrive in the shipping countries. Some countries will need a longer delivery time due to the limited shipping options and policies. However, with the EPROLO overseas warehouses, the shipping time of some products can be shortened to 2 to 5 days.
The second thing is to cut down costs. Using China warehouses is effective to reduce the total cost of selling products. The lower product cost, warehouse cost, and shipping fee make it a reality.
The last thing is quality control. Products are kept in EPROLO warehouses. And the team will do quality control before the products are ready to ship. It's helpful to reduce the risk of refund and return.
Spocket Fulfillment Process
Spocket lists massive products in its dashboard. Those products are provided by dropshipping suppliers from all over the world. And they are responsible for order fulfillment. Therefore, shipping times and shipping methods on Spocket are varied.
Before delivery, there is a processing time. It's a time that suppliers ship and provide the tracking number. Most of the Spocket suppliers have an order processing time of 4 to 7 days. As for the shipping time, it ranges from 4 to 30 days.
The fulfilling process goes in this way. When customers place an order in the store, the order will sync to Spocket. The storekeeper can view the order info and checkout. After payment, the order will be sent to the product supplier. And he will complete packaging and shipping. After the package leaves the warehouse, a tracking number will be updated. People can track the status in Orders. Also, suppliers will send an email with a tracking number to the storekeepers.
4. EPROLO vs Spocket Pricing
One of the biggest differences between EPROLO and Spocket is pricing. Their charging standards are quite opposite – EPROLO charges no fee while Spocket is up to 99$ per month.
EPROLO Pricing
EPROLO is completely free to install and use. And the company promises it will be a forever free dropshipping platform. Though without a subscription fee, the platform has made account level according to sales. Lever 1 users can import 500 products to their stores. Custom packing service is only open to level 4 and level 5 users. And users of level 5 also enjoy unlimited product importing. EPROLO also set up a reward system for all users. People can earn E-coins by finishing several tasks. And it can be used in exchange for cash or product import allowance.
Spocket Pricing
Spocket provides different plans for using it which charge from $0 to $99. And there are two ways to pay. One is to pay monthly, and another is to pay yearly. Spocket monthly subscription plans are designed into four kinds: Free, Starter, Pro, and Empire. For the Free plan, users can only browse the product catalog. Start plan charges $24 per month, which is available to import 25 products and email support. Pro plan users need to pay $49 per month and enjoy importing 300 products. Empire plan requires $99 a month. Its users are allowed to import 20,000 products.
5. EPROLO vs Spocket Review
EPROLO Review
To date, EPROLO dropshipping App has received over 900 reviews on Shopify including 792 five-stars comments. Check here.
Spocket Review
To date, Spocket dropshipping App has received over 2400 reviews on Shopify including 1963 five-stars comments. Check here.