There is no doubt that the eCommerce industry has been growing at an alarming rate over the past decade. As more and more consumers shift their shopping habits online, entrepreneurs have quickly capitalized on this trend by starting their own eCommerce businesses.
One of the most popular business models in eCommerce is dropshipping, and a recent trend that has been gaining traction within this market is Print On Demand (POD). In this piece, we will dissect the dropshipping market and explore why POD is taking center stage as the service of choice for many eCommerce entrepreneurs.

The Situation of Dropshipping Industry
In light of recent research reports, eCommerce reigns supreme, and dropshipping has been steadily developing into a more lucrative business opportunity. This is evident in the exponential growth of the global dropshipping market size, which is projected to hit $621.4 billion by 2028.
Industry experts credit the significant growth of dropshipping to customers' transition to online shopping. This shift was further accelerated by the COVID-19 pandemic, which forced many brick-and-mortar businesses to shut their doors. With heavy restrictions in place, consumers had no other choice but to shop online.
The shift toward eCommerce and dropshipping services has been assisted, in part, by the growth of mobile commerce as well as the increasing smartphone usage around the world.
The simplicity of launching a dropshipping business is another factor that has contributed to the growth of its market size. Entrepreneurs don't need to worry about inventory management, storage space, or purchasing goods upfront. As a result, the start-up cost for a dropshipping business is relatively low.
The Future of Dropshipping and Emerging Opportunities
If you've been in the eCommerce space for a while, you know that the dropshipping market is highly competitive. In order to succeed, you need to find a way to stand out from the rest of the pack.
Print-on-demand and branding might just be the next big thing in dropshipping.
One way to do this is by offering unique and customizable products that your customers can't find anywhere else. This is where print-on-demand comes in.
By offering POD services, you can sell personalized products for a fraction of the cost of manufacturing them on your own. This eliminates the hassle, investment, and risk associated with managing an inventory.
The beauty of this business is that you don't have to pay for the cost of the product until you've actually sold it. Thus, there's no reason to acquire the product in bulk or have an inventory.
In addition to the above, one common problem has been stuck in dropshipping for years. That is the label issue. You may receive more than one customer complaint about poor products and product with the supplier's label. To stop it, you should make your own one.
The idea is to collaborate with a supplier of quality white-label products, customize these items and sell them under your brand and with your own designs on a per-order basis.
POD store owners leverage strong branding and social media marketing strategies to scale their businesses. By selling unique, branded products, they can develop a devoted following of customers who are more likely to purchase from them again in the future.
In no time, what started as a small side hustle can quickly turn into a full-fledged eCommerce business.
EPROLO Can Launch Your POD Business to the Moon
The foundation of every successful business is a great product and an efficient order fulfillment process. You can't have one without the other.
In times like these, it's more important than ever to find a reliable supplier who can help you get your business off the ground. So the question is, who do you trust?
EPROLO has created something special, a print-on-demand and dropshipping platform that offers seamless integration of product and order fulfillment. EPROLO-POD, as it's called, powers eCommerce stores with stable product quality, powerful design features such as bulk design, one-piece customization, and multiple sides customization, auto-order fulfillment, brand building, inventory management, and so much more. If over 300k drop shippers can trust them, you can too.
Work with EPROLO POD, you can enjoy 100% free print on demand dropshipping service, and an all-in-one branding service. There are over 1500 custom products that will help you maximize your profit margins.
Let's take a look at how EPROLO-POD helped this eComm store owner hit 7-figures in just 12 months:
Shawn came into EPROLO – POD with his design and marketing team. After grinding it out for a few years he was able to get his business to six figures in annual revenue. But Shawn wanted more. He wanted to take his business to the next level and become a 7-figure store. Shawn set out to challenge the status quo and become the next big thing in fashion.
He started by sourcing some of EPROLO POD's top-selling products. After uploading designs, the team lists them in store. Within a few weeks, Shawn started to see a significant uptick in sales. His conversion rate was through the roof, and he was making more money than ever before.
But Shawn didn't stop there…
He took advantage of EPROLO's branding project to carve out a unique identity for his store. Using the service, all clothing labels, hangtags, and packing bags are made under the store logo. In this way, Shawn was able to connect with his customers on a deeper level and create loyalty among his customer base.
And it's no surprise that this led to even more sales.
By the end of the year, Shawn's business had exploded. He went from doing $500,000 a year to $500,000 a month. In 12 months, Shawn had achieved the impossible and turned his eCommerce business into a 7-figure operation.
Today, Shawn expands to multiple product lines. Selling big brands apparel like SHEIN is one of the businesses. And EPROLO plays a role in it. The dropshipping platform works with SHEIN and helps with order fulfillment. Thus, Shawn can update dozen best-selling products and test products without worries.
In an interview, Shawn talks about his POD business travel:
"I was looking for a way to scale my business quickly. I had been in the eCommerce space for a few years, and I struggled to make enough profit to justify my time investment. I found print on demand and branding was the way out. Having my own brand means that I can control the quality and pricing and there is no need to cut down my profit to please customers. Further, brand loyalty would bring me endless repeat buyers and eat up more markets.
When I stumbled across EPROLO-POD, I knew that this was the opportunity I had been waiting for. POD has allowed me to quickly list a large number of custom products without having to worry about inventory or product costs. Its Bulk Design and One-piece Customization features are wonderful. I can design and sell in a few clicks. The saved time allows me to focus on marketing.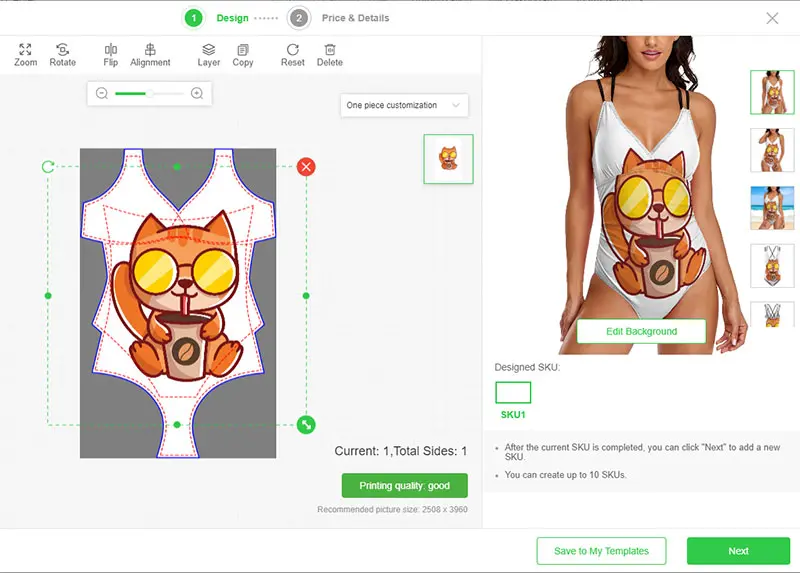 And the branding service has helped me create a strong identity for my store that my customers can connect with. The company does private labeling and custom packages.
All custom products have my own logo on hangtags, labels, gift cards, and packing bags.
I'm now doing over $6 million a year in revenue, and I couldn't be happier."
The young entrepreneur didn't shy away from sharing the challenges he faced when starting out in POD:
"When I first started my POD journey, it was more of a learning process than anything else. There was a lot of trial and error involved. Bad reviews flow. But once I figured out what worked, there was no stopping me.
If I could go back in time, I would definitely recommend that other entrepreneurs give POD and branding a try. It's an incredible opportunity to scale your business and with very little risk."
Learn More about EPROLO Branding, please click here.
When asked about the key to succeeding in POD dropshipping, Shawn had this to say:
"Except for the platitudes of marketing. I think the key is to first focus on building a strong brand. Many people get into POD and just try to sell as many products as possible without really focusing on creating a brand that their customers can connect with.
Don't also underestimate the importance of a trusted supplier. I've worked with a lot of different POD suppliers over the years, and EPROLO has definitely been the best in terms of quality, shipping time, customer service, and overall reliability."
Shawn's experience highlights the immense potential of print on demand for drop shippers. POD provides a unique opportunity for entrepreneurs to quickly scale their business with very little risk. Also, custom products make brand building easier. And as Shawn's story shows, the rewards can be life-changing.
If you're looking to get into the eCommerce space, there's no better time than now to give POD a try. With the help of a platform like EPROLO-POD, you too can build the brand of your dreams and achieve success beyond your wildest imagination.