AliExpress is banned by the Indian government these days. BBC News called it 'the latest casualty.' Chinese apps that can not be used in India reach 220 up to date. The news hits the dropshipping business in India. And dropshipping store owners are busy with finding AliExpress alternatives now.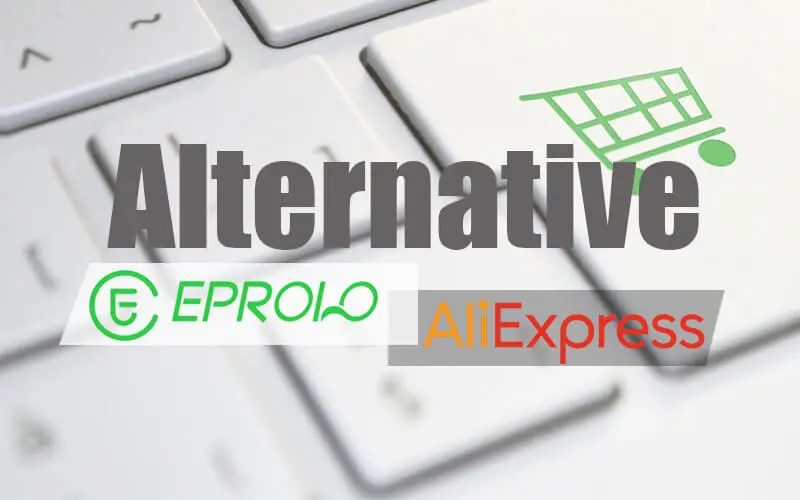 What's the impact that AliExpress banned in India?
The ban on AliExpress is undoubtedly a blow to Indian merchants. It raises lots of concerns. People are worried about AliExpress is not available to ship to India. But it is unrealistic to ban package delivery. Rather than the shipping issue, Indian merchants are more troubling in finding the best AliExpress alternatives for dropshipping. Convenience bringing by the Chinese ecommerce platforms is more than they thought.
India business owners of dropshipping store can not find wholesale suppliers on AliExpress to buy products now. It means that they can not receive orders from customers unless they find an alternative to AliExpress. Otherwise, they have to close their dropshipping business in India.
If you are one of the dropship store owners who use AliExpress, you may be anxious to find an alternative. It should be similar to AliExpress and can easily integrate with different online marketplaces. For example, Amazon store, eBay store, Shopify store and so on. Here comes the solution – EPROLO, a free dropshipping platform that provide order fulfillment services and customer support.
Is AliExpress dropshipping really that good?
It is undeniable that AliExpress is one of the biggest international ecommerce platforms with online marketplaces. There are thousands of categories and over 100 million products to choose from. AliExpress offers extremely low prices and a wide range of payment options. For example, it accepts PayPal, Visa debit/credit cards, MasterCard credit cards, and Maestro and American Express debit cards. Besides, you can directly import products into the online shop, don't worry about infringement. Because it's illegal to sell counterfeit brand products on AliExpress.
So until now, it has been one of the best choices for many ecommerce store owners around the world. AliExpress expands its advantage after it integrated ePacket, the international shipping option. And as a matter of fact, it's a good choice for people who start dropshipping business model.
If you've used AliExpress, you probably get a good deal and have a great experience. But at the same time, you may also find some problems when using it.
1. Illegal Dropshipping Suppliers
First of all, some online store owners may find illegal suppliers on AliExpress when they just start dropshipping. Those provide low prices. But the cost of low prices is that they do not offer high quality Chinese products and good customer support. The illegal wholesale suppliers counterfeit a same-shape product by using recycled materials instead of the original. It's hard to tell the difference between the real and fake through photos. Even if there is a price advantage, they are not the right AliExpress dropshipping suppliers if you want a long term running. The poor quality products and services are both harmful to customer retention.
2. Resellers
Second, ecommerce business owners are likely to meet resellers on AliExpress. According to the research, there are about 70% of the sellers on AliExpress are resellers themselves. For dropshipping business model, a wide variety of products are shipped directly from drop shippers to customers. If you expect all your AliExpress dropshipping suppliers to carry out quality control, you're going to be disappointed. Because your supplier is a reseller, and he can not do it for you. Without the participation of product sourcing, your reseller-supplier is impossible to promise quality. Moreover, the reseller may put his brand card into the package, which shows a lower product price. Think about how your customer feels when he receives such a package. The end is you will lose the customer.
3. ePacket Delivery
Third, ePacket is not a favorable shipping option sometimes. The average shipping times of ePacket delivery is 10 to 30 days. In the busy season, it could be longer. It's an unavoidable pain point for the dropshipping store that is using AliExpress. Customers are not always patient shoppers. You can not keep your customer waiting for such a long delivery time. Complaints about your online shop will rise. At this rate, your store brand will be marked as terrible. And you can not earn profit with a lousy image store.
8 best AliExpress alternatives for dropshipping business model
| Platform | Product Category | Subscription fee |
| --- | --- | --- |
| EPROLO | General | Free |
| Wholesale2B | General | $29.99 - $ 39 .99 per month |
| Worldwide Brands | General | $299 |
| SaleHoo | General | $67 - $970 per year |
| Brands Gateway | Luxury fashion | $351- $2,014 |
| Doba | General | $24.99 - $49.99 per month |
| InventorySource | General | $99 - $225 per month |
| Wholesale Central | General | Free |
1. EPROLO
If you are looking for an easy-to-use supplier for your online business, you should not miss EPROLO.
EPROLO is a free dropshipping platform that can be used in Shopify, WooCommerce and eBay stores. It plays the role of the supplier and makes order fulfillment. EPROLO is friendly to both dropshipping beginners and veterans. It's not just about the price, but also the operation and overall services. The following pluses make it the first choice:
1) Legal Suppliers
Providing over 300 thousand products, EPROLO has established long term cooperation with factories and manufacturers. The team hand-picks factories and manufacturers and screens out those that are not up to standards, such as non-direct factories and resellers. Products on the website cover various industries, such as clothing, accessories, sports, electronics, beauty, baby care, etc.
2) High Quality Dropshipping Products
It's easy to import products from EPROLO to a Shopify store. Because it developed a Shopify dropshipping app. Install it, you can finish this step with one click. As a dropship store owner, you may doubt the product quality. So how does it solve the concern? Partnering with reliable suppliers, dropshipping products placed on EPROLO are eco-friendly and made from original materials. And the website has strict quality control to ensure product quality. It double-checks the products before packaging and shipping. Damaged items will not be delivered.
Moreover, the platform provides a product sourcing service. Ecommerce store owners can submit a product link and request a quote. And EPORLO will take over the rest of the work when you get orders. Such as sourcing and buying products, checking quality, shipping internationally and so on.
3) Fast Shipping
EPROLO provides various shipping methods to meet different needs, for example, US Express, US Direct, 4PX Express, and DHL. Delivery time is about 5-15 days which based on countries and logistics providers. Store owners can check the estimated shipping times on the product page. Besides, multiple items can be shipped in one package. It can shorten the shipping time.
The platform also provides a shipping guarantee to protect shopkeepers' interests. If the products are not delivered within the promised days (30 days in general) , you can ask for a full refund.
4) Chinese and Overseas Warehouses
EPROLO has set up several warehouses in China, the US, and UK. The platform keeps product inventory and packs items by its own team. Self-operating warehouses bring a lot of benefits, such as quick processing time, convenient packaging and efficient delivery management system.
There is a common question when finding suppliers – will customers know the packages come from China? The answer is NO. All packages will be delivered without the supplier's info.
5) Branding
EPROLO provides a branding service that helps promote the store name. E-commerce business owners can customize package boxes and tapes by adding the individual logo. You can also use EPROLO POD to find print on demand products and design your own items. There is no minimum order quantity.
2. Wholesale2B
Wholesale2B is a platform that is available on these online marketplaces like eBay, Amazon, Shopify, WooCommerce, and etc. As one of the best AliExpress alternatives, it provides one million products and 106 drop shippers for ecommerce business owners. Products are categorized into more than thirty kinds, for example, pet supplies, electronics, clothing, bedding, and crafts. Downloading products in CSV files is available.
The shipping time of Wholesale2B is varies depending on suppliers. And there is a limit on the shipping country. Not all dropshipping suppliers can ship to international countries. The website can only help with orders in the USA or Canada. If you need to deliver products to other countries, you need to use a third-party website to help.
Wholesale2B is free to sign up. But for further services, you need to subscribe to a plan. The website sets plans for different stores and the prices range from $29.99 to $ 39 .99 per month. And it supports payment methods of Paypal and credit cards for the plans subscription fees.
3. Worldwide Brands
Twenty years of experience makes Worldwide Brands attractive. It is a source website with over 8000 wholesalers which are responsible for order fulfillment. And most of the suppliers are based in the USA. Worldwide Brands published a Wholesale Directory for online shop sellers and with more than twenty product categories. You can find and sell the products like pet supplies, toys, clothing, electronics, food and drinks, crafts, and so on.
Dropship eBooks and videos are available. If you aim at the online education market, Worldwide Brands is convenient to use.
Worldwide Brands charges a membership fee which is $299 (one-time fee). It offers a variety of payment methods including VISA, MasterCard, PayPal and so on. Also, you may pay a drop ship fee when you deal with a wholesale supplier. This fee is for the service of splitting apart and packing the product. It is about $1.00 to $5.00.
4. SaleHoo
SaleHoo is a research tool for ecommerce stores. There are over 8000 suppliers on the website, which cover twenty product categories, such as clothing, accessories, electronics, health and beauty. And you can find more than 1000 suppliers that drop ship quality products. Suppliers' information are displayed. You can check quality details, contact info, product range, location, and shipping methods.
Delivery time on SaleHoo is various due to the great number of suppliers. The fast shipping time is around 2-6 days if you work with a local supplier. But if you drop ship from China, the average delivery time is between 21-45 days. Moreover, you need to pay attention to the available shipping country and minimum orders. There are about 20% of suppliers that cannot ship internationally. And buying products from about 50% of the suppliers has a requirement of minimum order quantity.
SaleHoo offers different prices for users, which are ranged from $67 to $970 annually. There are a variety of payment options including PayPal and diverse credit cards.
5. Brands Gateway
If you want to find AliExpress alternatives in fashion apparel, here is a solution.
Brands Gateway is a B2B marketplace that specializes in luxury fashion. You can find suppliers of clothing, shoes, bags, accessories, jewelry, sunglasses, and watches. Items are picked from over 70 luxury fashion brands and are more than 15 thousand. Brands Gateway has warehouses located in Italy, Germany, and United States. And it uses FedEx, UPS and DHL as its shipping methods. Packages usually take about 3 to 5 days to deliver. The fast shipping fee starts from €15.
Brands Gateway has developed Shopify and WooCommerce plugins to support dropshipping services. You can download a CSV or XLSX file to manage products. As for prices, it provides three plans which range from $351 to $2,014.
6. Doba
Doba is a marketplace with numerous products and hundreds of suppliers. And there are more than 600 thousand dropshipping items. Products on Doba are classified into eight categories, for example, automotive, beauty, clothing, office supplies, etc.
Doba uses DHL, FedEx, USPS, UPS and other logistics companies to deliver packages. But there is a restriction of the shipping country. Suppliers are unable to ship outside of the United States. It means that shipping worldwide is unavailable.
Doba offers two plans for users, which are $ 24.99 and $ 49.99 per month. It accepts PayPal as the payment method.
7. InventorySource
InventorySource is a network that provides dropship services. It's available to connect more than twenty-five e-commerce websites, for example, eBay, Shopify, Amazon, Walmart, etc. InventorySource provides over 200 dropship suppliers to online store owners. The suppliers are divided into ten kinds, such as camping, pet, fishing, toys, home decor, fragrance, etc.
InventorySource offers three pricing plans. You can view suppliers with a free account. And you need to pay for other services, like upload product data and fulfill orders. The plans charge from $99 to $225 per month.
8. Wholesale Central
Wholesale Central is a free alternative to AliExpress dropshipping india. It's a B2B website for resellers and was recommended by Forbes business magazine. With more than 1000 wholesale stores and 400 thousand items, Wholesale Central has fifty major product categories. You can find and sell the products of apparel, art, baby items, books, accessories, toys, and others.
The website is wholesale-oriented and restricts consumer sales and retail sales. It provides a free subscription.