Dropshippers may have heard of WooCommerce by several times but can still be confused. Well, it's just a layman's puzzle on building an e-commerce store. If you've bought a domain name and managed with WordPress system, you will quickly understand its role. WooCommerce is a tool that allows online sellers to manage e-shops on WordPress. What can you do after installing it? Updating selling products; editing product details and shipping; receiving orders and payments from customers; etc.
The plugin was welcomed since its first release in 2011. Currently, coupled with the hot trend of print on demand dropshipping, WooCoomerce store owners are seeking chances to take the train to success. They need a dropshipping fulfillment plugin that is used for WooCommerce print on demand. Are you one of them? Then here is what you want.
Can you use WooCommerce for Print on Demand Drop shipping?
Certainly YES. Though WooCommerce does not have print on-demand and dropshipping service itself, it's an open-source plugin that can be integrated with other platforms to bring out the business. All you need to do is install designed-for-WooCommerce-store plugins on WordPress. Then you can sell custom products with your WooCommerce stores, and let the dropship supplier fulfill your customers' orders.
Is WooCommerce good for Print on Demand Dropshipping?
Print-on demand dropshipping is profitable to start eCommerce business. It requires zero upfront investment and no overstocked problems. Everything is perfect except that sellers have to create an online store. In this regard, WooCommerce is one of the best options.
1. Free to use
It's a free WordPress software. You won't see any prompts for membership subscription or renewal while using WooCommerce. If you're stuffed with those monthly payment calls, it is your ideal solution to run a POD business.
2. Open source
Being an open-source plugin, WooCommerce is publicly accessible. This attribute means a lot to dropshippers. Why? Because of this, a variety of print on demand dropshipping platforms can be integrated with WooCommerce and bring convenience when selling custom products.
3. Cost control
One reason to use WooCommerce for on-demand dropshipping is that store owners can control capital flexibly. Plenty of WooCommerce integration tools can be installed for multiple needs, such as drop ship fulfillment, store themes, marketing, etc. Apply free tools can greatly reduce your start-up costs.
4. Conducive to expand business
Merchants using WooCommerce enjoy full control of their online stores. When is comes to business growth, the plugin gives unlimited possibilities for expansion. Not only be effective in building brands and product lines, but also WooCommerce shows no restrictions for upgrading the eCommerce website. It's good to use if you plan to scale your print on demand dropshipping WooCommerce business from the beginning.
13 Best Plugins for Print on Demand Dropshipping WooCommerce
There is something you should never lack – a fulfillment partner with an on-demand drop ship printing service. In the case of WooCommerce stores, such a partnership relies on WordPress print on demand plugin to reach. Here, we list thirteen best plug-ins to help your business.
1. Inkedjoy – POD Dropshipping
Inkedjoy has been leading in WooCommerce dropshipping. Its free print on demand service spreads out to the e-commerce platform currently. With a straightforward design area and real-time mockup generator, WooCommerce users can work easily on custom-made products. Impressively, bulk design and import products to store are available within one click. Designing and selling on-demand printing products is not the end of use. Inkiedjoy can do branding and private labeling easily as well.
Various customizable products are displayed, for example, apparel, shoes, travel bags, home decor, and others. inkeddjoy print on demand works with premium printing facilities in China, America and Australia, and has worked with them for years. Thus, the POD WooCommerce dropshipping supplier is able to promise stable product and print quality.
2. Printful
There's no argument that Printful is a mountain top of the print on demand dropshipping industry. The company integrates with the most major e-commerce platforms, and of course, including WooCommerce. A free Design Maker is provided to use after installing the Printful Woocommerce plugin. Next, storeowners can pick products from 25 categories and start designing. Categories are as follows: bags, embroidered aprons, t-shirts, leggings, wall arts, posters, canvas, hats, footwear, stationery, engraved jewelry, phone & laptop cases, etc.
How does Printful fulfill your custom products? The print on demand Woocommerce integration has 16 global fulfillment centers to take over the work, which are located in North America and Europe. In this way, sellers do not have to keep stock or participate in shipping management.
3. Acutrack Book Fulfillment
A visible need of print on demand books is increased. Are there any best plug-ins for WooCommerce stores to sell on-demand printing books? Acutrack should be saved to your list. The platform manages orders according to B-end users from customization to shipping. And it deploys print technology such as offset printing and Digital Inkjet to better make paper items. In general, the WooCommerce print on demand plugin fulfills dropshipping orders within 17 to 30 days.
4. Prodigi
Prodigi is a WooCommerce dropshipping software that specializes in the following products: stickers, prints & posters, framed prints, canvas, device cases and photo books. Its production labs dot USA, UK, and Australia to support custom products manufacturing. With a global print network, Prodigi dispatches dropshipping products around 1 to 4 days.
5. Art of Where
As the best dropshipping and printing provider for art-based businesses, Art of Where stands out from those WordPress print on demand plugins. The integration with WooCommerce allows for designing and syncing products and orders to stores. Its available custom products are wide-ranging, including clothing, scarves, bags, bedding, wall art, fabrics, etc. And all products are made in Canada.
6. Shop3D
This WordPress print on demand plugin puts an emphasis on 3D printing manufacturing both in its brand and dropshipping service – Shop3D. It deserves a seat in the best free POD fulfillment tools. Because there're not many tools that allow on-demand casting for precious metals, but it is the one. Print on demand jewelry WooCommerce storekeepers love Shop3D. After uploading a 3D digital file, the plugin will auto process the customization and fulfill drop shipping orders.
7. Printaura
Printaura is a frequent caller of the best WooCommerce t-shirt printing providers. The WooCommerce dropshipping app offers a series of custom clothing, for example, t-shirts, sweatshirts, tank tops, polos, dresses, onesies, pocket t-shirts, and pants. Printaura does not require minimums for its on demand printing and fulfillment services. Thus, POD t-shirts sellers can use it without worries.
Besides, the app is enabled to do custom neck labels, packing slips, and personalized shipping labels. It's helpful for print on demand t-shirts WooCommerce store owners to develop their brands.
8. Shirtee.Cloud
It's easy to misunderstand Shirtee and think it dropship custom t-shirt only. The fact is the print on demand WooCommerce integration customizes hats, bags, socks, masks, home & living, and accessories as well. If you would like to sell a range of self-designed merchandise, it's good to try Shirtee.Cloud.
Install it to your online store and you can enjoy selling products without inventory and pre-production. Shirtee.Cloud will give a favor to produce and deliver custom-made products. The shipping time is varied from 2 to 12 days.

9. Beeoux
To sell personalizable jewelry on WooCommerce can't be simpler with Beeoux. It's a print on demand dropshipping WooCommerce add-in that help create and push jewelry items to store. Moreover, it provides a widget for customers to preview final products. Sterling silver pendant, sterling silver rings, photo pendants, and watches can be self-designed by storeowners and customers. In addition to design, inventory, production and shipping can be left to Beeoux. It dropships personalized products from USA and Netherlands.
10. Paul Bristow
Paul Bristow is a UK print on demand textile manufacturer. To support e-Commerce business, the company develops an API integration that is workable for WooCommerce stores.
Paul Bristow can do custom totes, towels, purses, pencil cases, and apparel, etc. It applies multiple technologies to make on demand fabric and textiles, such as screen printing, DTG printing and dye sublimation. Further, services like sewing and cutting are also available. Its maximum drop shipping order has reached 1000+ per day.
11. HugePOD
HugePOD is a WooCommerce print on demand dropshipping plugin that focuses on the apparel market. Its design tool is free to access and supports online editing. On-demand apparel WooCommerce merchants can experience before installation.
As for lead time, POD orders will take 1 to 6 days to manufacture. When production is complete, HugePOD will drop ship products directly to customers in 5-15 days.
12. Toponepod
A custom shoe source for dropshipping is recommended, Toponepod. The company aims at sneakers and boots by partnering with print providers in the United States, Canada, Europe, Australia, and China. The general lead time is 3 to 7 days.

Toponepod API is easy-to-use in print on demand dropshipping WooCommerce. After connecting, custom shoe sellers can enjoy automatic fulfillment. And Toponepod will manage POD order production and ship them to customers with sellers' brands.
13. InterestPrint
InterestPrint is a free dropship fulfillment platform that offers print on demand WooCommerce integration. You can find seven customized product categories to sell online, for instance, shoes, bags, clothing, and wall art. Products are crafted in its printing facilities located in USA, Australia, and China. If you're looking for supplies in the US or with lower prices, InterestPrint can be your option.
How to Start Print on Demand Drop shipping with WooCommerce?
Quite a few essentials are required. You will need a domain and web host for WooCommerce print on demand. If you haven't got them yet, find WordPress hosting companies and buy from them. Then install WordPress after setting up the website. Now, let's start!
1. Install WooCommerce and Decorate Your Store
Find WooCommerce in WordPress dashboard – Plugins. Click 'Add New' and search. Next, install the plugin and activate it.
You can see how your online store look like now. A little bit primitive, right? Customers will not be attracted if you keep it that way. Thus, you need to decorate your WooCommerce store. Choose a theme in WordPress or WooCommerce Theme Store.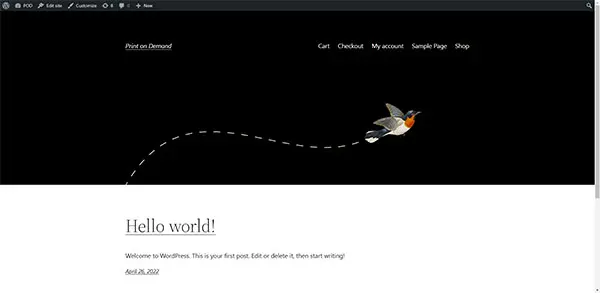 2. Install Print on Demand Dropshipping Plugin
Still, search and install a print on demand dropshipping WooCommerce plugin in WordPress. Here take Inkedjoy for example.
3. Choose and Design Custom Products
Create an Inkedjoy account and log in to the platform.
Inkedjoy provides massive free design elements. You can use it without concern. Or, you can design with your own pictures.
Its 'Bulk Design' feature is pretty cool. If you want to create a great number of custom products, you can finish designing in minutes.
4. Edit Product Details and Push to WooCommerce Store
Click 'Next' to go ahead price setting when finish the design. In this part, you can edit product prices, info, and shipping methods. Then, click 'Push to store' in one click.
5. Fulfill Print on Demand Dropshipping Order
Your designed products will be auto-synced to Inkedjoy. Check the WooCommerce orders in Orders. Pay them and you're free from the rest of work. Those custom products will be made, packed, and shipped by the platform.
FAQs of WooCommerce Print on Demand Dropshipping
1) Can I use more than one POD provider plugin for WooCommerce store?
Sure. You can install multiple print-on-demand plug-ins in WordPress. There are many best POD providers for WooCommerce store with different features. You can enjoy extensive services by using several plugins. When there is an order, just pay the order to the provider that you want it to fulfill.
2) Is Shopify better than WooCommerce for print on demand?
Not really. Both Shopify and WooCommerce are tools for eCommerce store building. The biggest difference is that Shopify hosts the website while WooCommerce attaches to WordPress.
Pricing and future upgrade are two main comparative aspects.
In terms of prices, WooCommerce takes full advantage of starting print on demand business. You only need to buy a domain and hosting services which can be much lower than Shopify store plan ($29 -299/mon ).
As for the upgrade of print on demand dropshipping store, WooCommerce is simpler than Shopify. Only install plugins in a few clicks, you can add various features to your website and expand your business.