With the ubiquity of online shopping, people shift to purchasing online as it is always more convenient and cost-effective than off-store. From clothes and kitchen items to food and cosmetic supplies, you can place orders on company websites, through delivery services, and even by signing up for a subscription. Day by day, e-commerce business has been prevalent all around the world.
When it comes to contact lenses, it's no doubt that online vendors are an increasingly more common avenue to obtain these vision-correcting & cosmetic products. By 2021, contact lenses' market financing amount to over USD 267 million.
It is an emerging niche as if cared for properly, contact lenses can provide a comfortable and convenient way to work, play, and live for the 45 million people in the U.S. who wear them. And dropshipping is one of the simple and most lucrative online businesses to start, you just need to find a reliable supplier and import the product listing without up-front cash. So starting dropship contact lenses online can be one of the best choices in 2022. Still worried about it? Let's check the success story from TTDEYE as followed articles:
The Success story to Sell Colored Contact Lense Online
Rocket Sale Only in 1 Week
Being fashion accessories never goes out of style, nothing expresses style better than a great pair of colored contact lense. TTDEYE, founded in 2011, is one of the great online stores to supply a wide range of colored contact lenses. It covers seven series from natural to enlarge, from party to fresh. Over 500+ products to follow daily life, appointment date, role play, etc. need.
Since the store launched online only in one week, it has made more than USD 3milion in revenue and created 700,000 user experiences. Now TTDEYE website has over 1 million followers and customers. Its store traffic has been maintained at 600,000 per/month.
As TTDEYE has shown, not only women but more and more men will buy contact lenses online. Male buyers account for a larger proportion of colored contact lens transactions than expected.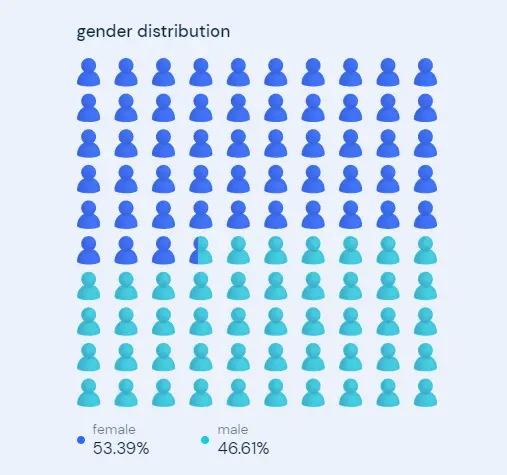 One of the reasons is the Korean K-POP has been prevailing. The idols will use contact lenses as fashion accessories to increase their stage effects. On the other hand, because of Japan's anime influence, more people jump on board with cosplay. It has stimulated the demand for colored contact lenses. Undoubtedly, the contact lens market potential is tremendous.
How Does TTDEYE Reach it?
In recent years, social media is one of the significant marketing methods, and its larger user volume has become an essential bond between businesses and consumers. So TTDEYE pays more attention to propaganda on social media. The number of his followers on Instagram, Facebook, TikTok, etc is over a 2.04million.
Take tiktok as an example. A 10-second video for contact lenses can attract hundreds of thousands of viewers. Based on TikTok's formidable social communication attributes, you can obtain an impressive result at the lowest cost. Both on INS, Facebook, and other social media platform.
You can check the picture below. The age period of consumers for contact lenses online shopping is major 18-24 years old. It is usually called Gen Z.
Gen Z has a spending power of over $140 billion and requires more than simply selling a product. Having grown up with smartphones, the Internet, and social media, they were creative, bold, and the creators of many trends on TikTok, Instagram Reels, and other platforms. It is one of the reasons why digital marketing has been a vital role in the marketing campaign.
Due to the younger group attaching more importance to pursuing fashion increasingly, Gen Z accepts the use of colored pupils to enhance or alter their appearance. So it has promoted the development of the beauty contact lenses industry.
Now that you have known the contact lenses market potential, it is time to start your contact lenses online business. Keep reading the article to find out how to.
Start Your Contact Lenses Dropshipping in One Minute
Choosing a reliable supplier is a critical step to starting a successful business. EPROLO, with zero membership fees, is a drop shipping service offering thousands of SKUs across categories to drop shippers. It has strong and professional suppliers to contact lenses that have FDA and CE certifications.
With EPROLO's diverse product supply chain, you can dropship various styles of colored contact lenses easily without inventory worries. Furthermore, with dozens of thousands of products, you can expand your business whatever you want. You can import AliExpress best selling link through EPROLO to your online store directly.
It will auto-syne the order and arrange packing and shipping after your online store is connected with EPROLO. And it can assist drop shippers to ship all around the world with various professional Express Shipping Channels. In a nutshell, EPROLO is one of the best choices for you to start contact lens dropshipping.
Conclusion
From TTDEYE's example, you can see contact lenses can be the trending products to sell in 2022. Don't miss the chance, check EPROLO to see the newest contact lenses style now. Someone may says it is difficult to start a business, but you can solve many problems with dropshipping (no pre-invest, no inventory needed, and no MOQ limits). So instead of having time to hesitate, take the time to act!