Selling products on TikTok has become a popular trend in recent years, especially since the integration of Shopify with TikTok accounts. This integration has made TikTok an effective advertising tool for Shopify users, and has helped to increase dropshipping sales.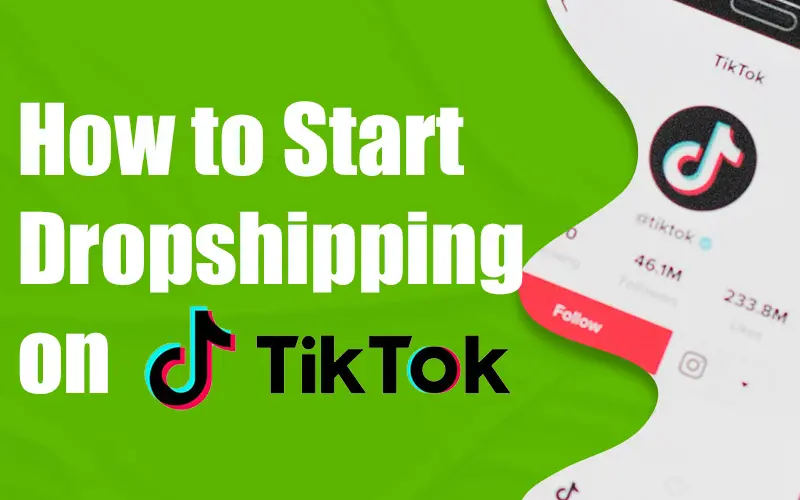 1. What is Shopify TikTok Dropshipping?
Dropshipping ecommerce model contains three elements: online store, supplier and marketing. If you're running an online business, those are what you need. Shopify and TikTok are the two platforms to help.
You may not feel strange with Shopify. When you search "store builder", it comes out immediately. Shopify is no doubt that the biggest company in the create-online-store field. Many people become users of it to start up their online stores.
Shopify has launched an app store to support ecommerce business. It is a collection of varied SaaS platforms. Those enable Shopify users to add different features to stores. And TikTok is one of them. It's a social network and marketing tool that allows dropshipping store owners to create ad campaigns conveniently. It breaks the wall between Shopify merchants and hundreds of millions of TikTok app users.
The business model that creates a store on Shopify and makes money on TikTok is called Shopify TikTok dropshipping.
2. Pros and Cons of TikTok Ads for Dropshipping?
Ad is the most powerful weapon to skyrocket sales, particularly on social media. TikTok, being one of the popular social networks, stands out in the crowd. But there are still many dropshipping store owners questioning if this type of ad on TikTok is worth the investment. If you're a member of the team, it's helpful to know the advantages and disadvantages of TikTok advertising.
Pros of TikTok Ads
The most striking thing is the incredible number of TikTok app users. We have mentioned that TikTok ranked as the most downloaded app above. Do you know the exact number? It's 2 billion! And there are 689 million monthly active users globally. The user number is incredible as a platform just released a few years before. Suppose TikTok users are your potential customers, you could be astonished. This makes TikTok advertising very attractive. Paying ad campaigns and promoting your products among massive TikTok users. Increasing sales and brand impressions goes without saying. If you are targeting young customers, congrats in advance. You come to the right market. The high proportion of young users is another outstanding pro of dropshipping on TikTok app. A report from Statista shows that 47.4% of TikTok users are between the age of 10 to 29. And this is only the data of the US. The information hidden in data is that TikTok ads will be exposed to young people primarily. It might greatly increase sales possibility for the platform has screened audiences from the beginning. The dramatic engagement rate is a desirable advantage. TikTok influencers gain an engagement rate of 17.96% compared with Instagram's 3.86% and YouTube's 1.63%. What does it mean? It means that influencer marketing on TikTok is better than Instagram or YouTube. You can find influencers on the TikTok creator marketplace. Cooperate with those that fit your niche to bring more product exposure and make money on TikTok.
Cons of TikTok Ads
There is no 100% perfect advertising platform, so is TikTok. High ad fee is one of the disadvantages. A minimum budget is required when you start TikTok advertising. You need to pay at least $50 per day for campaigns, while Facebook ads don't have such a limit. As for ad groups, the daily budget must be more than $20. It's not a small amount for many small business owners. They do not have a deep pocket like famous companies. High cost of this type of ad stops online store owners from running marketing campaigns as they want. Another minus of TikTok ads is the high requirement of creating content. Probably, you are captivated by the amazing TikTok engagement rate. But it does not come by chance. Obviously, lip-syncing videos or copy other people's content will never gain high quality users. And creative short videos make great contributions. In such a large number of videos, how to make an eye-catchy ad becomes a problem. If you are creating content that is not interesting enough, few people will click it or even buy. Thus, you need to invest more in your advertising. Make your ads creative and attractive, otherwise, the high engagement rate has nothing to do with you. So you have to rely on better influencers on the TikTok creator marketplace.
3. How to Dropshipping on TikTok
Many people think about how to sell on TikTok. This question can be changed into how to dropshipping on TikTok. If the platform attracts you, then don't miss the following guide. Here, you will learn how to use TikTok for your dropshipping business.
3.1 Create a Shopify Store
Sell products on TikTok, you need a Shopify store. Shopify provides three plans for users, and it charges from $29 to $299. Further, if you are running a sizeable dropshipping business, Shopify Plus could be your solution. With a brand name, you can easily create your store URL as brandname.myshopify.com. Then you can upload your logo and pictures and start designing your store appearance.
3.2 Find Dropshipping Supplier
When you finish building your store, it's time to look for a supplier. You don't have to find it elsewhere. Just visit the Shopify app store and massive dropshipping apps are waiting. What can they do? Take EPROLO for instance.
EPROLO is a free app for dropshipping and branding services. It lists varied products and can be imported to the store simply. Order fulfillment is a big part. Your dropshipping store orders can be synced to EPROLO automatically. After you pay, it will take over the fulfillment work from sourcing, picking, packing, shipping to tracking. If you have a demand for building a brand, EPROLO also helps. It supports custom products and packaging.
3.3 Find Winning Products
Whether your store can survive depends largely on the winning products. There are several ways to find winning dropshipping items. First of all, you can browse the collection provided by suppliers. There is a list of Top 100 Dropship Products on the EPROLO dashboard. Product categories contain Fashion & Clothing, Beauty & Health, Home decor, Kids, Sports, etc. Another method is to use the social network. You can search with keywords or hashtags. The number of search results could tell the answer. Or, you can use tools like Google Trends to see the popularity. What's more, dropshipping courses, communities, Facebook groups, and blogs are also good resources.
After you find your winning products, you need to add them to your store. There are a few more steps to do with the product, such as editing product title, description, variants, and images; setting product price; managing inventory; setting shipping method and customs information; and others.
3.4 Run Ad Campaigns with TikTok
It's hard to get sales if items are displayed quietly in the store. There are various methods promoting your products, like social media, influencer marketing, search engine optimization, advertising and so on. Many platforms are available, including
Facebook
, Instagram, Pinterest, and TikTok is an emerging one. On this social network, you can not only do influence marketing, but also run a different type of ad. Then, how to run TikTok ads on Shopify?
1) Install Shopify TikTok App
In Shopify, TikTok is more like an advertising tool than a sale channel. You can find the app in Selling Methods. Before installing the
Shopify TikTok app
, a TikTok account is needed. And it must be a business account, but not a personal one. Firstly, you will need to connect your
TikTok for Business account
with Shopify. Open the app on the left sidebar. Click connect and wait for the connecting page. If you don't have a business account, you have to sign up for further operation.
Connection completed. You will jump to the TikTok Overview dashboard. Here, you need to do a series of settings, such as TikTok Ad Manager, Data Sharing, and Payment. Data Sharing is quite important. You can connect your TikTok Pixel here. You may ask what a pixel is? It is a piece of HTML code. Add a pixel to your website so that you can track visitor actions, create audience groups, and find new customers. Pixel is helpful to optimize ad campaigns and analyze ad effects. As for setting TikTok Pixel on Shopify, you can do it on your TikTok Ads Manager dashboard. It's easy to get 1-click pixel installation.
2) Set Target Audiences
When you are ready to create a campaign, you need to target your ad audiences. This step is the same as Facebook ads. First of all, you can create a customer profile. It contains all characteristics of people who may buy your product, including age, gender, country, languages, interest and behavior, and devices. You can set your target audiences on TikTok Ads Manager. Those setting will help TikTok to push your ad to users that meet.
3) Get Ready for Ad Materials
The next step is to get ready for the materials. Things are as follows: short videos, ad text, display name, call to action, link, and profile image. Lip-syncing and common videos are definitely not a good fit. You need to create unique content, and if not, buy one. After confirming the video, prepare the copywriting. The ad text will appear together with your video. The display name is equal to your store brand. TikTok provides different call-to-action buttons, like Learn more, Shop now, Sign up, Visit store, etc. You can choose according to your advertising purpose. As for the link, you can put your product link or shop website in the blank. When people click the button, they will jump to the page.
4) Track Ad Effect
As you have set up the TikTok pixel, you can check campaign performance. Click Reporting on the TikTok Ads Manager dashboard, and you can customize the ad report. TikTok offers several metrics, such as Basic Data, Video Play, Engagement, In-App Event, Attribution, and Page Event. Basic Data includes CPC (cost per click), CPM (cost per 1000 impressions), reach, clicks, conversion, and others. Those metrics can help to analyze whether the money you spent is worth anything. In particular, conversion represents how many orders people place via your ad. Poor advertising causes by complex factors. One of them is the video material. If you want to see if your video affects the ad, you can check audience behavior in Video Play. Metrics like 6-Second Video Views and Video Views at 100% show whether people are interested in your video.
3.5 Fulfill Customers' Orders
Sales come after successful ad campaigns. When you get orders, you need to fulfill them. Due to the working model of dropshipping, suppliers are responsible for fulfillment.

In the EPROLO dashboard, your store orders including product info and shipping info will be auto-synced to the platform. Here, you can modify shipping methods or mark a note. After you pay, EPROLO will process the orders in its warehouses. One thing is worth to be mentioned. Your customers will not know the package is from your supplier. It's helpful to gain trust and to build your own brand.
3.6 Keep up Customer Service
Sales are not finished even your customers pick up the packages. There are still many things to do. Your customers could be repeat customers. Therefore, sending feedback emails or holiday greetings are good ways to maintain customer relationships. If you want to build a trustworthy brand image, asking your customers to leave comments is useful. You can offer a discount in return.