Whether you already have or will start dropshipping UK clothing, you may need to seek a credible supplier to ease the process.
Perhaps you prefer clothing dropshippers UK that feature a great variety of UK-made clothing products in good quality. Maybe the fast shipping speed to UK buyers is your top priority. So, you're looking for UK-based dropshippers for clothing and apparel that warehouse British products locally. Or, what you're after are print on demand UK suppliers that make and dropship custom clothing like t-shirts, hoodies, etc.
Whatever you need, finding the right suppliers from a wealth of clothing and fashion dropshippers UK can be easier said than done. Fret not. We've sifted through 8 great suppliers and provided you with the information you need to pick out a satisfied UK dropshipper. After that, we'll reveal how to start a clothing dropshipping UK business in just a few minutes.
Is Dropshipping UK Clothing Profitable
Before moving on to find the best UK dropshipping companies for clothing, we'll clarify one frequently asked question first. That is "Is UK good for dropshipping clothes?". The answer is positive, and the facts given below will tell you why.
1. High revenue in the UK e-Commerce market
In the United Kingdom, the eCommerce market size is valued at 80,678 million British pounds in 2021. The fashion and clothing industry has taken up 34%, with revenue amounted to £27,060 million.
2. Low-risk dropshipping business model
With clothing dropshippers UK, apparel dropshipping is a hands-off approach to earning lucrative profits. You can sell fashion clothing products made in the United Kingdom without bulk purchases or spending expensive inventory costs. Furthermore, these suppliers will pack and ship the order straight to your British customers.
3. Made-in-Britain clothing products
Apparel products made in the UK are often regarded as higher-priced items. What's more, most fashion dropshippers UK will wholesale fine-quality clothing items at low prices. Therefore, you can expect a good revenue.
4. A large UK customer base
97% of UK citizens now shop online, which has established a large customer base for your clothing dropshipping UK stores.
How Do I Find Clothing Dropshippers UK
The answer is with searching.
First, just type the best clothing and fashion dropshippers UK into the search box on the Google website or any other browser. You can also enter exact keywords like "t-shirt dropshipping UK suppliers", "print on demand clothing UK suppliers", and more.

Second, go through UK suppliers' directory websites. They can generate millions of suppliers across various industries. The dropshipping UK clothing niche is one of them.
Third, turn to a third-party dropshipping company. They will facilitate interaction between clothing suppliers and UK dropshipping stores. This greatly saves your time and best of all, the service can be free.
Among the three strategies, working with 3rd-party dropship services is the most time-saving method. So, we'll show you 8 believable suppliers, delivering basic information and the benefits of clothing dropshipping UK. Just move forward to take a look.
8 Fashion Dropshippers UK & Print On Demand Suppliers
In this list, some suppliers own dropshipping warehouse UK. Some clothing dropshippers UK don't headquarter in the UK, but they support shipping any clothing items for women, men, or babies to anywhere in the United Kingdom. Besides, some dropshipping print on demand UK suppliers are covered for those who want to dropship custom clothing.
1. EPROLO
EPROLO will be your top pick if you intend to start dropshipping UK clothing for FREE. With a high rating of 4.9/5 stars in Trustpilot, this supplier sells a host of clothing items, jewelry, pet products, Home decoration, and more. Thanks to the automated dropshipping services, more than 300 thousand users have been joined EPROLO and made a profit.
Warehouse
EPROLO has a local big warehouse in the United Kingdom. Therefore, they can assure that your UK customers will receive their ordered apparel items with timely and secure delivery.
Fashion & clothing catalog
T-shirts
Dresses
Hoodies & Sweatshirts
Jeans
Jackets & coats
Sweaters
Blouses & shirts
Fitness apparel
Socks & leggings
Baby clothes
Print on demand service
EPROLO has an advanced print on demand dropshipping platform. From there, you can easily add your unique design on white-label t-shirts, hoodies, sweatshirts, and so on and sell for children, women, or men. Plus, this dropshipping clothing UK supplier also offers multiple branding options for clothes. Your logo or company name can be clearly added on the back neck labels, packing bags, hangtags, and so on.
Integration
EPROLO has existing integrations with platforms like Shopify, eBay, WooCommerce, Shopline, etc.
2. Clothes2order
Clothes2order is a clothing dropshipping UK platform where you can find tons of apparel items selling to your end clients. Meanwhile, it also has long been involved in print on demand drop shipping UK for creating superb personalized clothing.
Best-selling clothing categories
Polo shirts
Hoodies
Jackets
Caps
Sportswear & gym clothing
Hi Vis
Chefs whites
Jogging bottoms
Knitwear
Leggings
Overalls
Rugby Shirts
Print on demand service
This UK clothing dropshipping supplier sells customizable workwear and uniforms. All clothing products are printed and embroidered on demand without minimum order quantity.
UK delivery
The clothing dropship order of £100 and over can enjoy a FREE shipping service across mainland UK. The estimated dispatch time is within 11 business days from UK warehouses.
3. Inkthreadable
Another UK-based clothing dropshipping and print on demand supplier is Inkthreadable. It'll give all you require whether you set out to dropship children's clothing, men's clothing, or women's apparel. Additionally, it claims that all the dropship orders will be processed in 7 working days. After that, the apparel will arrive to buyers in Great Britain within 3 -5 days.
Over 200 apparel products
T-Shirts
Hoodies
Sweatshirts
Jackets
Vests
Socks
Bottoms
Activewear
Babygrows
Integration
For the automatic integration, this UK supplier is now focused on Shopify, Squarespace, WooCommerce, and Etsy clothing stores.
Print on demand UK service
It supplies organic white-label garments and adds designs on them using vegan-friendly printing methods. Thereafter, all custom clothing items will be shipped directly from the UK fulfillment center.
4. Style Centre Wholesale
Have you ever wondered to sell luxury clothing from best-known brands? If Yes, then Style Centre Wholesale is worth a try. It's one of designer clothing dropshippers UK that works with multiple top-branded clothing brands. It has built a long-term relationship with Adidas, Balenciaga, Givenchy, Gucci, Marc Jacobs, Nike, Tom Ford, Philipp Plein, and so on.

Product catalog
Coats & jackets
Footwear
Hoodies & sweaters
Jeans
T-shirts & polos
Sunglasses
Accessories
Warehouse & shipping
The warehouse of this UK clothing dropshipping supplier is located in Dundee, Scotland. Plus, after you pay for the dropship order, the apparel items will be shipped the next day to ship apparel to any UK territory.
5. Printful UK
If you desire to run a clothing store for dropshipping print on demand UK, you can't miss out Printful UK. It provides a custom print for tee shirts, tank tops, leggings, baseball hats, posters, coffee mugs, and more to sell in the UK.
Fast delivery all over the UK
This UK fashion dropshipper has launched a custom apparel fulfillment center in the UK. Consequently, it only takes 2 days to ship custom clothing to England, Scotland, Wales, and Northern Ireland.
eCommerce store integration
It features Shopify, Wix, Magento, BigCommerce, Weebly, WooCommerce, and more for automatic integration. So, handling online apparel stores or dropshipping sites for clothes is a breeze.
6. Spreadshirt UK
Spreadshirt UK is a fashion dropshipper that focuses on a pretty specific niche: T-shirts. The company offers a large diversity of personalized t-shirts that can be easily imported to the dropshipping store. In a word, if you want to make a difference in dropshipping t-shirts UK niche, Spreadshirt UK will give you a helping hand.
Product price
This clothing dropshipper in the UK doesn't set the MOQ for custom t-shirts dropshipping or selling other apparel items. What's more, you can get up to 70% off an order containing 6 clothing items or over.
T-shirt category
Cool t-shirts
Funny t-shirts
Vintage 1972 t-shirts
Cycling t-shirts
Motorcycle t-shirts
Guitar t-shirts
Retro t-shirts
Horse t-shirts
Maternity t-shirts
Polo shirts
Maternity t-shirts
Organic t-shirts
Long-sleeved shirts
Clothing for everyone
Aside from t-shirts, it also carries other types of apparel items from British suppliers. Even better, it has made specific sections for men's clothing, women's apparel, and baby & children's boutique clothing.
Dispatch time
This dropship clothing supplier UK doesn't have an inventory place in the United Kingdom. Instead, the order will be sent from Germany with an average arrival time of 10 business days.
7. Snuggle UK
Snuggle UK offers competitive prices to create, print, and ship customized clothing to everywhere in the UK. It sources made-to-order apparel products from multiple wholesale clothing suppliers. Furthermore, it provides superior text and photo prints to help UK sellers achieve customer satisfaction.
Custom product categories
Men's clothing
Women's clothing
Kids' clothing
Baby clothing
Unisex apparel
UK express shipping service
It offers UK express shipping option, which can promise to ship orders to all areas within the UK in a short period.
8. Prodigi
Finally, the last on this list of UK-based dropshippers for clothing is Prodigi. Headquartered in Great Britain, this supplier offers more than 500,000 products to choose from. On top of that, it puts forward quick and effective POD clothing selling in the UK as well as other countries.
Product catalogue
Men's clothing
Women's clothing
Kids' clothing
Accessories
Prints & posters
Framed prints
Canvas
Stickers
Office & warehouses
It stores its products in London, Cardiff, Harrogate, Alton, and Farnham. What's more, it boasts a UK-based production space greater than 50,000 square feet.
How to Start a Clothing Dropshipping UK Business
Here are the exact steps you need to take to dropship clothes in the UK. Make sure you have owned an online store or a dropshipping site for clothes before heading forward. Then, we'll use the free UK clothing dropshipper EPROLO to explain the process, which is almost similar to any other dropshipping platform above.
Sign up for a free EPROLO account here.
Click

Connect New Store

. Then, finish the on-screen steps to connect your store.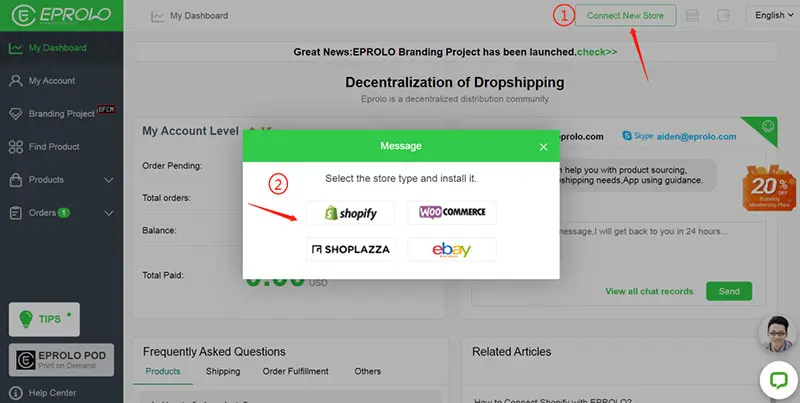 Once done, click

Find Products

on the left. Navigate through the product catalog to find what you need to sell.
Click

Add to Import List

to add the products you need.
Once ended selecting apparel items, go to

Products

>

Import List

to edit product information.
Next, click

Push to Store

to import the products to your UK dropship stores.
When you get an order from a British buyer, it'll auto-sync the order to EPROLO. Go to

Orders

>

EPROLO Orders

to pay for the item.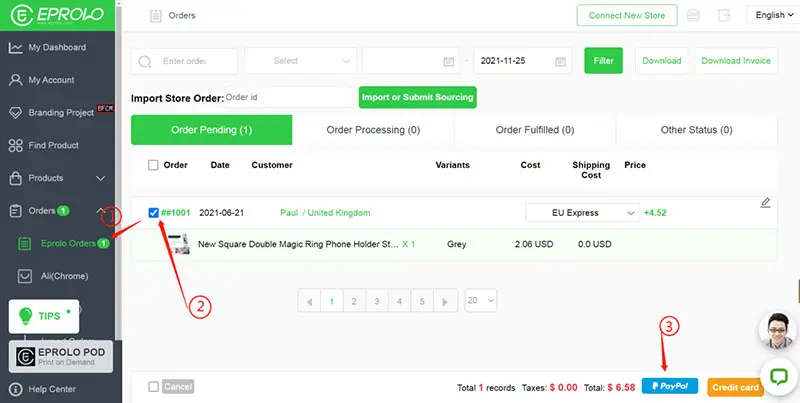 Now, you're done. EPROLO will take care of the rest to source, check, pack, and ship items to customers.