eBay dropshipping is allowed after the gigantic eCommerce marketplace published its dropshipping policy. The growing interest in selling products on eBay has driven a growth in eBay dropshipping software development. Such tools help automate dropshipping tasks for eBay. This includes eBay product sourcing, listing, price monitoring, inventory update, order fulfillment, and shipping. If you also want to dropship on eBay and look for dropshipping tools eBay to help, continue the article and get what you need!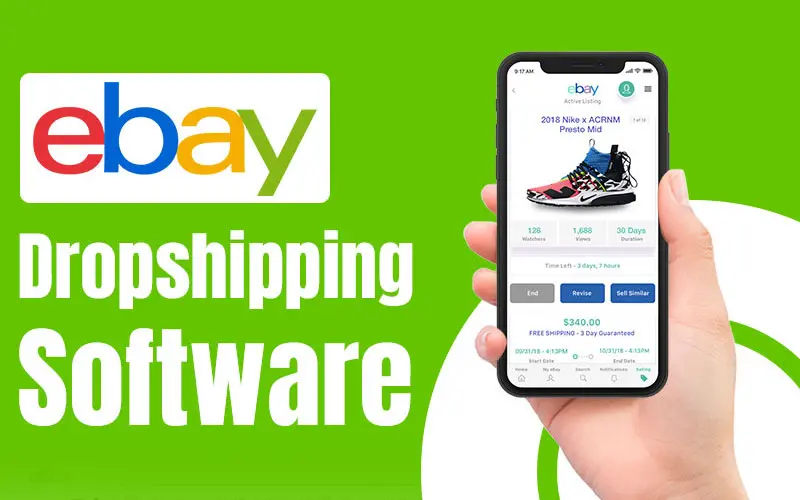 What eBay dropshipping software can do
Quite a few complicated procedures are laying behind the building-up of eBay store. Thankfully, eBay dropshipping software can reduce workload and simplify operations.
The dropshipping tools eBay can be of service to different dropshipping phases. They can be classified into:
When selling on eBay, searching for dropshipping products is an important yet troublesome step. Luckily, the eBay dropshipping product research tool can save you bacon. It acts a role as an eBay hot items finder, offering you tons of trendy items from certified suppliers all over the world.
Uploading products listing has never been easier with the eBay drop shipping auto lister. It now only takes a few clicks to create eBay listings with a specific size, color, and inventory, and sync it to your eBay store. Meanwhile, some dropshipping software also includes eBay title optimization tools and price monitoring buttons to help sellers get more traffic and profits.
One-click inventory update
If you partner with numerous suppliers, eBay dropshipping software can help manage them and monitor them in only one straightforward platform. Therefore, you can monitor and update the stock or inventory easily. It doesn't matter where you start eBay dropshipping, be it UK, US, or Canada.
Automated order fulfillment
When you receive an order from the eBay shopper, the order will be synced with the suppliers. Then, the automated dropshiping software for eBay will instantly fulfill the order to ship items to the customer.
Auto-syncing shipping information
The dropshipping tools ebay will automatically update the shipping and tracking details to your eCommerce store.
In addition, some eBay software supports eCommerce arbitrage from other platforms like AliExpress, Amazon, and Walmart. Plus, some eBay dropshipping tools also offer services for doing market research to targeted niche and SEO optimization.
How dropshipping tools eBay work
There are a few steps to run eBay dropshipping online businesses and you can use an eBay dropshipping tool to help.
First, you need an eBay seller account and buy a store plan. Second, find eBay dropshipping software free or paid so you're released from inventory and fulfillment. Third, you need to find profitable products and add them to eBay listings. Make it this far, you're now ready to get sales. After you receive orders, move to step four. Pass your order to your suppliers or wholesalers for order fulfillment. Fifth, you need to track the package and focus on customer service. Lastly, make good use of the eBay promoted listings and marketing plan to increase sales.
List of 9 eBay Dropshipping Software Free & Paid
Here are top 9 dropshipping software for eBay to streamline processes and help run an efficient eBay eCommerce business. Whether you're a beginner or an experienced eBay dropshipper, you should not miss it.
Some of the eBay dropship software are multifunctional. In this part, you will learn their features, pricing, and how to use them. Now, let's start!
| Name | Features | Pricing |
| --- | --- | --- |
| EPROLO | Find best items to sell; list products; inventory management; automated order fulfillment; branding; print on demand; dropship from AliExpress to eBay | Free to use |
| DSM Tool | Find products; list products; order fulfillment; price and stock monitor; eBay SEO; eBay market research; dropship from Amazon, Walmart, AliExpress to eBay | $0-399.97/mon |
| AutoDS | Product research; list products; price and inventory monitor; auto ordering; dropship from AliExpress, Amazon, Walmart to eBay | $7.99-38.99/mon |
| Easync | Find suppliers; product listing; dropship from Amazon, Walmart, AliExpress to eBay | $49-499+ |
| PriceYak | List products; dropship from Amazon, Walmart, AliExpress to eBay; automated order fulfillment | $0-0.10 per listing $0-0.40 per order |
| Inventory Source | Find suppliers; list products; inventory monitor | $0-399/mon |
| Dropship Beast | List products; inventory management; price and shipping method monitor | $30-100/mon |
| Ordoro | Multichannel order fulfillment; inventory management | $0-999/mon |
| Zik Analytics | Market research; eBay SEO | $29-89/mon |
1. EPROLO – Free dropshipping software for eBay
Being a reliable dropshipping supplier for years, EPROLO is forever free to different e-commerce platforms. eBay store owners can use it as well as Shopify, WooCommerce, etc. To date, EPROLO has been examined by over 300 thousand online business owners and obtains trust.
As a multi-purpose eBay dropshipping software free to use, EPROLO is not only an automated dropshipping platform but also can be your dropshipping sourcing agent and branding service provider.
EPROLO can help in finding drop shipping products and listing. You can freely access bestselling items and weekly new arrivals in "Find Products". To list your favorites on eBay is simple. With just a few clicks you can edit variants, inventory, selling prices in bulk, and then import products to eBay store directly.
For order fulfillment, the free dropshipping tool simplifies the process for eBay online sellers. Your customer's orders will auto-sync to EPROLO from eBay. After you pay, the warehouses will pick, pack and ship the packages. There are international express shipping lines you can choose from and provide an average delivery time of 5-15 days.
The "Import Ali Product" feature and the Chrome extension make EPROLO an ideal Aliexpress to ebay dropshipping tool. eBay store owners are allowed to source wanting products within one second. With the supply chains, You can use EPROLO to dropship on eBay from AliExpress.
If you want to build your own brand, EPROLO is the best solution. You're enabled to customize products, packing, gift cards, scotch tapes, etc.
2. DSM Tool
DSM Tool is a dropshipping platform for small business sellers of eBay, Facebook, and Shopify. It helps with operations like finding and listing products, monitoring price and stock, placing orders to suppliers, etc.
DSM Tool has integrated over fifty suppliers including dropshipping fulfillment websites, wholesale websites, and eCommerce marketplaces like Walmart, AliExpress, and Amazon. That is to say, you can use it to start AliExpress, Amazon, and Walmart dropshipping to eBay.
Plus, it is also one of the best dropshipping software for eBay that offers market research and SEO tool. The software offers eBay competitors analysis. So you can detect sellers who sell the same product. And you can search product hot keywords for title optimization. It would be helpful to make a successful business.
3. AutoDS
AutoDS is a paid dropshipping tool for eBay, Facebook, and Shopify online merchants. The main drop shipping services of AutoDS are: product research for eBay dropshipping, item listing, price and inventory monitor, auto ordering, and eBay message management.
Seeking dropshipping Amazon eBay software? AutoDS is what you need. Working with more than twenty dropship suppliers like AliExpress, Amazon, Walmart, and Esty, AutoDS is available to dropship from those platforms to eBay. To give an example, you can use the Helper Extension to find products from AliExpress and then sell on eBay. It functions as an AliExpress eBay dropshipping software.
To sum up, AutoDs is one of the best dropshipping eBay automation software. But it should be noted that the delivery time is hard to guarantee. Because orders are fulfilled by diverse suppliers.
4. Easync
Need dropshipping software for eBay UK? Consider Easync. It supports store owners to sell in eBay UK, US, Australia, France, Italy, and other countries. This powerful eBay dropshipping app for finding products, creating listings, repricing, automated order synchronization, and others.
One of the key features is that Easync allows online retailers to source from Amazon, AliExpress, Walmart to eBay. How does it work?
For instance, with the arbitrage system, Easync can help dropship on eBay from Amazon. First, you need to find winning niches and items on Amazon. Second, upload the products to Easync. Here you can use AMZdrop chrome to reduce your workload. Third, sync Amazon products to your eBay store via Easync. When you get orders on eBay, the orders will place on Amazon then. Easync will take over the fulfillment with its own Amazon account. The platform helps eliminate the painful ordering process.
5. PriceYak
PriceYak is an almost free eBay dropshipping software. Ecommerce business owners can enjoy free listing creation, 100 free repriced listings, and 300 free orders each month. After you run out of the limit, PriceYak charges several fees.
PriceYak supports Amazon to eBay dropshipping, Walmart to eBay dropshipping, and AliExpress to eBay dropshipping. Firstly, you need to install the YakPal Chrome extension lister to help create eBay listings. Then, complete your AutoOrdering setting. After connecting your fulfillment account of Amazon, Walmart, or AliExpress, the platform will place orders to the source market on your behalf automatically. and upload the tracking info.
6. Inventory Source
Inventory Source is a dropshipping network that integrates more than 200 top suppliers. And it can be used in multiple sale channels. You can find dropshipping products and easily add suppliers' products to the online eBay store.
It works in this way. You need to authenticate your eBay account to the "Push To eBay" tool first. Then you can search for products from the partner suppliers. When you find items you want, add them to your batch and start filling in the necessary info. Lastly, activate the items and publish them to your eBay store.
Besides, it is also an automated tool to monitor suppliers' inventory. The tool will auto-update product quantities to your store. When the supplier shows the product out of stock, the software will drop your listing offline on eBay. It's a great tool to minimize operations.
7. Dropship Beast
eBay asks for more product details and adds listing requirements. You certainly don't want to create listings manually. An eBay item lister will be helpful. Being one of the best eBay dropshipping software, Dropship Beast is a powerful tool to facilitate listing workflows.
The dropshipping tool is user-friendly. Just copy the product link. Dropship Beast will extract the info and image in a few seconds. Further, sensitive words that may violate eBay listing requirements will be detected automatically. Then you can edit the info. When all is done, you can publish the product to eBay. The platform enables ecommerce business owners to list products in bulk. With it, you can save a lot of time.
The top dropshipping software is more than an eBay lister. It also provides services like stock management, monitoring supplier prices, quantities, shipping methods, and updating tracking numbers.
8. Ordoro
If you're looking for the best dropshipping solutions to fulfill eBay orders, Ordoro will be a good choice. It is a multichannel fulfillment tool that contains shipping options like USPS, DHL, Fulfillment By Amazon (FBA), etc.
You can run an Amazon to eBay dropshipping business if you use Ordoro. Add eBay as your sales channel and add FBA as your supplier. Then you need to finish the product setting to mark it fulfilled by Amazon. When eBay customers place orders, Ordoro will send your eBay orders to the Amazon FBA center.
9. ZIK Analytics
ZIK Analytics is the best eBay market research tool for online sellers. Features cover get: eBay sales data, scan competitors, explore trending products, and find hot product keywords. With the tool, eBay store owners can save time on finding high profit margin products and increasing sales.
There is an online eBay fee calculator on the website. The gadgets will automatically show the eBay final value fees. It is convenient to figure out how many you can earn from a certain product. With it, you can streamline the calculation process.
Common Questions on eBay Dropshipping
Some common questions that eBay dropshippers often ask. If you're planning to dropship on eBay, or want to dropship from other eCommerce platforms to eBay, here are the answers.
1. Is dropshipping allowed on ebay?
Since the website published the eBay dropshipping policy in Jan 2019, dropshipping is allowed on eBay. There are some key rules that dropshippers should comply with: 1) eBay sellers can work with wholesale suppliers to fulfill customers' orders. And this is the dropshipping business model. 2) eBay sellers are responsible for the product quality and the promised delivery time. 3) eBay sellers cannot purchase items from retailers who are on other marketplaces and then ship to eBay customers. If you meet the requirements, you can start eBay dropshipping without hesitation.
2. Can you dropship from Walmart to eBay?
Sure. It's allowed to do so. Walmart is an eCommerce platform with many dropshipping suppliers. So long as you work with suppliers rather than retailers, you can dropship from Walmart to eBay. In the process, Walmart is playing the role of product source market.
3. Is dropshipping from Amazon to eBay legal?
Yes. Again, if you're not buying items from retailers, Amazon to eBay dropshipping is allowed. Surprisingly, more than sourcing from Amazon, quite a few eBay dropshipping sellers use FBA, the fulfillment method of Amazon. They find it a powerful solution to their online eBay store.
4. Is AliExpress to eBay dropshipping legal?
Of course. AliExpress is one of the largest ecommerce websites and many business owners source from it. If you're an eBay dropshippers, you should not miss the chance. Dropship from AliExpress to eBay enables you to find wholesale price products. In this way, you can set a higher selling price in your store and earn from the margin.