Dropshipping is a very profitable business model for e-commerce that allows you to set up online stores and sell products without having to keep a physical inventory. Dropshipping differs from the traditional retail business model in that it has a middleman – a dropshipping supplier – that actually supplies the products you sell and delivers them to your customers.
If you're interested in starting a dropshipping business, the dropshipping suppliers you choose to work with will determine your success to a very large extent. In 2022, there are several suppliers to choose from. But which ones are the best dropshipping suppliers?
This article will look at two of the best dropshipping suppliers of 2022: EPROLO and DSers. We'll give you a detailed overview of both of the suppliers, including the services they offer, their pricing points, as well as the pros and cons of working with them. After that, we hope you'll be able to make a good choice about which dropshipping supplier is the right one for you.
Overview of EPROLO
EPROLO is a China-based dropshipping platform that aims to help the entrepreneur to scale their business. Over the years, it has grown in popularity and has become the top choice for many dropshippers. Let's look at the services offered by EPROLO, its pricing structure, and the pros and cons.
Services
As a comprehensive supply chain platform, EPROLO provides the services necessary for every step of the chain. This means that EPROLO provides sourcing, dropshipping, print-on-demand, automated order fulfillment services, branding and labeling services, global dropshipping warehousing, and global shipping.
Pricing
EPROLO is a completely free dropshipping platform. You can sign up for free and do not have to pay any kind of subscription or membership fee. The platform actually brands itself as being forever free. Additionally, there is also no need for a credit card to sign up for EPROLO. You get charged for the product fee and shipping cost once you have placed your order.
Pros of EPROLO
Free to Start: As mentioned before, EPROLO is a forever free service. This means that it is free to sign up, and there is no trial period after which you have to pay a membership fee. A free dropshipping supplier is a great choice if you are just starting with dropshipping.
First-hand Manufacturer Products: EPROLO has over a million products for you to choose from. The products have been sorted into 10 main categories with multiple subcategories as well. No matter what niche of products you're looking for, EPROLO likely has them. Also, most of the products available can be bought at wholesale prices, which often makes the products cheaper than you would find on Ali Express or Alibaba.
Over 5,000 Vetted Suppliers and Other Sourcing Options: EPROLO has a private internal inventory that is made up of products from over 5,000 previously vetted suppliers. If you're still not finding the product you're looking for, EPROLO can also connect you to third-party marketplaces such as Ali Express or Alibaba.
E-commerce Platform Integrations: EPROLO is generally very user-friendly, and it is easy to sign up and get started with the platform. To make things even easier, you can sync the platform with other e-commerce platforms like Shopify, WooCommerce, eBay, and Ali Express. You can also go for additional custom integrations using the EPROLO API.
Easy Product Filtering Options: EPROLO's product filtering options make it very easy to find the products you're looking for. Not only can you look at the categories and subcategories on the EPROLO app, but you can also search for a product and sort the results according to price range, shipping time, newest products, popular products, and more.
Fully Automated Fulfillment Process: EPROLO's automated fulfillment process ensures that all of your store's orders are synced with the platform. This way, whenever you receive an order, EPROLO automatically updates the order status for you and sends out the product for delivery with order tracking.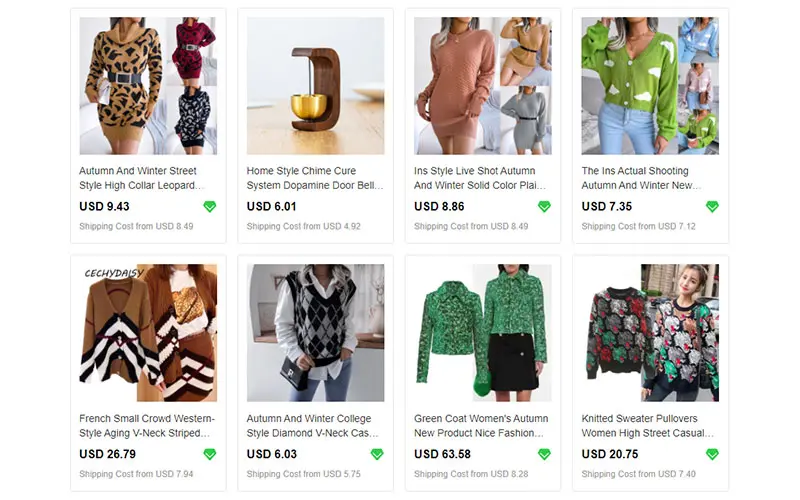 EPROLO's Branding Services Are a Stand-Out Feature: The additional branding services that EPROLO offers make the platform stand out from all other dropshipping suppliers. With services like custom labels, packaging, handbags, gift cards, and scotch tape, the branding services help you establish your brand and stand out against your competitors.
24/7 Customer Service: If you ever run into any trouble with your dropshipping or need to get in touch with the platform, you can do so at any time. EPROLO provides 24/7 customer service through a Help Center and a LiveChat.
30-day Shipping Guarantee: EPROLO has warehouses all over the world, which makes for quicker shipping. Although you can usually expect your products to arrive on time, EPROLO offers an additional 30-day shipping guarantee. If the delivery date is missed, then the platform offers you a full refund.
Cons of EPROLO
Branding Services Come at Additional Costs: The branding services that set EPROLO apart from all other dropshipping suppliers unfortunately come at additional costs. You can sign up for a Junior Membership for $19.90 or pay a yearly $99.00 for a Senior Membership.
Shipping Costs Based on Estimates Can Be Inaccurate: The shipping cost the platform tells you is often based on the estimated weight of the product. Therefore, the estimated shipping cost can sometimes differ from the actual shipping cost you end up paying.
Overview of DSers
DSers is a multiple order management software launched in 2018. The software was developed as an official AliExpress dropshipping tool for any dropshippers that need it. Let's look at the services offered by DSers, its pricing structure, and the pros and cons.
Services
DSers offers a number of useful services to dropshippers, including fast order placement from Ali Express, optimized technology to find the best suppliers, e-commerce integration, product mapping, and smart order fulfillment.
Pricing
DSers is another forever free platform. While there is no sign-up or membership fee, there are additional features available that can only be used under three different paid plans. The basic plan is free, the advanced plan costs $19.9/month, the pro plan costs $49.9/month, and the enterprise plan costs $499/month.
Pros of DSers
Allows You to Place Hundreds of Orders on Ali Express in Seconds: One of the biggest advantages of using DSers as your dropshipping supplier is that it saves you a lot of time. Instead of individually placing orders from Ali Express, by using DSers, you can place hundreds of orders at a go.
Automated Order Tracking: Many tasks in the order process are automated with DSers, including order tracking. Once an order has been placed in your store and shipped out, you can trace exactly where it is until it arrives to the customer.
Multiple Options for Shipping: Shipping methods can be pre-selected and come at different price points. The enterprise plan also allows for the Ali Express saver shipping adaptor plan.
Simple User Interface: DSers is very easy to use and has a super easy and user-friendly interface. DSers was actually first launched to get input from dropshippers, meaning that it has been designed keeping this input in mind.
24/7 Live Customer Service: Customer support is available 24/7 via a Live Chat and email service.
E-commerce Platform Integrations: DSers can be integrated with various dropshipping e-commerce platforms, not just Ali Express. Some of these platforms include Shopify, WooCommerce, and Wix.
Cons of DSers
Many of the Useful Features Are Not Available in the Free Plan: The paid plans for DSers include useful features like inventory management, bundle mapping, tracking, and customizations that are not included in the free plan.
No In-House Branding Services: DSers does not provide any in-house branding services, such as printing logos or custom tags.
Very Limited E-Commerce Platform Integrations: DSers is only integrated with three e-commerce platforms, whereas other dropshipping suppliers have multiple integrations.
No Option to Bulk Edit Products: While DSers makes bulk ordering products very quick and easy, there is no option for bulk editing products. Each product's information has to be edited individually.
Which one is the best dropshipping supplier for you?
Overall, there are unlimited options to choose from when it comes to dropshipping suppliers. One of the best dropshipping suppliers that you would benefit from working with is EPROLO. We believe that EPROLO is a dropshipping platform that offers you the best features and services, and to top it all off, it is completely free! There are no extra fees to pay or limits to the features you can access on EPROLO.
EPROLO also has a large inventory of products available at wholesale prices. Some of the products are even cheaper and more cost-effective than those on Ali Express while still being of good quality. Due to the many warehouses that EPROLO has worldwide, global shipping is also a lot quicker, cheaper, and more reliable.
The platform is also integrated with a number of other e-commerce platforms so that you can work with EPROLO even if you already have a dropshipping store built on another platform, such as Shopify or WooCommerce.
Best Dropshipping Supplier of 2022 – Conclusion
As we have mentioned before, the suppliers that you choose to work with will play a big role in your success as a dropshipper. When choosing a dropshipping supplier, you have to keep in mind the services they offer, their pricing, which platforms they are integrated with, where they are located, and whether their products are of good quality.
Out of the numerous dropshipping suppliers, we believe EPROLO and DSers are both very good options. However, if it had to come down to just one, we would definitely choose EPROLO every time.