Google Trends is a useful analytics tool that can improve your dropshipping business. Dropshipping businesses involve finding a product, niche, and supplier and shipping these items worldwide through an online store or platform.
As the business landscape evolves, it becomes increasingly important to leverage the latest tools for your business. Making business decisions based on the feedback from Google Trends can surely accelerate your dropshipping business results.
Therefore, Google Trends dropshipping is a highly effective way to grow your business. In this blog post, we'll explore how Google Trends can help dropshipping businesses and how dropshippers can use this tool to their advantage.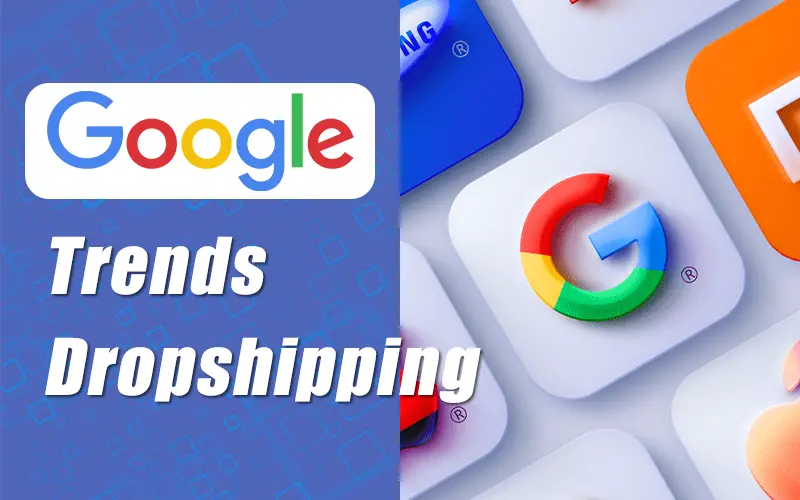 What Is Google Trends?
Google Trends shows exactly how relevant a term is on Google's search engine. It gives you precise information on search volume within a specific timeframe.
If there are any particular reasons for an increase in search volumes, such as a festive season or world event, Google Trends will indicate it.
Additionally, it also shows you the geographical information behind the search term, i.e., where it was searched from.
It is a useful feature if you are doing keyword research. Also, as the name implies, it indicates trends related to certain words or phrases, providing insights to users.
You can use Google Trends to determine the most relevant trends and dive deep to learn more about the topic.
Other useful constraints you can implement include changing the location, time period, classification, and search type. This will illustrate a graph or chart showing the trend changes over time, allowing you to make personal or business decisions accordingly.
How to Use Google Trends for Dropshipping Success (Step-by-Step)
Google Trends is pretty simple to use. You can visit https://trends.google.com/home and log in to your account to get started. If you don't have one, you need to register or sign up.
Using Google Trends for dropshipping success typically requires three main steps. These allow you to learn about products and niche relevance for market research. Let's explore these steps.
Search for a phrase or term
Since Google Trends shows you a particular keyword's trends, you need to search for something specific.
If you're wondering whether dropshipping watches is still relevant, you can check the search volume and compare it over the past five years.
This enables you to find the perfect niche and do your market research properly, leading to dropshipping success.
Google Trends allows you to adjust the time period according to your needs. You can check a term's search volume for a particular month or from any year you choose.
The tool will show you the trend information you need accordingly.
Adjust the filter to global
If you're looking for dropshipping insights in a particular location, you can adjust the filter to a specific region. If not, you can check the global trend, especially if you're dropshipping worldwide.
The graphs you will see are self-explanatory, but you can look into the different types of rises and drops to understand search volume changes.
How Google Trends Can Benefit Your Dropshipping Strategy
Google Trends dropshipping can help you make informed business decisions to produce desirable outcomes. You no longer have to rely on guesswork but can look at actual statistics and insights to improve your dropshipping strategy.
Let's explore how Google Trends for dropshipping is the solution you need.
a. Finding a Niche for Your Store
Google Trends dropshipping will tell you exactly which products are selling quickly. This can help you choose a winning niche and generate more sales.
Using Google Trends for dropshipping can help you learn about what customers are looking for. It doesn't show random statistics. It illustrates global trends that make it an exceptional tool for dropshipping success.
For example, as summer is coming, dropshipping sunglasses may be a lucrative niche. You can search "sunglasses" on Google Trends to see if people need them.
As we can see, over the past five years, the search volume for "sunglasses" would increase and reach the peaks from May to July. As a result, if you want to sell sunglasses for high profits, it's time to kick off.
Once you've determined your niche, such as the sunglasses we mentioned, you can find a dropshipping supplier for the highest quality products in the market.
b. Finding out Which Areas to Advertise Your Products in
Google Trends shows where specific products are trending. Your dropshipping business may be more popular in a particular area.
Dropshipping Google Trends can tell you the best locations to run your paid advertisements. If your target audience is in another state, you can focus your marketing budget there. This allows you to tap into your target market for maximum effectiveness.
The graph above shows us the interest of "home decor" by region. The darker the blue, the more people search the term in the area. Undoubtedly, it is much easier for you to succeed in the business by drop shipping home decor in these places.
Based on the charts for the different products, you can see where you are making the most money advertising.
If your business decisions are based on generating solutions for your customer's pain points, you will attract more customers to your products.
c. Keeping Up to Date With the Latest Trends
As the name implies, Google Trends gives you real-time information about current and past market trends. By searching a particular keyword or phrase, you can find graphs detailing the interest changes over a period of time.
The trends will appear as peaks or troughs, which indicate gains and losses. You can learn about how the demand for products changed in different months of the year. You can also contrast this with the past year's data to understand your market more thoroughly.
Also, the Related topics and Related queries part will show you what people are interested in related to the searched word.
On the result page of "home decor" searching, we know that people are interested in the 2023 home decor trends most. Again, Google Trends dropshipping shows us that selling home decor products is definitely a great way to earn fat profits.
Google Trends is an analytics tool that gives you all the information you need about any topic. However, you should always compare this information with actual research and speak to people in the industry for maximum accuracy.
d. For Marketing Your Dropshipping Business
All insights you gain from analyzing current and previous trends in a dropshipping niche can help you create a special brand message.
This can directly affect your products' marketing and help you reach and attract more customers.
Google Trends dropshipping will tell you about customer preferences and the demand for certain products in the market.
You can create solutions based on these insights to maximize your marketing effectiveness.
Leveraging this analytics tool is an excellent marketing strategy that helps you cater to your target audience.
e. Gain Insights into Your Target Audience
Without knowing exactly what your customers want and their problems, you cannot generate the necessary solutions to drive results.
Google Trends dropshipping provides clarity on the needs of real people. Your dropshipping business will be successful if you can provide products that people are looking for.
You can use this tool to determine the differences in demand across various regions.
This allows you to create an effective marketing campaign based on varying interest levels in your location and others. Once you have these insights, you can allocate your efforts accordingly.
f. Learning More About Keyword Research
Google Trends tells you everything you need to know about the best products for dropshipping in different regions. You can change the tool's filter to check the search volume in specific areas or globally. This can help you optimize your website's SEO to help your ecommerce store rank better on search engines.
If your store is easy to find online, more traffic finds its way to your products. More traffic equals more sales, which is a significant advantage of Google Trends for dropshipping.
Is it a Good Idea to Use Google Trends for Dropshipping?
Google Trends dropshipping can help you find the perfect niche for your online business. It can also help you conduct keyword research, which plays a massive part in SEO. This drives traffic to your stores and makes it possible to capture your target audience.
In addition, finding the highest-selling products is not easy. Google Trends provides valuable insights that allow business owners to capitalize on emerging trends. You can use the tool filter to study trends in the past day, year, five years, or since 2004. This lets you know whether a trend is increasing or on the decline.
You can also utilize Google Trends dropshipping to create promotions and special deals for various regions. Once you know where your target market resides, you can create marketing campaigns to increase your dropshipping business's visibility.
Moreover, Google Trends dropshipping plays a massive role in identifying emerging trends and comparing them with previous ones. This makes it possible to become a forerunner and sell the most relevant products in the market. For example, those who capitalized on the massive demand for COVID-19 masks in 2019-2020 yielded the largest profits. Similarly, new trends are an opportunity for dropshippers to sell the hottest items.
Sell Popular Products on Google Trends Dropshipping
After looking for popular products on Google Trends, You need to work with reliable dropshipping suppliers. Try EPROLO.
EPROLO is a FREE dropshipping platform that has been in the business for 8 years. It has an extensive product catalog that ranges from home improvement items to fashion and clothing.
It is an all-in-one dropshipping supply chain platform you can use to kickstart your dropshipping business.
If you're worried about not having access to the best product research tools, you should know that EPROLO delivers exactly what you need. It has a list of Hot Selling items you can add directly to your ecommerce store.
It also offers diversity and helps you create your own print on demand products to sell to your customers.
Best of all, it is a free AliExpress dropshipping tool that offers branding projects to help your business become more visible. Moreover, it effortlessly integrates with various dropshipping platforms like Etsy, Shopify, AliExpress, and more.
If you're just starting your dropshipping journey, you have everything you need at EPROLO. Working with EPROLO guarantees the sales results you seek, and you can combine this platform's advantages with other product research tools.
5 Great Google Trends Dropshipping Alternatives
Dropshipping research tools can be used on top of Google Trends to improve your product research. Finding new trends and stepping into that market as the forerunner can be enormously beneficial.
Many businesses use artificial intelligence to automate this process. However, you can do this yourself by choosing the best product research tools for dropshipping.
1. AliExpress Dropshipping Center
By using AliExpress's own product research tool, AliExpress Dropshipping Center, you can easily kickstart your dropshipping journey and accelerate your results with the latest insights.
You can access information such as product analysis, sales history, highest-rated items, etc. This gives you everything you need on the platform, allowing you to pick the right products to sell straight away.
2. Sell The Trend
Sell The Trend is also a great alternative to Google Trends. It is a popular product research tool that has everything you need to improve your dropshipping results. You can find the best dropshipping products by choosing a profitable niche.
Artificial intelligence can help you predict viable products to sell and analyze the highest-selling items from different platforms, like Shopify, AliExpress, and more.
After selecting the best product, you can easily add it to your dropshipping store and begin generating sales. You can also create your entire store by using Sell The Trend in a few minutes or less.
3. Niche Scraper
Niche Scraper can help you choose the perfect niche for your dropshipping business. It analyzes many available products to give you the best insights about product potential.
You can find the trendiest products to add to your ecommerce store and evaluate popularity ratings and competition illustrations. It also has other benefits, such as market research features for social media.
You can choose between a free, monthly, or yearly plan based on your goals.
4. Dropship Spy
Dropship Spy helps you research a variety of products on social media, such as Facebook, Instagram, and Tiktok. It also specializes in identifying the highest quality products through intensive product testing. You will only see items that have been carefully filtered by the tool.
The free plan can provide access to some product analysis features. However, if you wish to unlock the pro features, you can opt for a paid plan. This will help you analyze tons of products and learn about sales trends, dropshipping insights, video advertisements, etc.
It also has other features that help you find suppliers, social media audiences, and other connections that can build your business. Selling excellent products is only one part of the equation since you also need to build your brand and grow your followers.
5. Ecomhunt
Ecomhunt showcases a bunch of products that have been hunted down by professionals. You can track product performance over time and manage your sales by leveraging this tool.
Like Google Trends, It is free, but you will not have full access to the products database and will miss out on some key features.
The basic and pro plans give you greater access to product analytics, trends, and popularity scores. You can also benefit from educational courses and one-on-one meetings with dropshipping experts.