If you are thinking of starting an online store, dropshipping is often considered a great business model for beginners. Dropshipping is quick and easy, requires very little upfront investment, and can help you make decent profits. While that may be true, you might not always make good money with dropshipping unless you find the right products to sell. And one of the ways to find the right products is by checking out Amazon trending products.
Amazon is one of the biggest online marketplaces in the world and is a wildly successful platform. Amazon sells millions of products almost every single day to countries all over the world. So, clearly, the platform is doing something right! Whether you want to start an Amazon store, a store on some other e-commerce platform, or your online store, you should still make use of Amazon as a helpful resource for any dropshipper.
Search for Trending Products on Amazon
When starting a dropshipping store, you want to make sure that you sell products that people really want and like. If the product you're selling is in high demand, you can likely make more sales and earn more money. In dropshipping, we call such products 'winning products.' But winning products have other qualities, too, beyond just being high in demand.
Winning products have to be somewhat unique so that they have more of an appeal to them. They also need to be functional and useful. They should be easy to market and advertise since they have a high potential. And they should also have a good price point that isn't too high or too low.
If you're looking for winning products to sell, then one of the best ways to find those products is by checking out different Bestseller lists on some of the biggest e-commerce platforms. That's why we recommend taking a look at the trending Amazon products.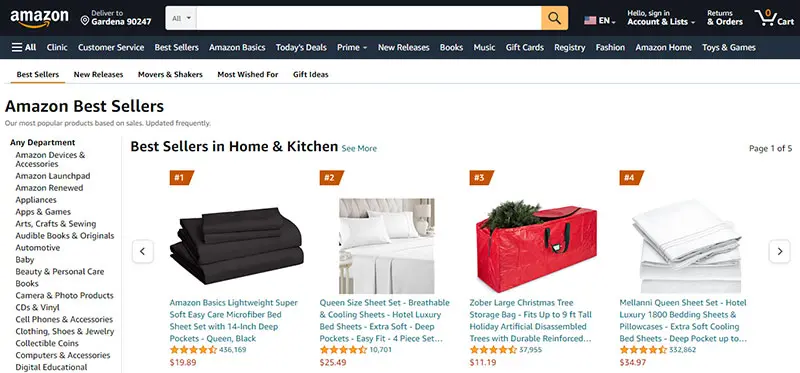 To see which products are trending on Amazon, you can take a look at the best sellers list. The list shows you the trending products from different product categories and is updated hourly so that you have the latest and up-to-date information.
So, depending on what product category or niche you are interested in, you can take a look at the bestselling products from that category.
Right off the bat, we can see that some of the Amazon trending products for the Home & Kitchen category are the microfiber bedsheets, the queen bed size breathable and cooling sheets set, a Christmas tree storage bag, and another queen bed size sheet set.
This might give you an idea that bedsheets and other bedding like cushion covers and duvet covers are in high demand lately. If you consider selling such products on your dropshipping store, you might be able to make decent profits by selling lots of products.
You can scroll down the main Amazon Best Sellers page to see the trending products from different categories, or you can skip ahead and go to the category you are most interested in checking out.
Suppose you want to sell products from the 'Beauty & Personal Care' niche; you can select the category from the left-hand side of the page under the heading 'Any Department.' This will take you straight to the bestsellers from that specific category.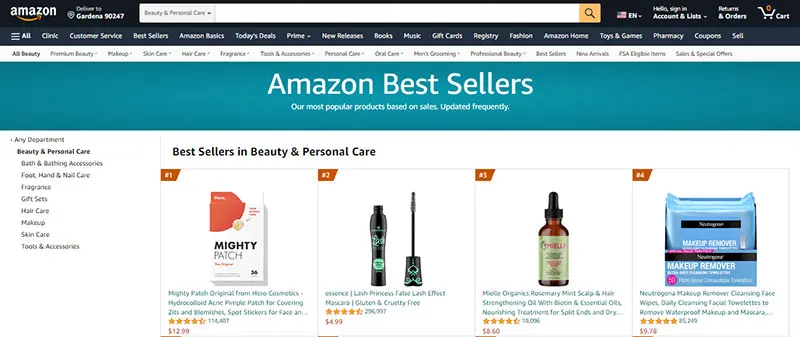 As you can see here, Amazon will show you up to one hundred of the most popular products in any category you choose. For beauty and personal care, you can see that products like pimple patches, mascara, hair nourishing oil, and makeup removal wipes are the products that are doing particularly well.
Additionally, you can also find more subcategories within each category. So, if you look at the left-hand side of the screen again, you can see subcategories like 'Bath & Bathing Accessories,' 'Food, Hand & Nail Care,' and so on.
The Amazon trending products section shows you the products that are being sold the most in real time. So, you get to see what products have the highest sales velocity. However, you should remember that looking at just the Amazon Bestsellers list isn't an adequate method for finding winning products for you to sell on your dropshipping store.
This is because the products on the Bestsellers list could be highly competitive products, they might not have very high-profit margins, and they might even stop trending very soon.
Take the Christmas tree storage bag from the Bestsellers homepage as an example. It makes sense that this product is trending on Amazon right now, given that we have just started the New Year, and people are likely still putting away their Christmas trees and other home décor. However, as we move into February or further into the year, products related to Christmas will most likely stop trending and won't be in demand anymore.
All of that being said, searching for trending products on Amazon is definitely a good place to start if you want to find winning products to sell online or dropship.
Find Trending Amazon Products at Competitive Prices on EPROLO
If you want to start a dropshipping store and are looking for the best dropshipping supplier, you should consider choosing EPROLO. EPROLO is a China-based sourcing agent with a large product catalog and trending products at competitive prices.
As a part of EPROLO's product catalog, you can check out the hot-selling products on the platform.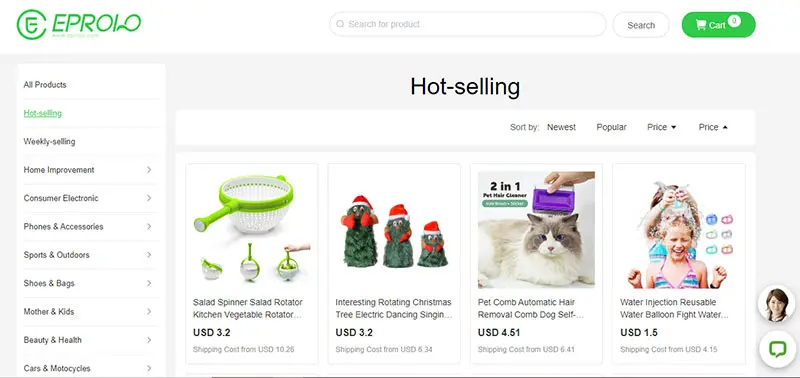 The hot-selling products list is similar to Amazon's Bestseller list and shows the products that are high in demand and have been selling recently. So, for example, we can see that salad spinners and pet combs, amongst others, are popular products currently.
In total, EPROLO shows you about 1300 of these hot-selling products. This entire list can give you a great idea of what kinds of products are in high demand.
Moving forward, you can also take a look at the weekly-selling products on EPROLO. These are the products that have been selling in high numbers for a few weeks at a time, meaning that demand for them is at an all-time high and isn't likely to fall anytime soon.
As you can see, some of the products on EPROLO that have sold for multiple weeks now include a kitchen sink draining screen and a coffee press set, amongst others. In total, you can browse through around 1100 of these weekly-selling products.
The great thing about the hot-selling and weekly-selling lists is that you can sort these products according to different filters. You can sort by newest products, most popular products, and according to price from high to low. This makes it much easier to look through hundreds of products.
And finally, another great thing about EPROLO's product catalog is that you can take a look at the products from different categories and then sort those products according to newest, most popular, and price. Each category also has multiple subcategories to make it even easier to find different products. The categories on EPROLO include:
Why Choose EPROLO as Your Dropshipping Supplier
Once you have a better idea of the kind of products you want to sell, the next step in starting a successful dropshipping business is finding reliable dropshipping suppliers. So, after taking a look at Amazon trending products and deciding on which winning products you want to sell, start finding different dropshipping suppliers to work with.
EPROLO can offer you a number of benefits as compared to other dropshipping suppliers and sourcing agents. Here are some of those benefits to keep in mind:
EPROLO is a Forever Free Service
Many dropshipping suppliers offer free trials followed by paid packages that can cost up to several hundred dollars per month. This is not the case with EPROLO.
EPROLO is a forever free service. You do not have to pay to sign-up, nor do you have to pay monthly membership fees. Once you start using EPROLO, all you need to pay for are the products you buy and the shipping fees.
EPROLO Offers a Fully Automated and Streamlined Process
EPROLO is a comprehensive and all-inclusive supply chain with a fully automated and streamlined process that makes dropshipping a hundred times easier for you.
With our dropshipping software, your orders are processed from start to finish and automatically updated on your website or online stores. EPROLO also gives you delivery tracking details so that you know when your products will be delivered.
You Can Build Brand Recognition with EPROLO's Branding Services
If you are just starting out as a dropshipping business, you can benefit from EPROLO's branding services that help you build your business's brand and create recognition.
Whether you are looking for custom-printed tags or your logo printed and attached to the products, we can handle all of that for you.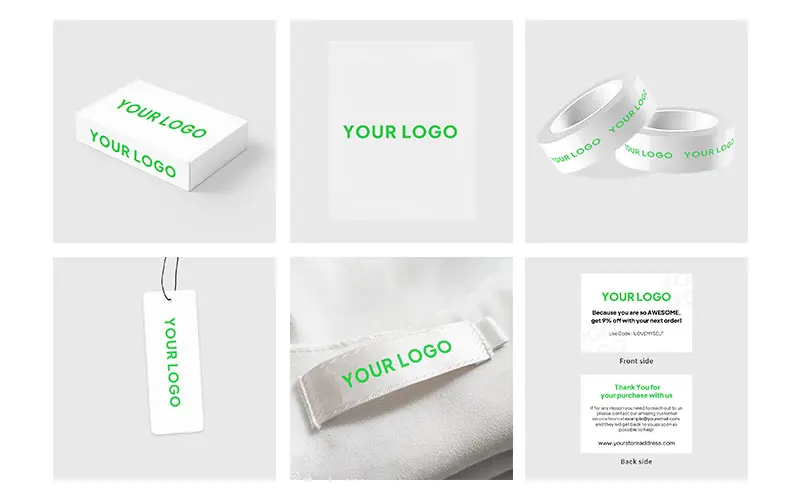 EPROLO's Competitive Prices Mean You Get Higher Profit Margins
Because EPROLO has no sign-up or monthly fee, you already pay less when choosing us as your dropshipping supplier.
On top of that, EPROLO also has a huge product catalog with products that are competitively priced. Most products can be found at wholesale prices and offer you significantly high profit margins. This is a huge benefit for new dropshippers that are looking to make high profits.
EPROLO is Compatible with Different E-Commerce Platforms
Whether you create your own store and website or you start a store on an already existing e-commerce platform, EPROLO can still be your dropshipping supplier. This is because EPROLO is compatible with different e-commerce platforms like Shopify, WooCommerce, eBay, and Ali Express.
Overall, EPROLO has a great product catalog to work with and offers you a number of other benefits that can help you start up a successful dropshipping business. If you are looking for winning products, EPROLO's catalog can give you great insights, similar to what you would find from Amazon trending products.
Conclusion
So, if you're thinking of starting your dropshipping store and want to make high profits, you need to find winning products from different niches to work with. Remember, winning products are products that are high in demand, are unique, offer some kind of functionality, and are priced appropriately.
One of the best ways to find winning products to sell is by checking out the bestseller lists on different e-commerce marketplaces. So, be sure to check out trending Amazon products and the hot-selling and weekly-selling products on EPROLO. Once you know what products to sell, you can get started on creating your dropshipping store and registering with different dropshipping suppliers.