T-shirt dropshipping is a good start point for those who desire to make money selling t-shirt online. On one hand, dropshipping t-shirts is profitable. The sales of the t-shirt industry, especially the custom t-shirt printing market, are projected to reach $16.25 billion by 2026.
On the other hand, the low upfront cost makes it worth to dropship shirts. Dropshipping model frees you from spending a fortune on t-shirts creating, stocking, packaging, and shipping. In addition, the t-shirt dropship companies offer a wide selection of t-shirt. You can dropship plain t-shirts, personalized t-shirts, graphic tees, vintage t-shirt designs, and long sleeve custom t-shirts.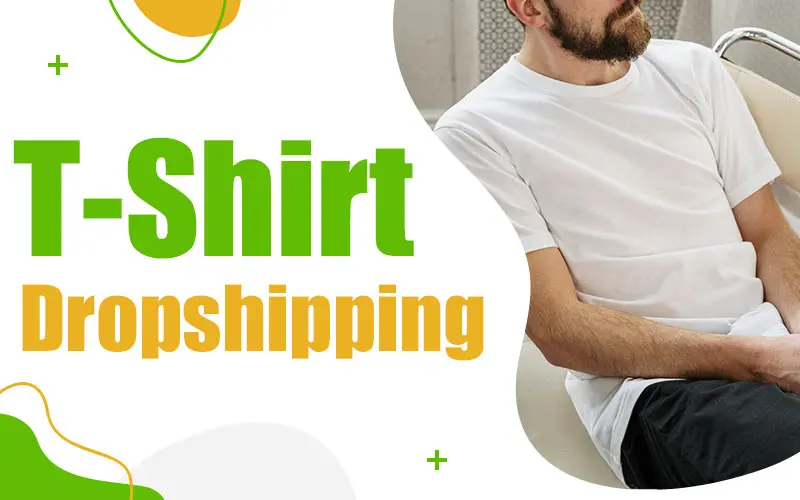 In the following, we've listed the 9 best t-shirt drop shipping companies, including wholesale t-shirt dropshippers and print-on-demand companies for t-shirts. For newbies in t-shirt businesses, we've also covered the steps of how to start a dropshipping t-shirt business in the end. Now, let's start with learning how dropshipping t-shirt works.
How Does Dropshipping Work to Sell T-Shirts
T-shirt dropshipping means that you can sell t-shirts online without the hassle of t-shirt production, warehousing, and delivery. The dropshipping suppliers will provide all-in-one t-shirt fulfillment services to do all of them for you.
The t-shirt drop shipping companies source branded t-shirts or blank t-shirts from clothing manufacturers. All the t-shirts are kept in the dropshipping suppliers' warehouses and you don't need to pay in advance to list them on your online t-shirt store. When the t-shirt buyer places an order, it'll be passed to the t-shirt dropship companies. Then, they'll set on packing and shipping the t-shirts to the customers under your brands.
Your content goes here. Edit or remove this text inline or in the module Content settings. You can also style every aspect of this content in the module Design settings and even apply custom CSS to this text in the module Advanced settings.
If you need to dropship shirts with your own design, an extra step is to upload your t-shirt design to the dropshipping service providers. Some print-on-demand companies also offer built-in mockup tools for you to customize the designs of t-shirts.
List of 9 Best T-Shirt Dropshipping Companies
Your content goes here. Edit or remove this text inline or in the module Content settings. You can also style every aspect of this content in the module Design settings and even apply custom CSS to this text in the module Advanced settings.
All in all, how t-shirt dropshipping works is easy and basically the same no matter where you set up an online t-shirt business. Be it Shopify, WooCommerce, eBay, or any other eCommerce platform or marketplace.
To dropship shirts, the key to success is to find suitable t-shirt drop shipping companies. The following factors come into play when picking t-shirt dropshippers:
How long do the dropshippers cost to fulfill t-shirt dropshipping orders?
Beyond t-shirts, do the dropshipping services provide other clothing products in their collections?
Do the dropship vendors integrate with Shopify and other eCommerce platforms?
Do t-shirt dropship companies supply white-label t-shirts to customize designs?
How much do they charge for standard t-shirts, printing tees, shipping costs, and so on?
Do dropship t-shirt suppliers help custom your brand logo on t-shirts' labels, packaging bags, hangtags, and more?
Now, let's navigate through the dropshipping t-shirt suppliers below one by one.
1 – EPROLO
EPROLO is a forever free platform for a t-shirt dropshipping business. Beloved by over 300 thousand dropshipping entrepreneurs, this company boasts its over 100 popular dropshipping niches. What also differentiates EPROLO from other t-shirt dropship suppliers is its reliable brand building project.
In terms of the dropship t-shirt business, it supplies more than 20 different types of t-shirts to sell on the online dropshipping store. This includes half sleeve t-shirt, long-sleeve t-shirts, V-neck t-shirts, polo collar t-shirts, all-over shirts, and so on.
Furthermore, this dropship t-shirt supplier also satisfies those who wish to use the dropshipping model to sell custom t-shirts. You just need to upload or create t-shirt designs to the platform. Then, this t-shirt dropshipper will print, pack, and ship the custom t-shirts to the buyers under your brand.
Key features:
Straightforward dashboard for dropshipping t-shirts
Supply t-shirts from sizes XS to XXL in white, black, green, red, navy blue, brown, yellow, grey, etc.
Integrate in seconds with Shopify

,

eBay, WooCommerce

, ShopLazza, etc.

No order minimums and no startup fees
Built-in print on demand platform to dropship custom t-shirts, hoodies, sweatshirts, mugs, bags, home decors, shoes, accessories, and more.
Automated dropshipping fulfillment: product catalog syncing, dropshipping t-shirt prices setting, t-shirt delivery tracking, etc.
Deliver tees worldwide within a period of 5 – 15 days
In-time customer service
All in all, you can make full use of EPROLO to dropship t-shirts and other products for free and build your own brands with ease.
2 – A4 Apparel
A4 Apparel is a dropshipping t-shirt USA supplier specialized in sportswear. It sells high-quality t-shirts, hoodies, pants, pullovers, and more for women, men, and young kids. Also, it aims to provide comfortable and durable athletic wear. It accepts product returns for t-shirts and other clothing dropshipping items and offers a full refund.
Key features:
Various sports categories for t-shirts like baseball, basketball, soccer, and more
Huge warehouses in California and Missouri for keeping t-shirts and other apparel items
1 – 3 working days delivery time for the US continental t-shirt shoppers
Print your team names, player names, numbers, logo, and brands on the t-shirts
Four decoration methods: tackle twill, direct embroidery, heat transfer, and screen printing
If your online t-shirt store aims to cater to sports lovers with athletic apparel, A4 Apparel should be the best dropship t-shirt company to work with.
3 – Clothes2order
Clothes2order is one of the t-shirt companies that dropship fashion items in the UK. Aside from t-shirts, you can dropship polo shirts, hoodies, jackets, caps & hats, workwear, and other apparel items. Furthermore, t-shirt dropshipping UK supplier also devotes itself to creating top-quality printed and embroidered clothing.
Key features:
Supply men's, women's, or unisex t-shirts and other clothing items
Work with t-shirt brands like AWDis, B&C, Bella & Canvas, etc.
Wide range of white-label t-shirts with various sizes, colors, neck types, fabric, sleeve length, and more
T-shirts for work, sports, events, and promotion, etc.
Printing options: direct embroidery, text printing, and photo printing
No order minimums for tee shirt dropshipping
Free delivery services for orders over £100
To sum up, Clothes2order provides a huge range of branded clothing and personalized or embroidered apparel items at affordable prices.
4 – Printful
Based in California, Printful specializes in on-demand products printing and fulfillment. Their offerings include t-shirts and other clothing items, hats, accessories, home & living, and more. Besides, whether you start selling t-shirts on Shopify, WooCommerce, or other platforms, it offers one-click integration.
Key features:
Embedded design tools for t-shirt sellers to create designs for t-shirts and other products
T-shirt types: all-over t-shirts, polo shirts, tank tops, 3/4 sleeve shirts, long sleeve shirts, etc.
Various printing techniques: cut and sew, direct to garment, sublimation printing, and more
No minimums for order quantity to avoid leftover stock
Quick and easy integration with Amazon and Shopify
Quick shipping times of 2-5 business days
Deliver products worldwide under your brand with customized labels, scotch tape, etc.
Printful would be a great choice if you're interested in designing and dropshipping t-shirt and other products on demand.
5 – Art of Where
Longing for dropshipping t-shirts Canada? Art of Where suits you best. Its wide selection of clothing features t-shirts, tops, athletic crop tops, dresses, leggings and capris, lingerie, and so on.
Additionally, it also sells on-demand printed products. After registering for free on Art of Where, you can design and dropship graphic tees at affordable prices.
Key features:
Broad product catalog covers fashion clothing, accessories, home items, books, beauty products, and more
Ship products worldwide with custom labels and packaging under your brand
Easy to connect your t-shirt business built with BigCommerce, Squarespace, WooCommerce, etc.
Shipping time: 2-13 days to Canada, 2-6 days to the USA, 10-30 business days to other countries
Art of Where allows all t-shirts store owners to do on-request printing and dropshipping in Canada.
6 – Printify
Printify is one of the top t-shirt dropshippers that offer custom printing on-demand services. It offers the lowest price in the t-shirt printing industry.
Meanwhile, this dropshipping supplier makes it a breeze to create and sell custom t-shirts. After registering, add your custom designs to the shirts. Then, upload design t-shirts to your dropshipping store. Next, put the dropshipping order to Printify. Finally, it'll contact the printer that's closest to your customer's destination to print and ship the t-shirts to the buyer.
Key features:
Enable connection to your t-shirt store in Shopify, WooCommerce, etc.
Solid relationship with brands like IKEA, Shazam, and Rockstar
Wide choice of T-shirt manufacturers and printing providers
Custom product catalog includes t-shirts, mugs, phone cases, and hundreds of other products
Shipping options: DHL, FedExpress, United States Postal Service, etc.
In conclusion, Printify can offer worldwide suppliers and printing services of t-shirts and other items to boost your t-shirt line business.
7 – Brithika
Interested in dropshipping t-shirts India? Then, look no further than Brithika. It's an organic t-shirt dropship platform serving Indian fashion and luxury clothes all over the world.
Key features:
No upfront fees to start dropshipping
Offer white-label dropshipping services by adding your brand name to the label and package
Wholesale prices for setting high margin
Support 7-day returns for all products
No shipping cost required for orders within India
To conclude, Brithika is a good partner if you'd like to start selling t-shirt online and dropship in India.
8 – Twenty3
Next on the list of t-shirt dropshipping suppliers is Twenty3. It fits well for those who prefer dropshipping t-shirts Malaysia. Also, it's worth mentioning that most of its clothing collection targets women.
Key features:
Clothing collection contains women's t-shirts, casual dresses, tops, bottoms, outerwear, etc.
Source t-shirts and other clothing items from young Malaysian designers
Free shipping service to Malaysia dropshipping order
In summary, Twenty3 makes it a snap to start dropshipping women's t-shirt and other apparel items in Malaysia.
9 – TeeSpring
The last t-shirt business dropshipping option is TeeSpring. It's mainly for print on demand dropshipping service, allowing t-shirts vendors to design and sell their products in four steps. Add logo on the t-shirt, customize t-shirts' color, set the stock quantity for each size, and then start selling your design t-shirts.
Key features:
Handy promotion for t-shirts and other products in TikTok, YouTube, etc.
Simple mockup tool to create your t-shirt design
Various types or t-shirt to choose from: classic tee, premium tee, V-neck Tee, all-over unisex tee, and so on
Delivery costs vary on the different t-shirt shipping destination
How to Dropship Shirts
Your content goes here. Edit or remove this text inline or in the module Content settings. You can also style every aspect of this content in the module Design settings and even apply custom CSS to this text in the module Advanced settings.
1. Go and register in EPROLO app and sign up.
2. Click Connect New Store.
3. Then, connect the dropshipping supplier to your online t-shirt store built with Shopify, eBay, WooCommerce, and ShopLazza.
4. To the left, click Find Product to seek and import the t-shirts and other apparel items you need to sell.
5. Head to Products > Import List. You can edit the description, price, and images for the t-shirts.
6. Hit Push to Store to upload the product to your t-shirt dropship store.
7. Go to Orders > Eprolo Orders. When your customers purchase t-shirts, the order will be forwarded to the dropshipping company and show up here.
8. Pay for the t-shirts. Then, the t-shirt dropshipping company fulfills your order and ships t-shirts to the customers under your brand.