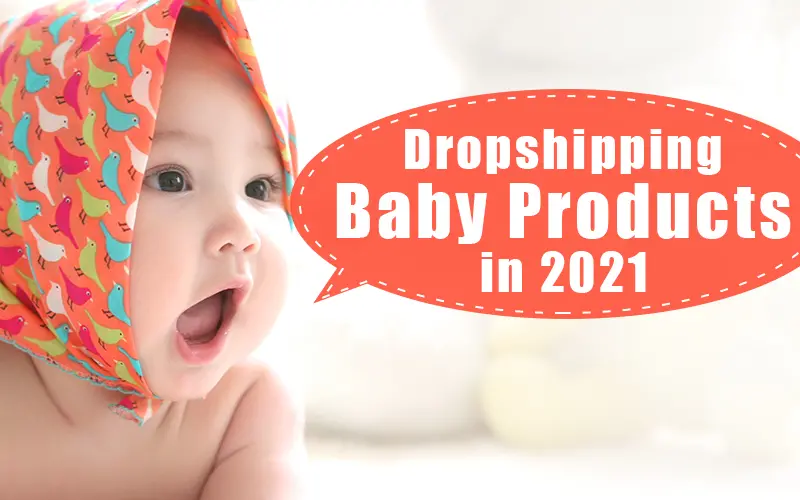 Why dropship baby products?
In 2020, the global market size of baby products was approximately 11.7 billion US dollars. And it is estimated that this scale will reach 15.2 billion US dollars by 2027. The compound annual growth rate of baby product industry is 3.9%.
According to Google Trends, the search volume of "baby clothes" has a rapid growth in 2020.
There are a lot of shopping channels for parents. They can bring babies to brick and mortar stores, try and choose the best baby items. Also, browse organic products that sell online is also an excellent alternative method, especially in COVID-2019.
The internet is widespread, and global logistics develops rapidly. Online shopping is growing so fast. In 2020, this market size reached 4 trillion. 68% of men and 72% of women in the US tend to shop online.
So, if you are interested in the baby product industry and want a slice of the pie, start a dropshipping business now.
How to dropship baby products?
Drop shipping is a kind of order fulfillment method. In this business model, as an online store owner, you only need to do product marketing. Not all items are suitable for dropshipping, for example, baby formula and diaper. After receiving orders, dropship suppliers are in charge of product sourcing and delivery. So, how to choose a reliable supplier and start a baby niche dropshipping business?
Find and choose baby dropship suppliers.
It's easy to find retail or wholesale suppliers who can provide baby products. For example, you can visit a well-know manufacturer directory website. Also, join a related Facebook group or forum, ask about what you want. People are willing to help and share their experience. In this case, some baby dropship suppliers may even take the initiative to find you. Besides, using a search engine like Google, Bing, and Yahoo is also an effective way. Google search "baby products dropshipping suppliers", you will find some.
It's not over yet. There are a wide variety of baby dropship suppliers; how to choose a suitable one?
At first, if you don't have any orders in Shopify store every day, wholesale suppliers are not recommended. In general, they have a minimum order quantity required. Online store owners need to stock up. In this situation, you'd better use AliExpress dropshipping. There are many suppliers from China, the US and Turkey in this online marketplace. And it's really suitable for dropship beginners. If you have some orders but don't want to make inventory management, you can choose a free dropshipping platform like EPROLO. It has no MOQ. But if you want, it can also stock up for you for free. For ecommerce store owners who have plenty of orders each day, an exclusive baby niche dropshipping sourcing agent is suggested.
Start selling dropship baby items.
First of all, you need a dropshipping store. Shopify, Amazon, and eBay are top choices for novices. Technology streamers prefer WooCommerce. Then, upload baby niche dropshipping products to sell online.
When cooperating with wholesale dropshipping suppliers, you need to create baby product pages manually, edit all details, including title, description, image, and price. If a few baby items are listed, there is no problem. Sometimes, online store owners don't want to focus on only one products niche, like the baby clothing accessories market, but several dropshipping niches. Then, it will be complicated to create product pages one by one, and it's a waste of time. Focus on dropshipping product marketing and try to make more sales.
If you have chosen a dropshipping platform as the supplier, it always integrates with different ecommerce platforms. Select the baby items you want to sell online and directly import them to your online store. Edit details of the dropship baby items if you wish, set selling prices and start the business.
Baby product marketing.
For dropshipping store owners, the most important thing is making more sales. These are effective methods that help a lot.
Design your ecommerce store, enhance user retention time and conversion rate.
Use social media to expand the store's reputation. Facebook, YouTube, Instagram, TikTok are ideal dropshipping product marketing places.
Join online communities. Identify where your potential customers are active and participate in discussions.
Write related blog posts to increase organic traffic. Some topics like 9 tips of buying organic baby items and how to choose the best organic baby clothing suppliers are popular.
Spend time on advertising. Run your Google search and shopping ads, Facebook ads, and Instagram ads. Analyze the return on investment and adjust the investment layout accordingly.
Influencer marketing. There are a lot of baby fashion influencers online. You can find them on Facebook, youtube and Instagram. And Laura is one of the top influencers in the baby clothing market.
Customer service. Don't forget the shipping and return policy. Thoughtful customer service is always an essential aspect of improving the customer repeat purchase rate.
Top 9 dropshipping baby products in 2023
There are many inches below the baby products. For example, baby clothing accessories, toys, organic products, car seats, diapering, baby formula, feeding, etc. But not all of them are suitable for a baby niche dropshipping business. These are 9 top selling baby products dropshipping in 2023.
1. Baby's Handprint or Footprint Ornament Craft Kit
What else is more exciting than welcoming a newborn? No matter parents or grandparents, they will be happy when receiving such a cute gift. It gives them a chance to capture the most precious stage in life.
Imagine at the baby's one-year-old party, people gather together. Parents take photos and make this DIY. Only two steps are needed, which is simple but will be an unforgettable memory. It can display standing or on a wall. Each time parents see it, they forget all their troubles and unconsciously show a smile.
It's popular in recent years and suitable for all kind of babies, boy or girl, one, two or three years old. The potential audience includes parents, grandparent, aunts and uncles. Just keep in mind: materials of this drop shipping baby item on your Shopify store must be safe and non-toxic.
2. Diaper Backpack with Foldable Large Baby Bed
It is a multi-function backpack. People can bring it when going out to eat or have a short trip, making travel easier. Diaper backpack is designed for breastfeeding baby parents. It has a large capacity and helps store various items needed to carry infants.
Some high quality diaper backpack uses thermal insulation materials. Put feeding bottles in it, and the temperature can be kept for 2-4 hours. As a foldable backpack, it can be transferred to be a baby bed. Open the zipper in the back, unfold the crib bracket and insert stickers for two sides. Besides, placing a mat at the bottom to make the baby more comfortable.
There are fences on both sides; put the child into it, no worry about security issues. And parents can also replace diapers for the baby in it. The inside material of this drop shipping baby item is waterproof, which can separate the dry diaper and the wet diaper.
3. Baby Diaper Caddy Organizer
This is a baby product for storage, which is similar to diaper backpack. But a backpack is used outdoors, while it's mostly used at home. Parents can store many things with it, such as diapers, organic baby clothes, bottles, toys, and more.
There is a removable insert in the organizer to maximize versatility. If parents want to organize messy tables, put some small things to it, use inserts. Otherwise, remove the insert to gain bigger space.
Before selling baby diaper caddy organizers, you should first know who will use them and your target audience. It's especially suitable for mothers who feed late at night. Put something they usually need to use in the organizer, and place it on the bedside table. So it will not have a hand in trouble at night.
4. Silicone Baby Teether
When the baby's teeth are just growing out, the gum is itchy. Biting something will make him/her the gums comfortably. Teether is a most commonly used tool.
The high quality silicone baby teether is made from food-grade silicone, which is safe. By sucking and biting it, parents can train the coordination of the baby's hands and eyes. Also, it promotes the development of intelligence. When the baby is unhappy, tired or lonely, he/she can get psychological satisfaction and security by biting.
Parents always prepare several teethers for easy replacement. And they can disinfect them with boiling water for silicone material. As a baby toy, the teether should be colorful and easy to grasp. Especially for families which sanitary conditions are not very good, anti-dripping toys are recommended. It's to prevent the baby from biting again after throwing them on the ground.
5. Multifunction Baby Carrier Hip Seat
People who have ever looked after babies know that holding a baby is really a cost of physical strength. As a simple travel necessary tool, a baby carrier can liberate parents' hands when they go out. With it, they can save effort and reduce the sense of tiredness caused by a long time of holding the baby. This baby product is suitable for babies from newborn to 32 months. Parents can adjust the carrier when they convert the baby's posture.
Before choosing the dropshipping supplier and organic products to sell, you need to check these. First of all, dropship baby items must be safe. The carrier must effectively protect the baby's head, also keep warm and windproof. Secondly, see if the material is comfortable, breathable, and easy to clean. Since this baby product's surface is in direct contact with the baby's skin, it is necessary to use natural fabrics. Third, the sling should be easy to remove. So the mother can carry or put down the baby at any time. Only products that are fully considered from the user's point of view can have a long life.
6. Baby Clothes Winter Romper
When the baby is still in the mother's belly, family members start buying baby clothes and clothing accessories. After birth, they grow up day by day. And the clothes should always be changed according to the baby's body shape. Therefore, dropship baby clothes is always a profitable business. Of course, many people also want to share a piece of pie from it. So there are a wide variety of baby clothing suppliers. Dropshipping store owners should be careful to choose a reliable one.
When it comes to dropship baby clothes, a high quality organic baby romper is one of the most popular items. Babies are always active; after a lot of exercises, clothes are easy to run out. At the same time, they are small and have low resistance. Especially in the cold winter, babies are easy to catch a cold. So mothers buy winter rompers to keep warm. No matter if the baby moves by himself or is held by someone, no longer worry about a cold in the abdomen. Besides, it's also convenient to change diapers with a winter romper.
7. 360 Degree Rotation Spill Resistant Gyro Bowl with Lid
Many parents put food into a bag or a common bowl to their children. For babies, their grasp is not strong enough, and it's easy to spill out foods everywhere. It's really a headache problem for all mothers. On the one hand, the baby doesn't eat anything. One the other hand, they can't stop cleaning all the time.
360-degree rotation gyro bowl is colorful and full of fun. Enrich cute flying saucer style can make babies love to eat. It adopts safe and environmentally friendly PP material and can be washed with a dishwasher. With a detachable design, it's also easy to clean. As a baby product that is fun and practical, it is trendy in the market.
8. Baby Sleeping Bag
Young babies spend most of their time in sleep. Especially for the first two years, the child basically has no control awareness. If parents use the bedding with poor fixedness, the child is easily suffocated because of kicking, movement, turning over, etc. It increases the risk of sudden death syndrome of infants. In contrast, sleeping bags are safe, which is necessary for little babies.
For families who have used baby sleeping bags, one is not enough. They have different thickness and size. A number of sleeping bags are needed to meet different ages and seasons from the birth of babies. It is even necessary to consider the case of changing and spare. So, parents have to prepare two sleeping bags for each climate. This is a big market for your drop ship business.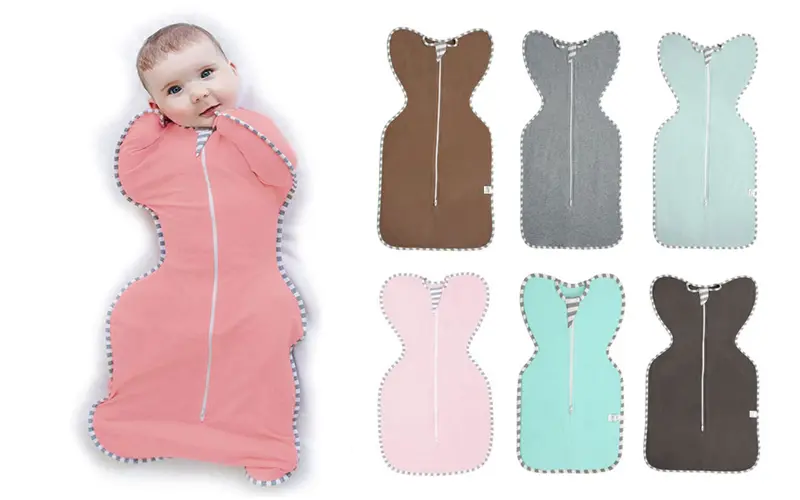 9. The Original Reversible Octopus Plushie
This is one of the top selling plushies on Tiktok. It has two sides; you can flip. One side is happy, and the other is not happy. So, this original reversible octopus plushie is a baby toy and can be used by mom and dad. Sometimes, they are in a bad mood and don't want to talk. Turn it to the side with an unhappy face; family members will understand.