What do you think of selling canvas prints online? The online art market has grown to 13.3 billion last year. As a part of it, a good few e-commerce sellers turn their eyes to canvas print dropshipping.
True, they're profit-driven. And a few factors show that it's worth dropship canvas prints.
Wide applicable scenes from home to gallery
Low capital to run a business
Relieve the stress of keeping inventory and poor selling
The chart of Google Trends indicates the market demand. Notably, the trend mounts to the peak around Christmas every year. This may be because people buy canvas prints as a gift. If you sell canvas print online, you got no reason to worry about sales. Furthermore, the dropshipping business mode maximizes canvas sellers' profit margin. They don't carry stock and are able to save a large sum of operating costs.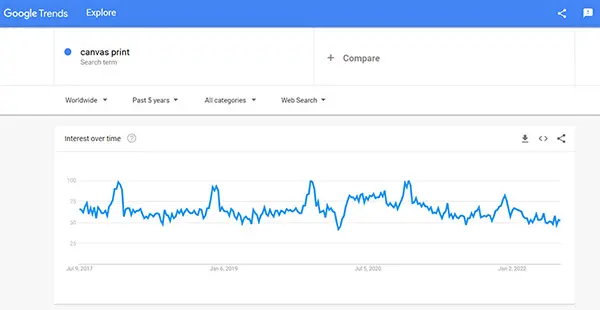 If you want to sell canvas print on demand, continue with the page and you will find best print on demand canvas drop shipping suppliers for your e-business. Also, helpful tips are provided.

What is Canvas Print Dropshipping?
Canvas print is fabric merchandise printed with photography or artwork. When eCommerce retailers sell canvas prints that are fulfilled by print on demand dropshippers, this is called canvas print dropshipping.
This online selling type requires an online store and a custom canvas print dropship supplier. Their responsibilities are as follows:
Online store

– Display canvas print products; Access to receive payment

Print on demand drop ship supplier

– Offer canvas products; On-demand printing service; Order fulfillment services contain warehousing, packing and shipping
10 Best Canvas Print Dropshipping Suppliers
How less can your work be if working with a print on demand canvas dropshipping supplier? All you need is to focus on your online shop. And your suppliers will do the rest after you pay. Here, 10 best dropship canvas prints companies you can partner with are listed.
Inkedjoy is a China dropship agent that supports Shopify, WooCommerce and Etsy e-commerce platforms. Store owners can freely integrate with it to design canvas, import canvas prints to stores, auto-fulfill orders, track real-time shipping status, etc. The companies will customize the cotton canvas according to the uploaded designs. And products will be gallery wrapped and shipped to final buyers directly.
Inkedjoy is available to dropship around the world and has express lines to USA, UK, CA, and AU. The delivery time ranges from 5 to 15 days.
2. Alibaba
One source for canvas print dropshipping is often mentioned. That is Alibaba. It is one of the best wholesale websites which assembles numerous factories and manufacturers. You can easily find printing providers to sell custom canvas.
In the collection of Canvas Printing Drop Shipping, the website offers more than 10 thousand worldwide suppliers to choose from. Canvas prints suppliers along with framing are also easy to find.
3. FinerWorks
FinerWorks is an online canvas printing company deep planting in the print-on-demand business for more than 20 years. It has held up outsourcing for thousands of artists and photographers. The US-based company gives four surface options – Artisan Archival canvas, Silverada Metallic canvas, Gloss canvas, and Matte canvas. And the prints can be framed into fourteen styles.
Its dropship fulfillment service is available for shops of Shopify, Etsy, Squarespace, etc.

4. Prints A La Mode
Prints A La Mode is a specialist in on-demand canvas printing. It handcrafts photo canvas prints and art canvas prints with no MOQ. Prints A La Mode can do multiple sizes, such as 8×10, 12×12, and 24×36. Moreover, it provides a UV protective coat and will add it to products.
Orders of custom canvas prints need a production time of 3-7 days. And the delivery time is about 2 to 6 days.
5. Photo Canvas Prints
The canvas print drop shipping website is subordinate to Contrado, a print on demand company located in the UK. Photo Canvas Prints is available in large sizes canvas prints, such as 118 x 59 inches.
The canvas print dropshipping supplier can only be used on Shopify at the moment. And it will gallery wrap the products as defaults.
6. Qikink
Looking for Indian best canvas print dropshipping suppliers? You can partner with Qikink. It uses PolyCanvas Fabric and provides canvas sizes from 8×8 to 20×30 inches.
The dropshipper is only open to Shopify and WooCommerce store owners currently.
7. ATOM Prints Fine Printing
ATOM Prints is another best print on demand canvas dropshipper in the USA. After the canvas is made, you can choose the following stretching methods: rolled, mounted, stretched, and wrapped. If you have high requirements for stretcher bars, ATOM Prints can meet your need. Different sizes and thicknesses are available.
All dropship orders will be shipped from Austin and delivered within 2-5 days inside America. Same-day delivery is possible for packages to TX.
8. Beyond Print
Beyond Print is a UK-based studio for drop ship canvas prints. The company offers Giclée printing and C-Type printing. As for shipping, same day delivery is available.
It has Shopify and Etsy integration that supports product creation, product info edition, synchronization and fulfillment.
9. Streets Imaging
Streets Imaging is expert in producing print on demand canvas and drop shipping. The photographic print lab is in Brisbane, AU. It provides four canvas print options including non-stretched canvas, slim wrap, gallery wrap, and exhibition wrap. Further, framed canvas prints are enabled to make.
The print fulfillment and delivery will take 7 to 12 days in general.
10. dStudio
Seating in London Road, dStudio is an ideal choice for online canvas print sellers targeting the Europe. It uses Giclée printing and gives wide paper and canvas options.
Dropship with the supplier is easy. Sellers only need to send their customer's name and address to dStudio. There is no extra cost for dropshipping orders. The delivery time is different between packages to the UK and overseas, varying from 1 to 7 days.
4 Tips to Find Quality Canvas Print Dropshipping Suppliers
What should you look at when finding dropship canvas print suppliers? Here are four key points to consider.
1. Printing Facility
Printing facility location is a decisive factor in shipping time. Working with a local canvas dropshipper you can enjoy a short lead time. As a result, your customers will have good experience shopping on your website.
2. Canvas Quality
Cotton and polyester are two main fabric types for canvas printing. And the weight of fabric determines canvas quality. By and large, 300gsm or 400+ gsm is of high quality.
3. Printing Technique
These printing methods are commonly used in canvas prints: screen printing and DTG printing.
4. Printer & Ink
If the canvas dropshipping supplier applies certified inkjet printer and solvent ink, quality is guaranteed, for example, Canon and Epson printer, Speedball Ink, and Jacquard Ink.
How to Dropship Canvas Prints?
You need to prepare two things to drop ship canvas prints online. One is an eCommerce website. It is used as a shop to display products and get orders. Another thing is a dropshipping canvas prints supplier. Now, let's see how to start your online dropship business.
1) Open E-Store
Canvas print sellers generally create stores through web builders and online marketplaces. Among those, Shopify, WooCommerce, Etsy, eBay, and Amazon are the most used.
2) Find Print on Demand Drop shipping Suppliers
Take Shopify for instance. When you finish creating your Shopify store, you can search POD drop ship suppliers on Shopify App store. Then install the app and connect it with your store.
3) Design and Import Canvas Prints Products
With the app, you can design a canvas with your own pictures or photos. Just pay attention to the image size and canvas size. In order to make a perfect print, you need to upload the appropriate image resolution and match the canvas. Here is a chart to help.
| Canvas Size | Matching Picture Resolution |
| --- | --- |
| 4" x 4" | 600 x 600px |
| 8" x 8" | 800 x 800px |
| 12" x 18" | 1200 x 1800px |
| 16" x 20" | 1600 x 2000px |
| 18" x 24" | 1800 x 2400px |
| 20" x 20" | 2000 x 2000px |
| 24" x 36" | 2400 x 3600px |
| 30" x 36" | 3000 x 3600px |
Design completed. Now you can import your canvas products to the store and start selling.
4) Fulfill Orders
Your customer's order will auto-sync to the dropshipping app. You can see the order on the platform. Proceed with the payment and the supplier will finish customization and fulfillment.
You may ask:
What is difference between dropship canvas print and art print?
The main difference between them is the printing surface materials. Canvas print use cotton or linen fabric materials while art print has wider options. The following materials are frequently used for art print: paper, metal, foam core, textile, plastics, etc.
What are the best marketplaces to sell canvas print online?
Etsy, Shopify, Walmart, eBay, Saatchi Art, Amazon.
Can I dropship personalized canvas print?
Yes, you can. You need to install a designer tool or plugin to your shop so that your customer can upload their picture. Then, pass the picture to your print-on-demand supplier to complete printing and delivery.