Are you an aspiring entrepreneur aiming to start an online business without a huge capital investment? You might be considering dropshipping or affiliate marketing as potential business models. In 2023, dropshipping and affiliate marketing have become increasingly popular options for individuals looking to start an e-commerce business.
While both business models involve selling products online, they differ in how they generate revenue. This article covers the pros, cons, differences, and similarities between dropshipping and affiliate marketing. So, keep reading to learn!
What Is Dropshipping?
With the help of a dropshipping business model, entrepreneurs can start an online store with minimum investment. During this process, the retailer doesn't maintain an inventory of the goods they sell.
Instead, they buy the goods from a third-party vendor, who then sends them to the buyer. Let's see how it works!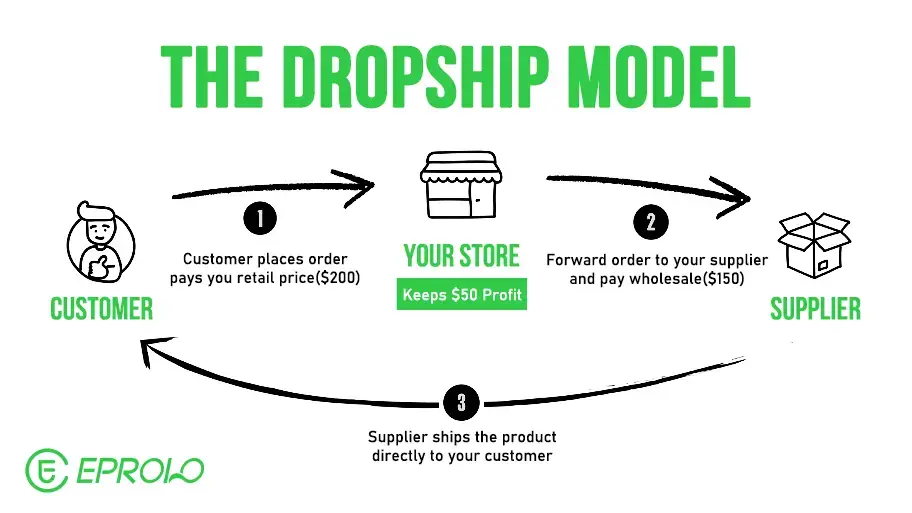 How Dropshipping Works
1. Identify the potential products you want to sell and find reliable dropshipping suppliers
2. Conduct market research and set up online presence
3. List your products, add their descriptions, images and prices
4. Establish a secure payment gateway
5. Your suppliers processes the orders automatically after you receive orders
6. Handle customer inqueries
7. Assess what's working for your business
1. Minimal Initial Investment
Dropshipping entails low startup expenses, which is one of its key benefits. Unlike conventional enterprises, there is no need to invest in inventory or storage space. It allows entrepreneurs to launch their e-commerce business with a low capital investment.
The dropshipping suppliers you work with take the responsiblity to picking , packing and shipping the products to your end-customers. So, you do not need to invest in the inventory. You can then focus on optimizing your website and improving customer service.
2. Quick to Grow
Dropshipping companies are easily scalable because inventory management logistics are not an issue. You can easily add more goods to your website as your business expands and collaborate with new suppliers to meet orders.
For example, if you initially start selling sports equipment, you can gradually add other products like athletic wear, shoes, sports gear, and other accessories. Therefore, with dropshipping, you have the option to offer a diverse product range to attract customers.
3. Low Risk
With dropshipping, there is minimal risk involved. Since you don't purchase inventory upfront, you do not risk having unsold products or facing financial losses.
In other business models, when you purchase a large quantity of a specific product that does not sell, you will end up with unsold inventory and capital loss. However, this is not the case with drop shipping. You only purchase the products when you receive an order from a customer.
4. Creating a Unique Brand Identity
Another advantage of dropshipping is the ability to create a unique identity and build your own brand. The seller decides what to sell and how to market the products. Thus, allowing them to establish a unique brand identity.
In addition, dropshippers can also add their own branding to products, such as their logo or packaging. By creating a unique identity, dropshippers can differentiate themselves from their competitors.
5.High Profit Margins
You can benefit from high profit margins dropshipping worlwide. Since the dropshipper doesn't have to purchase and hold inventory, they can sell products at a higher markup than traditional retailers.
Therefore, the dropshippers can earn a significant profit on each sale without investing a lot of money upfront. In addition, many dropshipping suppliers offer competitive wholesale prices, which means that dropshippers can purchase products at a lower cost.
6. You Can Operate From Anywhere in the World
Dropshipping enables business owners to operate from any location as long as they can access the internet. Due to this, it's a great business model for digital nomads or those who like remote employment.
For example, you can be based in Brazil and run an online store that caters to customers in the United States. You can work from your laptop and communicate with your suppliers and customers using email, chat, or video conferencing.
Limited Control Over Supply
Even the best dropshipping suppliers occasionally make errors in order fulfillment; if this happens, you must accept responsibility and extend an apology to the customer.
Also, unreliable suppliers can harm the client experience through lost goods, delayed drop shipments, improper packaging, and poor product quality, which can hurt your company's image.
What Is Affiliate Marketing
In the type of affiliate marketing, a company pays a certain number of affiliates for every site visitor or client the affiliate attracts through marketing. The affiliate markets the good or service to their customers in exchange for a percentage of any sales.
Therefore, affiliate marketing allows affiliates to promote things they believe in. It also enables companies to capitalize on the influence of affiliates to market their goods and services to a larger audience.
How Affiliate Matketing Works
Affiliate marketing forms a connection of mutual benefit between a firm and an affiliate. The process starts when the affiliate joins the program. A unique link or code is provided to the affiliate when they sign up for an affiliate program. They can use this link to start promoting the company's goods and services to their audience.
The affiliate then advertises the products using other marketing channels, including social media, blogs, and email marketing.
1. Higher Profit Margins
Affiliates do not have to hold stock or handle shipping, as the business takes care of these aspects. Thus, they can focus on marketing and promotion without the added costs and logistics of managing a physical product.
2. Low Startup Costs
Affiliate marketing has low startup expenses, making it an affordable choice for business owners and entrepreneurs. With little to no investment, affiliates can promote products to a wide audience. Thereby generating an ongoing source of income.
3. Has Potential for Passive Income
After developing an effective advertising strategy and audience, an affiliate can generate passive revenue by endorsing goods that correspond to the interests of their target market.
As a result, affiliates can make money regardless of whether they are actively marketing goods.
1. Commission-Based Income
Affiliates earn a commission on sales, meaning that income depends on the performance of the business's products and services. This can be a disadvantage if the product or service does not sell well or if the commission rate is low.
2. Limited Controll
Affiliates have limited control over product, service quality, pricing, and promotions. So, if the business changes its product line or marketing strategy, it could negatively affect the affiliate's income.
3. High Competition
Since affiliates typically compete for the same audiences and income, affiliate marketing may be extremely competitive. Additionally, some affiliates use spamming or deceptive advertising, which could harm the reputation of affiliate marketing.
The Difference Between Dropshipping vs. Affiliate Marketing
The key difference between dropshipping vs. affiliate marketing is the profit potential. Dropshipping allows entrepreneurs to set their own prices and profit margins. Thus, resulting in higher earnings compared to affiliate marketing.
However, dropshipping also comes with higher costs and risks, such as supply management, shipping expenses, product quality control, and the potential for supplier issues. In contrast, affiliate marketing commissions are typically lower compared to dropshipping profits. However, affiliates have lower costs and fewer risks.
The Similarities Between Dropshipping and Affiliate Marketing
Both affiliate marketing and dropshipping are online business models offering entrepreneurs the opportunity to start their businesses. In both models, there is no need for physical inventory or a physical storefront.
Other similarities between these two models include:
1. Low-Cost Entry
Both dropshipping and affiliate marketing require relatively low startup costs. With dropshipping, the entrepreneur only needs to pay for the product when a customer orders. In affiliate marketing, the entrepreneur only pays for marketing and advertising expenses.
2. Flexible Work Arrangements
Both dropshipping and affiliate marketing allow entrepreneurs to work from anywhere on an internet connection. Thus, providing greater flexibility in terms of when and where they work.
3. Marketing-Based Business Models
Both dropshipping and affiliate marketing rely on promoting products to an audience. In dropshipping, the business promotes products from its online store, and in affiliate marketing, it promotes products via a third-party website.
Dropshipping vs. Affiliate Marketing: Which One Is Best for You?
When deciding between dropshipping and affiliate marketing, there are several factors to consider. These include your skills, experience, and resources.
Dropshipping requires certain business management skills, such as customer service. In contrast, Affiliate marketing requires marketing and advertising skills to promote products effectively.
Moreover, while both models require a niche selection, with dropshipping, entrepreneurs can choose products that are unique or have a high-profit margin.
In contrast, with affiliate marketing, businesses must choose products that are in demand or have a large audience. Therefore, the ultimate choice depends on the products you want to sell and your business goals.
Dropshipping vs. Affiliate Marketing: Which One Is More Profitable?
The answer to which is more profitable between dropshipping and affiliate marketing varies depending on many factors. Dropshipping can be more profitable if you have a high-profit margin and can manage costs effectively. This allows for a higher markup on products, which can result in greater profit margins.
With affiliate marketing, entrepreneurs typically earn a commission on each sale, which may be lower than the profit margin in dropshipping.
In dropshipping, entrepreneurs need to market their products effectively to attract customers to their stores.
In affiliate marketing, entrepreneurs must effectively promote products to their audience, but the commission is only earned if the customer purchases the product. Therefore, marketing strategy plays a critical role in the profitability of both models.
Make Money by Dropshipping and Affiliate Marketing With EPROLO
EPROLO is a platform that allows entrepreneurs to generate income through dropshipping and affiliate marketing. It is a one-stop shop that provides access to millions of products to sell on business websites or through affiliate marketing.
Dropshipping With EPROLO:
EPROLO is one of the leading dropshipping platforms out there. Dropshippers can use EPROLO to search for products on their websites.
They provide many services to e-commerce businesses, including brand creation, order fulfillment, product sourcing, inventory management, print on demand and more.
They have over 300,000 dropshippers actively working with them. They also provide a completely free method for fulfilling orders.
Orders from dropshippers are instantly delivered to their warehouses and customers. EPROLO also provides several express shipping choices for international shipments. Typically, the shipping procedure takes 5 to 15 days.
It source products from top suppliers around the world. Once you've found products for selling, you can add them to your website and set the price. EPROLO takes care of the product's shipment and delivery to the customer when a consumer purchases goods.
Affiliate Marketing With EPROLO:
EPROLO also offers an affiliate marketing program. You may market EPROLO's products as an affiliate and get a sales commission. It is easy to sign up for EPROLO's affiliate network and have access to a large selection of high-quality items to market.
This program involves three easy steps:
1. Create an EPROLO account to receive an exclusive link
2. Share the exclusive link with others, inviting them to register with the app.
3. Earn earn 2% of each order you recommend to the customers.
Dropshipping vs. Affiliate marketing: Conclusion
In conclusion, both dropshipping and affiliate marketing offer unique opportunities for entrepreneurs to make money online. While they have their differences and similarities, it's important to consider your goals, preferences, and skills when choosing between them. With dedication and hard work, both dropshipping and affiliate marketing can be profitable ventures.
FAQs on Dropshipping vs. Affiliate Dropshipping
Is affiliate marketing still profitable?
Yes, affiliate marketing is still profitable in 2023. The industry is expected to reach 12 billion dollars by 2025, creating numerous opportunities for new affiliates.
Do you need an LLC to be an affiliate marketer?
No, you do not need an LLC to be an affiliate marketer.
Which Is easier? Affiliate marketing or dropshipping?
Affiliate marketing and dropshipping have their own challenges, and neither is easier than the other. Affiliate marketing requires a lot of effort to establish an audience and advertise goods. In contrast, dropshipping requires more upfront investment to set up an online store and manage inventory.
Which Is better, ecommerce or affiliate marketing?
Both can be lucrative but require different skill sets and approaches.
What's the Shopify affiliate program?
In this program, affiliates can promote Shopify's products and services. It includes its ecommerce software, payment solutions, and marketing tools to earn a commission on sales.
Is affiliate marketing hard for beginners?
Success in affiliate marketing requires a lot of hard work and patience. Beginners need to learn how to choose the right products to promote, build an audience, and effectively market products to their audience.
How much can you make from affiliate marketing?
Affiliate marketing does not limit how much money you can earn. The higher your reach is, the most income you will earn.