Since dropshipping has been a trend for people to start an ecommerce business, plenty of dropshipping platforms are springing up. But how to choose the one that can best meet your needs? Here we compare EPROLO VS Dropified, both of which are well-known in the dropshipping industry.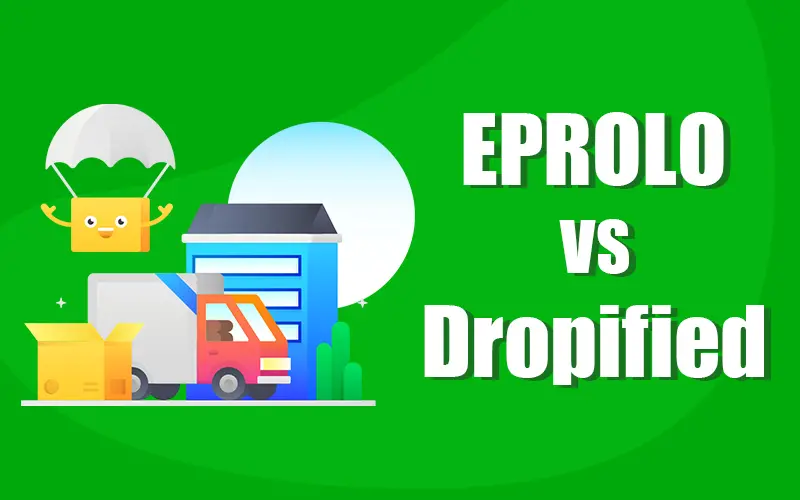 1. EPROLO VS Dropified Dropshipping Business Model
Dropshipping is an order fulfillment method. In this business model, online store owners focus on marketing and more sales. Dropshipping suppliers do product sourcing, inventory management and deliver items directly to end customers. How does EPROLO VS Dropified work in the dropshipping business?
How does EPROLO work?
EPROLO is a free dropshipping platform, which provides a one-stop solution for ecommerce store owners. It only charges product price and shipping fee when you place orders. Since established, EPROLO has developed a Shopify App and WooCommerce plugin to sell dropshipping products on your online store easily. Also, importing products from the AliExpress website is available by using EPROLO Chrome Extension. Besides, EPROLO takes charge of product sourcing, quality control, inventory management, packaging and worldwide shipping. It has a customer support team to help solve all your pre-sales and after-sales issues.
It's worth mentioning that you can use EPROLO to build your own brand. On the one hand, custom packaging is available for all dropshipping store owners. They can print your store logo on the box and scotch tape to build brand awareness. On the other hand, with EPROLO Print On Demand Dropshipping platform, you can design customized products that are only sold on your Shopify stores.
How does Dropified work?
Dropified is a software application, which also helps to build your dropshipping business. Unlike EPROLO, it doesn't have products listed on the platform. But you can use it to import products from AliExpress, Alibaba, and eBay to ecommerce stores. Dropified is a paid dropshipping app. Importing products from Alibaba is only supported with the build plan ($67 per month).
With it, dropshipping store owners can focus on marketing. After receiving orders, you can place orders on Dropified. According to the different subscription plans, it will charge 3% wholesale transaction fees or not. Then, Dropified will place orders on your behalf with multiple dropshipping suppliers. So they will deliver products directly to your customers. It simplifies your work. You don't need to pay orders one by one on AliExpress, Alibaba, or eBay. But it still doesn't solve this problem. When customers buy products that are from different suppliers, they may receive multiple packages from separate locations.
2. EPROLO VS Dropified Pricing
Both EPROLO and Dropified devote themselves to a one-stop dropshipping solution. With the help of the two dropshipping apps, Shopify store owners can import products easily, and focus on marketing and selling products.
EPROLO pricing
EPROLO is a forever free dropshipping platform, so it doesn't have any paid subscription plan. However, it sets the account level from V1 to V5. When you upgrade to V5, which means your total sales account with EPROLO reaches $20,000, customizing packaging boxes is available. And when you get V4, it's free to make custom scotch tape. Of course, V1 members can also customize scotch tape, but they need to pay for it. That's all. EPROLO only charges product price and shipping cost when online store owners place orders.
Dropified pricing
Dropified is a paid dropshipping app, which helps ecommerce store owners with sourcing products from the AliExpress website and eBay. Dropified offers two subscription plans: lifetime plan and build plan.
As listed, there are more limits of monthly orders, importing products, connected stores and accounts for lifetime plan. And the Dropified app price can be $147 for one time or $24 per month for 12 months. Obviously, it's more suitable for dropshipping beginners. Build plan for experienced people is more expensive ($67 per month) and has priority for the customer support team. You can take 14 days free trial and decide to buy it or not. The image below shows all the Dropified features of lifetime plan and build plan.
3. EPROLO VS Dropified Order Fulfillment
3.1 Product import
There are mainly two channels where you can import products with an EPROLO account. First of all, EPROLO has listed 300k+ dropshipping products in 100+ categories on its platform. After logging in to the account, you can choose and add products to the "Import List". In addition, EPROLO has developed a Chrome Extension for dropshippers to import AliExpress products to their ecommerce stores. After adding products to the import list, editing the product image, title, description and price is reachable. Then, you can import products to Shopify stores with one click. Besides, EPROLO provides the service of sourcing products. No matter where you import products to the online store, you can ask EPROLO to source products and make order fulfillment for you after receiving orders.
Dropified features of product import include these. At first, you can quickly add products to your dropshipping store from ecommerce platforms, like Alibaba, AliExpress and eBay. Then, Dropified provides an advanced product research tool – AliExtractor. It enables ecommerce business owners to automate finding and adding products to stores. Also, importing product reviews from AliExpress suppliers is one of Dropified features in dropshipping plans.
3.2 Order processing
Both EPROLO and Dropified supports auto place orders. When your Shopify stores receive orders, they will be synced to the two dropshipping platforms automatically. Then, you can choose the shipping method and pay for them. On EPROLO, you need to pay the product price and shipping cost. And on Dropified, in addition to the above costs, it charges 3% wholesale transaction fees for lifetime plan. You may ask, why does Dropified app charge this extra fee?
In order to solve this confusion, we can analyze their differences during order fulfillment process. For EPROLO, they purchase products from manufacturers, make quality control, pack and ship items from EPROLO warehouses directly to customers. So all dropshipping orders are fulfilled by the platform. As for Dropified, the main difference is that it's a third-party app and doesn't fulfill orders. After receiving orders from dropshipping store owners, it places demands with suppliers from AliExpress, Alibaba, eBay and other sites. It can simplify the work of dropshippers, so that they can focus on marketing and selling products. And suppliers directly send products to end customers.
3.3 Shipping & Tracking
EPROLO has four warehouses located in the US, UK and China. It offers various shipping methods and has developed express lines for countries like UK, US, CA, AU, etc. The average delivery time is 5-15 days. With a shipping guarantee policy, if the delivery time exceeds 30 days, you can contact the customer support team and ask for a full refund. All products are packed in the EPROLO warehouses. So no matter how many items in one order, they will be in one package. After the shipment, the tracking number will be automatically synchronized to your EPROLO account.
Since Dropified entrusts the order fulfillment process to AliExpress, Alibaba and eBay suppliers, the shipping method depends on the corresponding product supplier. Some may offer multiple ways, while other AliExpress sellers only support ePacket. Dropified app enables you to auto place orders and fulfill them with one click. Also, after the shipment, you can track packages.
4. EPROLO VS Dropified Chrome Extension
EPROLO Chrome Extension
In order to import products from AliExpress to your dropshipping store, EPROLO has developed a Google Chrome Extension. To use it, you need to register an account. So, when you find high quality products on AliExpress and want to import them to your store, it's achievable. You can click the icon on the top left corner of products on the AliExpress website to auto import them to EPROLO. Then, on the dashboard, choose to edit the product image, title, description and price or not. Click import to my store to finish the process. Also, you can copy and paste the AliExpress product URL. EPROLO will grab all information and send it to your store.
When receiving orders, ecommerce business owners have two options. On the one hand, they can find the product supplier on AliExpress and place orders. On the other hand, dropshippers can also fulfill them at EPROLO. The product sourcing team will find the best supplier and price.
Dropified Chrome Extension
Dropified is a paid app for dropshipping store owners. But Dropified extension is free to use, no more extra fee. Of course, the premise is you have bought its paid plan and been a member. After installing the Dropified extension and log in to the account, you can select products. With it, you can check if AliExpress sellers support ePacket, and their order processing time. It helps a lot when ecommerce business owners make decisions.
This extension works the same way as EPROLO's. You can bulk edit product information and import it to your Shopify store. After receiving orders, Dropified will place orders with suppliers on various ecommerce platforms on your behalf and synchronize tracking numbers.
4. EPROLO VS Dropified Reviews
EPROLO Reviews
On the Shopify app store, EPROLO – Dropshipping & Branding has received 916 reviews with a 4.7 rating. Click here to see what people said about EPROLO.
Dropified Reviews
On the Shopify app store, Dropified ‑ Dropshipping gets 238 reviews with a 4.3 rating. Click here to learn more.