The changing global economy and marketplace are continually presenting new ideas. However, some of the prevailing old practices continue, only growing year by year. Dropshipping is one of those widely accepted and incrementally growing best practices or a business model that has proved profitable for many.
The business model made its debut in the 1950s with phone orders received by customers using catalogs. However, in the 1990s, people saw the growth of dropshipping with the internet boom that facilitated the trend's escalation. The most recent dropshipping model is from AliExpress, which was introduced in China and has been popular since 2006.
Despite the model being relatively new and re-acquainted with the big names of the industry, such as Shopify and Amazon, people look at dropshipping as gradually declining. Moreover, it's also a widespread belief that the dropshipping market is becoming saturated. However, dropshipping is still relevant when done right, and with some effort, it can make individuals profitable.
This article discusses the dropshipping business in detail and answers the most-asked question, "Is dropshipping still worth it in 2023?" Keep reading to find out.
Statistics for Dropshipping Business
The rise in dropshippers was recently observed during the pandemic when people had more time and opportunity to focus on starting a dropshipping business. Due to the widespread disease, people were reluctant to shop in-store and found it more convenient to order stuff online. Furthermore, the business model is low-cost and easy to follow, attracting many inexperienced individuals.
Here are some of the statistics that reflect the profitability of the dropshipping business for the years to come:
According to the market report published by Allied Market Research, the global dropshipping market made USD 155.6 billion in 2021. By 2031, this sum will reach new heights of USD 1670.1 billion. Hence, the compound annual growth rate at which the dropshipping market will rise is 27.1% during the forecast period of 2022-2031.
According to the regional analysis, North America is leading the dropshipping market.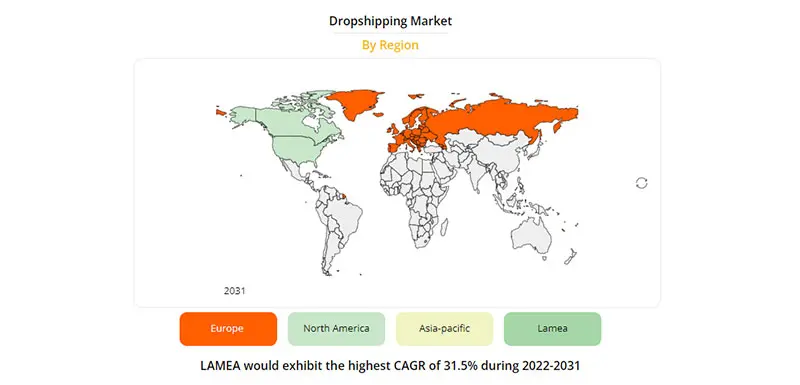 Many of these facts might have cleared significant confusion regarding the relevance and profitability of dropshipping business models in e-commerce. The market is gradually rising, and retailers are introducing more segments and product categories to allow consumers to buy anything online.
Google Search Engine has also observed a significant increase in the term search for dropshipping.
Is the Dropshipping Market Saturated?
Market saturation is a common concern for individuals planning on adopting dropshipping as their side hustle. The number of dropshippers has indeed risen over the years.
However, with the constantly changing e-commerce landscape, there's still room for numerous new dropshippers to start a new scaling business.
Hence, if you're worried about market saturation, there is no need. Yes, there's competition in the market. Still, some businesses do better than others because of how they manage and scale their business.
The Reasons for Failure in Dropshipping
Dropshipping is a profitable business model in today's ever-changing e-commerce landscape. However, inevitable mistakes can put you up for failure, and it's not because of the market. Since dropshipping is a low-cost startup model, you might be able to afford failure only if you learn.
Here are some of the most common reasons for failure in dropshipping business:
Assuming Dropshipping as an Effortless Business
You don't require in-house inventory to run a dropshipping business. Moreover, order fulfillment, inventory management, and customer service are standard services that various dropshipping suppliers offer. Therefore, when an individual starts a dropshipping business, they assume it is effortless and put in less to no work.
Hence, many dropshipping businesses fail as the dropshippers rest and run the business on auto-pilot. To avoid this mistake, check your business operations regularly and ensure everything is well on your customer's end. If your services grieve them, they'll quickly seek another business to fulfill their consumer needs.
No Capital Resources
Dropshipping is regarded as a low-cost business because there's no inventory to store in a warehouse. Hence, the product cost and warehouse rent don't apply. However, assuming you require no capital resources to start and scale your dropshipping business would be a mistake.
To ensure you get enough customers to make you profit, it's crucial to invest in good marketing. If your marketing strategy is cheap and does not address your ideal customer's major pain points, your business won't attract customers or scale.
Selecting an Unprofitable Niche
A profitable niche depends on two things: demand and location. A product might not be in demand in a particular region. However, elsewhere people might be ready to pay a reasonable sum. Hence, your market analysis skills are essential here.
Select a highly in-demand product in your region or change the region where you're selling the product. Then, target the audience residing in your selected location and tailor your marketing strategies according to the buyer persona.
Late Shipping
If your customers are paying their due and getting products later than promised, that's a perfect recipe for dropshipping business failure. Your customers must receive the order before expected or at least when it's bound to reach them. Delayed shipping can ruin your rapport in front of your customers, who will seek your competitors' timely services.
If such a case happens and you're notified via an online review, don't let it sit and simmer with more people. Instead, address it, apologize, and try to rectify the mistake. Also, ensure the practice isn't continued in the future by communicating with your dropshipping supplier.
Messy Website
Have you ever seen an e-commerce website where you couldn't find anything? How long did you stay on that website? Indeed, you left in mere seconds. Your customers follow that line of action when presented with a bad user interface.
Your website has to look polished and easy to navigate. It should be appealing, and all the necessary tabs should be accessible to the customers. Otherwise, you might get various viewers who won't convert into sales.
The Biggest Problems That Dropshippers May Face in 2023
Despite doing everything right, specific geopolitical and economic issues might affect consumer behavior which can cause your dropshipping business sales to fluctuate.
However, preparing a plan of action for these most common 2023 issues can set you up for success or at least a less intense blow.
Advertising Costs of Facebook and Google
Google Ads and Facebook are two robust platforms for easy and profitable marketing. The number of consumers you can address using these two platforms can increase your sales massively. However, both platforms are increasing their advertisement prices, making marketing slightly expensive.
The advertisement cost on Google Ads varies according to industry. For e-commerce, the cost-per-click is $1.16, the lowest cost across all industries. Moreover, for every dollar spent on Google Ads, the return on investment or ROI is $8. Hence, if you're playing the game right, this slightly higher initial investment will yield better profits.
For Facebook ads, the cost-per-click is $1.72. However, impressions have also increased substantially to a whopping 34%. Hence, though you'll have to pay more, you'll also increase your chances of gaining more.
USA-China Trade Dispute
The USA-China political situation has made various dropshippers skeptical about their business's operations. However, there's nothing to worry about for dropshippers who don't order items in bulk. Moreover, major trading organizations will likely face issues as the trade war will affect imports.
High-end products, such as electronics ordered in bulk, may face some issues. However, there won't be many bumps for smaller and less expensive products ordered on demand. Furthermore, the dispute is gradually softening, and the restrictions imposed might not follow through in 2023.
Global Economic Recession 2023
The global economic recession is likely to bring significant shifts in 2023. These shifts will also affect consumer behavior. Hence, dropshipping businesses must be proactive and prepare a plan to fight the issue head-on.
Here are some of the tips for ensuring you're making profits even when the economic situation isn't stable worldwide:
Understand your ideal buyer's consumption behavior. If you can identify the challenges they'll likely face forehand, you'll be able to address them better. Introducing discount schemes or another product your customers will need during a recession can increase your sales.
Save costs on business operations by budgeting and outsourcing. You can ask for third-party BPO (Business Process Outsourcing) services to cut costs on your in-house team and resources. Moreover, FPO service-providing companies can also take over your financial operations to help you with budget allocation.
Cutting back on marketing isn't a wise move. Many businesses might be taking this step. So, go for the counter-approach and aim to become the brand customers remember at the top of their minds. Leave a positive impression of your brand on your ideal customer's brain through marketing, and the sales will follow.
Success Tips to Start a Profitable Dropshipping Business
If you're serious about starting your dropshipping business in 2023, here are some hacks or tips for success you can implement. All these tips aren't shortcuts. They require time and effort, just like anything you'd like to scale. Hence, ensure to follow them for a profitable dropshipping business with due diligence:
The most straightforward way to make your place in the dropshipping market is to find a specific niche. The low-cost startup model of dropshipping business allows individuals to make their space into the market quickly. Therefore, choosing a niche, especially more high-end ones, will be the easiest way to make fast profits.
High-ticket dropshipping might only work if you're well-versed in the basic dropshipping model. You can quickly learn the basics of dropshipping, even as a first-timer, by selling the trendiest products. Once you have gotten the hang of things and understand how to gain advantages, move to high-ticket dropshipping.
Once you have a high-end product in mind that you want to offer a specific population set, find a dropshipping supplier. This supplier should be able to provide the best customer service for your customers. You won't have a sustainable business without winning your customers' hearts. Hence, customer service via a reliable dropshipping supplier is necessary to pave the path toward dropshipping success.
The next big thing to tackle is marketing. Whether you have a competitor or not, your marketing should be tailored to your ideal buyer, as you'll get limited orders. However, these orders will be enough to make you money if you're marketing them right and addressing the pain points of your ideal buyer.
In this case, learning from competitors is also a great idea. Learn what sells and what doesn't, and research what their customers are asking to identify a crucial gap that your business can bridge. People will pay the sum when you give what customers want at fair rates and extraordinary customer service.
Final Thoughts
Is dropshipping still worth it in 2023? The simple answer is yes. However, if you're looking forward to launching your dropshipping business in 2023 or scaling it, have a strategy to overcome all the potential issues that can impede your business's growth.
Before launching your dropshipping business, ensure you are set for success by avoiding the failure traps. Have enough capital to fund your marketing and seek a platform that's easy to navigate. Moreover, choose a niche that's profitable in your selected region.
Dropshipping business market will continue to grow in the years to come. Your dropshipping business's success depends on your proactive and informed decisions. Give your input, choose wisely, and you're all set for success.