EPROLO Branding Service
FAQ From EPROLO Users During Enjoying Branding Services:
1. What kind of products can be supported by the EPROLO Branding service?
Currently, we provide nine categories to choose from: T-shirts, dresses, hoodies&sweatshirts, jeans&coats, sweaters, suits&sets,pants and sports clothing.
If you want to build your brand for the hot-selling clothing products but not listed in the categories, we can source them for you.
2. How to check whether the customized logo has been uploaded successfully?
After you log in to your account, go to "Branding Project" in the dashboard.
Scroll the page down. If it's uploaded successfully, you will see your logo there.
3. How to check whether the payment completed ?
Currently, to pay the customized fee, we accept PayPal Transfer only.
Whether the payment is successful or not, you will receive an email notification from Paypal.
4. How to check whether the benefit is opened and available?
After your submitted logo is confirmed to use, refresh the page. You will find the status button is displaying on your "Branding Project" page.
Click the button to open your benefits. Now, you can pay the customization fee for your orders and enjoy our branding service.
5. I have uploaded the logo and paid, but why EPROLO didn't customize the clothing products with my logo?
To this question, it depends.
You need to focus on below two points to make your customization possible:
After submitting the logo, your customer manager will confirm the design diagrams with you via the inbox message, email, Skype, or Whatsapp. After confirmation, you can move on to the next step.
You need to pay the customization fee. EPROLO will identify the clothing products in your order automatically. Your payment includes order, shipping, and customization cost. Make sure your membership status is enabled, and DON'T click to close it.
When the payment is complete, EPROLO will customize the clothing products with your logo. For more guidelines, pls click and read more on our blog: How to use EPROLO to build your brand.
6. If the clothes have a trademark or pattern, can they be customized or not?
It may involve infringement, so it's not recommended to customize your logo on the clothes with a trademark or pattern.
7. Can I customize other non-clothing products?
Currently, the Branding service only supports clothing stores.
EPROLO POD app is available to customize other non-clothing products. Follow below steps, you can check on product catalogs:
Step 1: Login your account and click the "EPROLO POD" button, direct to your POD dashboard.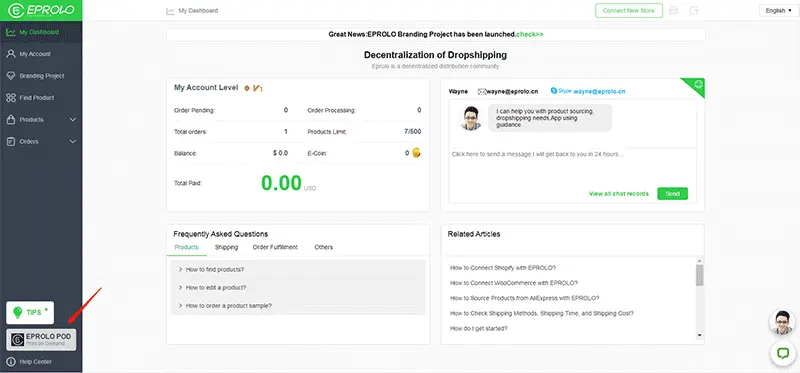 Step 2: Enter the Products Catalog page, and you can see all products which EPROLO POD serves.
Read more guidelines about how to use EPROLO POD dropshipping here.
8. Does $19.9 include the fee for customized tape?
$19.9 is to activate the Junior Membership, it does not include a customized tape fee.
Under the Junior Membership, you can enjoy the services covering custom label, hangtag and packing bag.
9. I have paid $19.9 / $99 already. Why do I need to pay an extra customization fee?
$19.9 / $99 is the cost of getting your membership. After paying this fee, you can enjoy the service as below:
You need to pay the customization fee for the cost of materials and labor. You can check the following pricing rule for the customization fee if needed.
10. How long does it take to make a custom hangtag? Will it cause the orders dispatch delay?
Once receive the products, we will immediately arrange to print the hangtags, which can usually be completed within the same day. You don't need to worry about the dispatch time.
11. What is the dimension of the custom packing bag, label, and hangtag? What is logo printing size?
Dimension for packing bag:27.45x35.4cm

Size for logo printing: 22x10cm
Dimension for hangtag: 12x4cm

Size for logo printing: 9.5x3cm
Dimension for label: 5.3x1.6cm

Size for logo printing: 4x1.2cm
| | Packing Bag | Hangtag | Label |
| --- | --- | --- | --- |
| Full Item | 27.45x35.4cm | 12x4cm | 5.3x1.6cm |
| Logo Printing Area | 22x10cm | 9.5x3cm | 4x1.2cm |
If you need help on "how to pay the customization fee after subscribing to the EPROLO branding plan," please click here to read more. EPROLO always makes an effort to provide the best service. If you have any other questions, please feel free to contact us at support@eprolo.com