Although we cannot deny that Etsy is a great marketplace to make huge profits when running an online store, sellers have to meet so many terms on this eCommerce platform. According to the sellers policy, only handmade, vintage, or craft supplies are allowed to be sold on Etsy. Each of these three kinds of products has its official definition and scope.
In addition, reselling is prohibited, meaning you have to be involved in designing or making the products, otherwise your account may be suspended or terminated. Therefore, sellers yearn for the bonuses from Etsy at heart. On the other hand, it's not that easy. Many of you are faced with the dilemma. As a matter of fact, the only solution is to sell unique products different from other sellers'.
How is it possible?
Selling print on demand products is one of the answers to the question. By customizing your products through print on demand service, you can avoid selling items that are same as others'. Besides, you are free of infringing upon intellectual property using your own designs. In this way, running an Etsy shop will not be that difficult as you think.
However, there is a more lucrative way to make money on Etsy. Including selling print on demand products, many sellers adopt the dropshipping method to get rid of the worries of inventory. With this method, you have no need to deal with the storage of products. Dropshipping suppliers take charge of storing, packing and delivering the products to your customers.
Combining the two methods, you willl feel just like a fish in water when running an Etsy store. For one thing, it helps you to get as many white label products to personalized. For another, the nature of the dropshipping business can save the operation capital as you do not have to rent warehouses to store your products. The advantages of these two methods are perfectly connected.
Now that you have learned about the best way to make profits on Etsy. What you need to do is to find a reliable supplier offering high-quality products and services for you. That being said, I recommend EPROLO-POD for you to save your bacon.
EPROLO-POD is a professional print-on-demand dropshipping supplier, not only provides the global shipping service with you, but also a wealth of white-label products, including clothing, shoes, socks, hats, bags, pet supplies, home set and accessories. These products can satisfy all your needs, and more products are on the road, because EPROLO-POD is always taking pride in offering you the best customer experience.
Among these products, clothing is the best suggested for you. There are men's clothes, women's clothes, kids and babies' clothes in the catelog. Besides, the styles of clothes are diverse, including swimsuits, dresses, T-shirts, bras, panties, plus-size, casual wear, sports wear, hoodies, and jackets. These kinds of clothes are all available for full printing on EPROLO-POD.
In addition, once you connect your online store with EPROLO-POD platform, which is totally free, your orders will be automatically synced on the platform. Hence, EPROLO-POD will take over the duties of fulfilling your orders, including manufacturing, packing and shipping the packages to your end customers.
Now, it's very easy to integrate your Etsy store with EPROLO-POD platform with only two steps.
1. open EPROLO-POD website and click Authorization.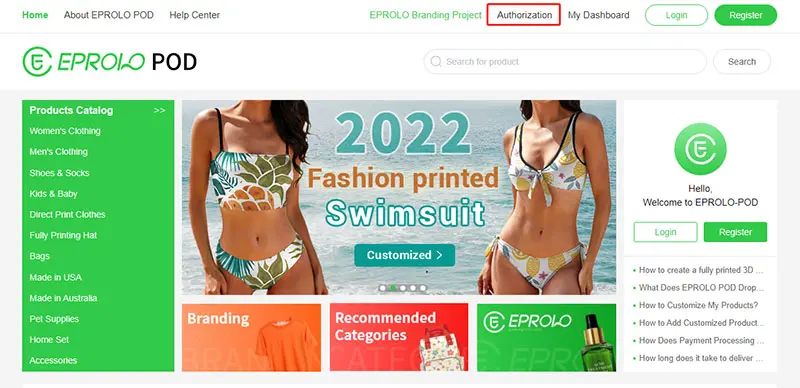 2. click Etsy and input the required info.
With the help of EPROLO-POD, you will not have any worries anymore when running your Etsy store. After connecting your store with EPROLO-POD, all you need to do is to choose products you want to sell from the inclusive categories and start creating designs on them, which are fun and easy. Now, integrate your Esty store with EPROLO-POD to get more profits!