If you wonder about profitable dropshipping niches in 2021, home decor will be one of them. In this article, you can learn how to dropship home decor products and the best home decor dropshipping companies.
Home is a word related to warm and soft. People have a strong desire to make it comfortable. The impulse is somewhat like a nature planting in the human's mind. Therefore, the home decor market has been hot all the time.
According to the news from PR Newswire, the online home decor market is forecasted an
amazing growth
. It's said that the market will increase $83.32 billion during 2020-2024 and at a CAGR (compound annual growth rate) of almost 13% during the time. Companies like Bed Bath & Beyond and Chairish are playing the lead role.
How to dropship home decor products?
It's no doubt that the home decor market is potential and attractive. From furniture, textiles, wall decor, lightings to accessories, dropshipping home decor products show the possibility of getting high profit margins. Whether you are running a business or planning should not miss the opportunity.
In addition to the sound prospect, there are more reasons to join the industry.
First of all, the variety of niches. Home goods includes a wide range of product categories. People can choose the right niche they want. Second, the expansibility. Home decor is different from others due to its artistic side. It's possible to expand the business into a high-end style. Marketing is another reason why dropship home goods. The scenarios of using products can resonate with customers. Thus, delicate pictures and clips can increase sales.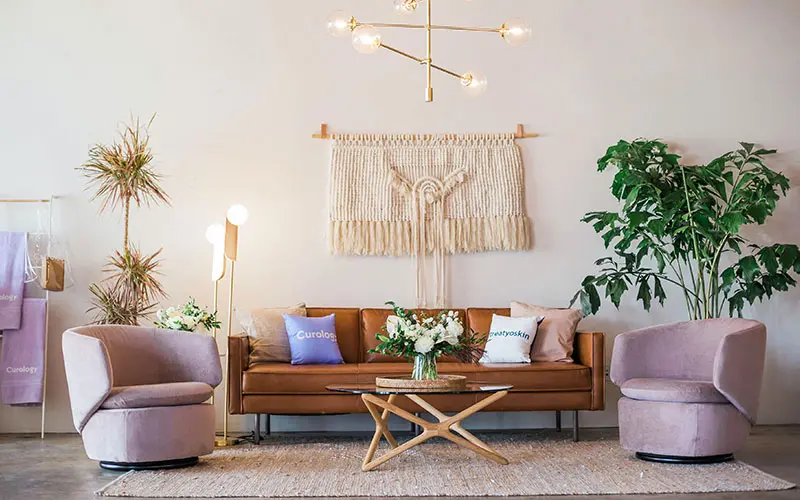 Benefits drive actions. So, how to dropship home decor products?
1. Choose a Home Decor Niche
The market is mammoth. Its segments contain furniture, furnishings, home textiles, lightings, arts and other decorative products. Moreover, every segmentation includes various styles and using places.
Dropshipping home decor store owners need to do market research. People can research by using search engines, related communities and subscribe to emails. Some websites provide market reports and charge no fee. It will also be helpful to check those reports.
2. Find Product Suppliers
The difference between local and overseas suppliers is not only about delivery time. Beginners should take product size and shipping methods into consideration while choosing. If you plan to dropship large-size products to sell, you may find a local supplier. Because the shipping fees will be costly and shipping methods will be limited. For foldable and small-size products, choices are massive. You can dropship from China or other countries.
3. Promote Home Decors
Product marketing is necessary to get sales. You can advertise on YouTube, Google, Facebook. But it may take time and money to see the result. If you are anxious about zero sales, you need to remember one thing – ads cannot do without testing. It's normal if you don't get the expected result. However, it doesn't mean that advertising is useless. Ads can help you figure out whether the product is marketable or not.
Top 15 Home Decor Dropshippers
When you run a store, suppliers are a big part of the business. Finding home decor dropshipping suppliers could take a lot of work. You need to check if the supplier meets your needs, such as the inventory, delivery time, methods and shipping costs. Besides, communication is also time-consuming. Some suppliers only drop ship when you meet the minimum order quantity. In this case, contact the customer service is necessary.
Here is a list to save your work. Companies below include wholesale home decor dropshippers. You can view the info and see if they are what you're looking for.
| Company | Main Prodcuts | Country |
| --- | --- | --- |
| EPROLO | General, textile, organization, lighting, painting, storage | China |
| Etsy | Wall decor, pillow, candle, clock, rug, bedding, lighting | United States |
| Wayfair | Furniture, rug, curtain, art, candle, lighting, organization | United States |
| Koehler Home Decor | Furniture, bookend, candle, lantern, bath accessory | Portland |
| Sagebrook Home | Bookend, bowl, frame, figurine, candle, furniture, lighting | United States |
| DII Design Imports | Aprons, doormats, towel, rug, candle holder | United States |
| Creative Co-Op | Candle holder, clock, bowl, ornament, storage, lighting | United States |
| Alrug | Persian rug, handmade rug | United States |
| Ancient Wisdom | Aromatherapy, soap, home fragrance, candle | United Kingdom |
| Wholesale Accessory Market | Sign, frame, figurine, pillow cover, tabletop decor | United States |
| Homespice | Braided rugs, stair tread | United States |
| Urban Country Decor | Floral, basket, bucket, bell, ornament, lighting | United States |
| Eternal Design | Bed frame, pillow, dining set, sofa, chair | Australia |
| Primitives by Kathy | Sign, wall decor, clocks, towel, tray, pillow, rug | United States |
| IndiaMART | General, furniture, candle, box, handicraft, plate | India |
1. EPROLO
EPROLO is a dropshipping company providing sourcing and fulfillment services for online stores. There are nine subcategories of home improvement in EPROLO. They includes home textile, home storage and organization, fixtures, lightings, paintings, and others.
In addition to its products, the platform is available to source from other websites. It can be used as a China sourcing agent. People only need to import store orders and click Submit Sourcing. After payment, EPROLO will take over the rest of the fulfillment works. The usual shipping time is about 7 to 15 days.
For customized home decors, shopkeepers can use EPROLO Print on Demand app. There are a wide range of home decor POD products on the platform. And those are provided by factories from America, Australia and China. People can use the app to design individual items and import them to the store. No minimum order quantity is required.
2. Etsy
Etsy is an online marketplace. There are fifteen categories related to home decor on the website. For example, you can find kitchen & dining, living room decor, bedding, lighting, etc. It has launched a page of dropship, which shows over 600 results. If you want to contact a shop, you can find the customer service on the item page. There is a message button in the bottom right corner. Sellers on Esty choose shipping methods themselves. Therefore, options and delivery time are different. People can view details on the seller's shipping profile and policy.
3. Wayfair
Wayfair is one of home decor dropshipping suppliers. It focuses on furniture, lighting, cookware, artificial flowers and more. There are more than ten categories on the site. For example, furniture, rugs, bedding, organization, lighting, pet, and so on. In its decor collection, you can find products to sell, from home accessories, window treatments to arts. Wayfair uses shipping methods based on product size. For example, small items will be delivered by UPS or FedEx. The website and its four other brands offer over 22 million products to buyers. The numerous items make store owners dropship from it.
4. Koehler Home Decor
Koehler Home Decor is one of home decor dropshipping companies. It classifies home decors into twenty-four kinds, including furniture, bath accessories, decorative bookends, candle holder, cabin decor, and others. The website does not require a minimum order which is mentioned on its dropshipping guide. If you place a dropship order, you need to provide the billing information, customer's shipping information, and store name. And the tracking number will be emailed in 1-2 business days. Further, you can use FBA to fulfill orders. Koehler Home Decor is available to ship to Amazon warehouses.
5. Sagebrook Home
Sagebrook Home is one of wholesale home decor dropshippers with seven product collections and over forty subcategories. Products include decorative accessories, vases, lanterns, candles, wall decor, lightings and others. The company sets up some rules for the dropshipping business. For example, store owners need to submit an ecommerce application for services. As for shipping, Sagebrook Home provides UPS and FedEx. The site ships orders within 3 to 5 days on average.
6. DII Design Imports
DII Design Imports is a wholesale company and has been established for over twenty-five years. The website mainly sells kitchen textiles, table linens, gifts and decorative accessories. Products like rugs, doormats, candle holders, wreaths and others are categorized in its Home heading. DII launches a drop ship program for online stores. Home decor store owners can view dropshipping items via the page. And there is no order minimum requirement. The website provides two shipping options – FedEx and UPS Ground. And packages usually take 5 to 10 days to deliver.
7. Creative Co-Op
Creative Co-Op mainly sells candles, jewelry, fashion accessories, and more. You can find over twenty product categories in its home decor collection. And the website has launched a Drop Ship Program for online store owners. For people who want to dropship products from Creative Co-Op, they need to contact a retailer near around. The default shipment method of the website is UPS Ground.
8. Alrug
Alrug is a website focusing on handmade rugs and carpets. There are more than 15 thousand rug items on the site. Most of its products are manufactured and shipped from India, Pakistan, Iran and Turkey. If you have special needs about sizes, the website is enabled to do it. Alrug charges zero ship fee for US and international shipping, which is a big plus. It uses DHL, FedEx, and UPS to deliver. And orders will be shipped within 4 to 6 business days.
9. Ancient Wisdom
Ancient Wisdom is a UK wholesaler with more than ten product collections. Aromatherapy products like essential oils are the primary one. The website has over five thousands of product lines available to drop ship. And it charges low minimum order and shipping costs. If you are going to use Ancient Wisdom, you need to pay attention to the shipping country. Due to Brexit, you can not place EU orders on the UK site. The website suggests placing orders from other European distribution centers.
10. Wholesale Accessory Market
Wholesale Accessory Market is one of the best wholesale home decor dropshippers. There are over twenty categories in its Home & Kitchen Decor collection. People can find thousands of products such as towels, dishes, jars, holders and others. If you fail to find the item you want, you can place a special order. The team will help with it but requires a minimum order of 50. Wholesale Accessory Market provides two shipping options, which are FedEX and USPS. It takes about 1 to 5 days to deliver packages. As for the shipping cost, it starts at $8.95. Orders over $300 will not be charged for freight. However, free shipping is only valid for US orders.
11. Homespice
Rugs are the main product of Homespice. You can find different materials braided rugs on the website, such as jute, cotton, and wool. Dropshipping is available on Homespice. For dropship orders, you need to send the info to a specified email address. For order tracking, you need to enter the order number and email address on the Track Order page. The website also provides an inventory report. People can check stock quantities before placing an order.
12. Urban Country Decor
Urban Country Decor sells home decor products, including containers, crafts, garden products, fragrance, lighting, bedding, etc. Products are mostly shipped from Ontario, or dropshipped from its manufacturers directly. Urban Country Decor only uses Canada Post and UPS to deliver products. It charges $13.95 shipping cost in general. And the delivery time is about 7 to14 days.
13. Eternal Design
Eternal Design is an Australian company. It sells furniture of bedding, dining, home office, living room, lounge. The company provides wholesale and drop shipping services. As for shipping, the website uses Australia Post, Fastway and Allied Express to deliver products and only ships within Australia. The delivery time is from 3 to 10 days.
14. Primitives by Kathy
Primitives by Kathy includes seven main product categories: wall decor, dining, textiles, home accents, accessories, etc. And there are more than sixty kinds of products on it. The website requires a minimum order of $30 for retail customers. As for shipping time, it's about 7 to 10 days and ship to the United States only.
15. IndiaMART
IndiaMART is an online B2B marketplace with more than six million suppliers. There are three main home decor categories on the website. Handicrafts & Decoratives, Kitchen Utensils & Appliances, and Home Textile & Furnishing. For dropshipping services, you can search in the search box. The suppliers' info and contact method will be displayed in the results. Then you can contact the customer service by submitting messages.