Choosing between dropshipping and ecommerce may seem daunting, especially with the evolving trends in the online marketplace. While dropshipping offers low startup costs and minimal inventory management, ecommerce provides greater control and branding opportunities.
Therefore, understanding the key differences between each business model is crucial for determining which one is right for your business. This article covers the pros and cons of dropshipping vs. ecommerce in detail. We'll also answer the question, "Is dropshipping better than e-commerce?" So, keep reading to find out.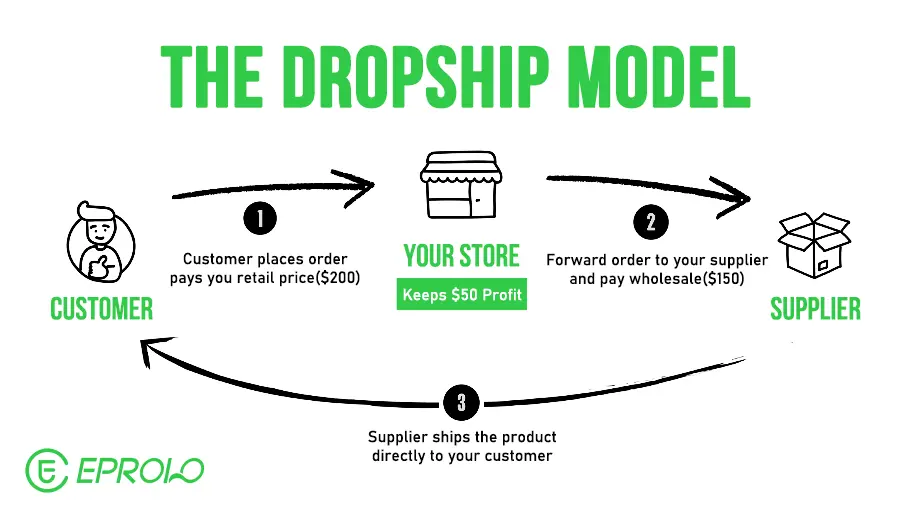 Dropshipping is a popular method used by online retailers to fulfill orders, in which they outsource the purchasing, storing, and shipping of their products to a third-party supplier. When a person or business sells items they do not maintain in stock on their website, the practice is known as drop-shipping.
When a person or business sells items they do not maintain in stock on their website, the practice is known as dropshipping. After the customer places an order, the company forwards it to a different business so that the products can be shipped to the consumer directly. Dropshippers occasionally charge extra since they are intermediaries.
This order fulfillment strategy is often favored by business owners seeking efficiency and minimal costs. However, there may be a small drawback, particularly in terms of the customer experience.
The drop-shipper keeps the revenue from the higher sale price. Since dropshipping relies on a third-party provider to handle inventory and deliver products, a drop shipping company may be run by a single business owner or dozens of staff members.
A dropshipping business promotes its products and sell online. When a client places an order, it is directly transferred to the dropshipper. Then the customer is informed that their product is on the way.
The business can't control the order fulfillment process. The dropshipping provider takes care of maintaining and shipping physical goods. However, in some arrangements, the business can be responsible for customer care. Dropshipping is a partnership between a supplier and a customer-facing store.
1. Lower Startup Costs
One of the biggest advantages of having a dropshipping business is that it eliminates the need to invest a large sum of money in launching an e-commerce store. Prior to dropshipping business models, e-commerce retailers and brick-and-mortar companies had to tie up a significant amount of capital for purchasing inventory.
With a dropshipping business model, you are only required to buy a product after the buyer has paid you and the transaction has been completed.
2. Easy Scalability
In a conventional retail setting, you often have to put in three times as much labor for every additional order. However, partnering with a dropshipping supplier solves this problem. Hiring dropshipping suppliers can help you increase your scale of operations with less incremental work and expansion problems.
The reason for this is that the vendors will handle the majority of the work required to fulfill extra orders. Increased sales will result in the requirement for more labor, especially in customer care. However, businesses that use dropshipping scale exceptionally well compared to regular ecommerce companies.
3. Reduced Overheads
As you don't have to deal with stock purchases or fulfillment centers, your overhead expenses are fairly low. A laptop and a few ongoing expenditures are all you need to run a successful dropshipping store from home.
These expenses will probably rise as you expand, but they will still be low compared to conventional brick-and-mortar enterprises.es.
1. High Competition and Low-Profit Margins
Low profitability is the main drawback of working in a highly competitive dropshipping market. Due to how easy it is to get started and how low the overhead expenses are, many rival companies open dropshipping stores and offer products at discounts to increase sales. They can afford to run on such low margins since they have invested little money into starting the company.
These sellers typically have poor (if any) customer support and low-quality websites, which can help you distinguish your dropshipping business from theirs. Nonetheless, buyers will still compare their pricing to yours.
This increase in competition can ultimately decrease a niche's potential profit margin. The good news is that you may substantially reduce this issue by selecting the appropriate items and a niche or industry suited for dropshipping.
2. Inventory Issues
It is relatively easy to track which things are in or out of stock if you store all your products. Inventory might change if you purchase from several warehouses and simultaneously complete orders for other retailers.
Luckily, you can sync with suppliers these days thanks to applications like EPROLO. Dropshippers should thus be able to quickly "pass along" order details to a dropshipping supplier and check the provider's inventory levels in real-time.
3. Little Control Over Supply
Have you ever had to take responsibility for something even when it wasn't your fault? If not, you might have to when working with dropshipping suppliers.
Even the best dropshipping suppliers occasionally make errors in order fulfillment; if this happens, you must accept responsibility and extend an apology to the customer. Also, unreliable suppliers can harm the client experience through lost goods, delayed drop shipments, improper packaging, and poor product quality, which can hurt your company's image.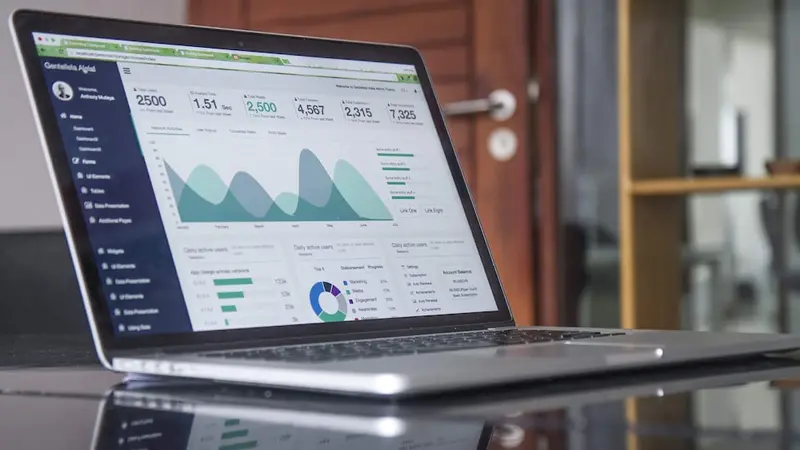 The purchasing, trading, and selling of products through the internet—whether through a computer, phone, or specialized mobile app- is called e-commerce (electronic commerce). E-commerce sales can function as a complement to or a replacement for physical storefronts.
While many electronic commerce transactions involve retail sales of tangible and intangible goods, the industry also includes online banking or payment gateways. These companies provide services to authorize online purchases made using credit cards.
1. Higher Profit Margins
E-commerce businesses have higher profit margins as they can decide the final product price and the inventory.
In dropshipping, a business is restricted by the baseline price set by the vendor and can only set it a little higher (which is often only enough to cover basic shipping costs).
The same doesn't apply to ecommerce, where the businesses have the final say on product pricing policy.
2. Greater Control
E-commerce offers greater control over product pricing, quality, and customer satisfaction than dropshipping.
In dropshipping, the risk of poor quality and failure of the third party to fulfill the client's needs are big risks. These risks can be avoided in e-commerce as the person operating the e-commerce business ensures product quality and reliable deliveries.
3. Building a Brand
Building a brand with an e-commerce business model is much easier. The reason for this is that in traditional business models, you require multiple outlets over time to build a brand.
With e-commerce, the option of more social engagement is there. Businesses can create a mailing list to identify loyal customers and share the latest product updates and offers.
1. More Capital
Starting an ecommerce business requires more upfront capital than a dropshipping business. In addition to creating a website and marketing the business, ecommerce businesses need to purchase inventory, a warehouse for storage, and also manage the shipping process. Thus, requiring a larger initial investment than setting up a dropshipping website.
2. Stock May Not Sell
With an ecommerce business, the seller is responsible for holding and selling inventory. If the products don't sell, the seller will have a large amount of unsold inventory. Thus, resulting in losses and decreased cash flow, which can be detrimental to the business.
3. Dealing with Shipping and Supply Chain
Ecommerce businesses must manage their supply chain and shipping processes, which can be time-consuming and complex. Moreover, they have to find reliable suppliers, manage inventory levels, and ship products to customers. Shipping costs can also add up and impact profit margins, especially if the business offers free shipping.
Dropshipping vs. Ecommerce: A Comparison
Let's look at the differences between dropshipping vs. e-commerce:
1. Dropshipping requires no upfront capital, as there is no requirement for a warehouse or inventory. In an e-commerce business setting up a warehouse and acquiring merchandise are necessary. Thus, there is a need for initial capital.
2. Profit margins will be low when you purchase goods from a dropshipping supplier or intermediary. You may incur additional costs in your supply chain because of the possibility of paying for fulfillment services. In e-commerce, you buy products at wholesale prices so that profit margins will be quite high.
3. Dropshipping offers ease of doing business which is an advantage for new entrepreneurs. You can save money on upfront goods expenditures, packing, and storage. E-commerce is slightly more complex since you have to purchase, store, and package your goods.
Is Dropshipping Better than Ecommerce?
Dropshipping and e-commerce are different business models, each with advantages and disadvantages. The right model for your business depends on your goals and preferences.
In dropshipping, the seller sources the goods on offer from a third-party supplier. This way, they don't have to manage the inventory. The order received is sent to the supplier, and then it is shipped to the customer directly. Thus, eliminating the need for the supplier to handle inventory. Ultimately, this lowers overhead costs and allows for a more flexible business model.
However, dropshipping also means the seller's control over the quality of the product and shipping process. Thus, leading to fewer customer complaints.
In contrast, e-commerce refers to any type of commercial transaction performed online. Although it can also include dropshipping, it can also include other business models where the seller holds inventory and manages the shipping process. E-commerce offers more control over product quality and the shipping process. However, the drawback is it requires more upfront investment and overhead costs.
Ultimately, you must weigh the advantages and disadvantages of dropshipping vs. ecommerce before deciding which is best for you. Dropshipping may be a better option if you value flexibility and low overhead costs. However, if you prioritize control over the product and shipping process, e-commerce would be better. Dropshipping may be better for a beginner with low startup costs.
If you are searching for an all-in-one dropshipping supply chain platform, look no further than EPROLO. We offer a range of products sourced from different manufacturers and suppliers, allowing online sellers to sell products without holding inventory. Our experts will handle the shipping process, including order fulfillment and tracking, so you can focus on expanding your business.