You may hear about the word "dropshipping" and the comments about it. Advantages sound attractive – earn at home, low startup cost, and no inventory. The benefits are quite exciting, right? Perhaps you are interested in the dropshipping business model now. Then don't miss the content. Here is a complete step by step guide for beginners who want to start a dropshipping business, and even you can start it for free.
1. What you need to know
Dropshipping is suitable for people who are new to start selling online. Insufficient startup costs is not a matter. A failure is not a disaster as well, for the loss can be very low. Besides, set up online stores is convenient. Beginners are enabled to realize their dropshipping business ideas with simple operations.
However, the low cost and easy entry do not mean immediate success. On the contrary, high competition will evaporate your store. To avoid disappearance, you'd better be well prepared before action. A report can be helpful.
Your report should be able to answer the following questions:
1.1 About Dropshipping Products
What are the trending products?
Products are the resource of your ecommerce store. They determine whether you can survive in the market and earn. A trending product is what you use to attract customers. It brings you order and profit margin. Because of the importance, you need to devote time to figure out what is hot at the moment.
Obviously, it's not an easy task. Just think about there are over twenty-five product categories on Amazon, for example. And plenty of secondary subordinate to every sort. You can find thousands of products in it. However, it's more than the problem of massive products. Trending products are variable. It is influenced by numerous factors, such as an epidemic, a policy, celebrity effect, holidays, movies, etc. It's unrealistic to find them among the immensity of information without helps. Catch up with news and trending dropshipping niches to sell requires capability, and you need an efficient method.
Can you make money from it?
It's not finished after searching. Next, calculate whether the trending products you want to sell are profitable.
The result is unknown because of high competition. It could lead to a failure if you sell the same trending product as others because the market space is limited. Customers will not come unless you are different. You need a distinct trending product to sell. Thus, research of your competitors is necessary. Differences in shape, material, and color can make your dropshipping products competitive.
Is your store name exclusive?
A name relates to the products you want to sell is a good idea. Customers can reach to your store faster. Besides, you can embellish the name with several features to leave a strong impression. There is a prime principle that needs to follow – your store name should be exclusive. Legal disputes may happen to the same business name. To avoid unnecessary trouble, you have to check whether your name is unique.
Is your store name help promotion?
Uniqueness is just one of the criteria. A good ecommerce store name should also be conducive to promotion. As a shopkeeper, you have to advertise yourself. Then it would help if you had an easy-to-remember name. Make your store name short and simple, so that customers can easily remember. And it's beneficial to spread and raise recognition. If you find it difficult to name your store, you can use a business name generator to help.
1.3 About Ecommerce Platform
What are the platforms for the dropshipping business model?
Amazon, AliExpress, eBay, Shopify, and WooCommerce are frequently mentioned. Amazon, AliExpress, and eBay, with massive ecommerce businesses, are available to be sellers and find suppliers. Shopify and WooCommerce provide convenience to register a domain name. You can create a store website by using the two websites.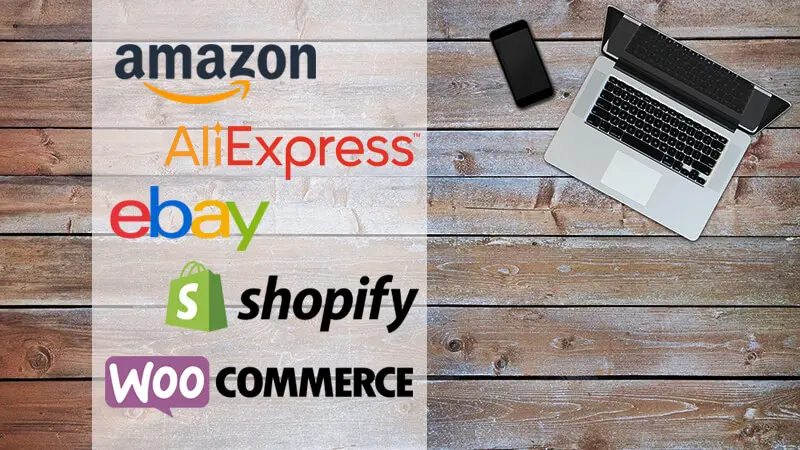 What are their advantages and disadvantages?
The five platforms meet the requirements of the dropshipping business – create a store and find products. You need a comparison to make a choice.
Amazon, AliExpress, and eBay are famous ecommerce platforms which have been developed for years. The system of selling, delivering, and refunding is complete and mature on those websites. It helps in dealing with all kinds of business circumstances. Become a seller of them enjoy a credible image. Moreover, Amazon, AliExpress, and eBay provide various suppliers. You can find a satisfied partner for your dropshipping store.
But, benefits come at a price. You should be familiar with the policy on those websites.
Additional fees may occur when you run a store on them. For instance, Amazon charges a selling fee on every item, which will cut off your profit. In addition, restrictions on the ecommerce platform will limit your dropshipping business.
Shopify and WooCommerce are economical to create a store. Yet that's not all to start a dropshipping business model. For better running, you need more services to help. Thus you have to install third-party applicationsthird-party applications.
Shopify and WooCommerce have set up an app store to meet shopkeepers' demands. Applications cost various. Some are free to use, and the dropshipping tool EPROLO is one of them.
Support and restriction are different in the ecommerce platforms mentioned above. To make a decision, you need to list a detailed comparison table according to the help center.
How much does it cost to create an online store?
Price is always at the top of the list. People who want an online store concern about it most. Take it easy for that. The chart for startup costs is placed below.
Prices skip markedly in different platforms and different sale modes. You can check more detailed info on the pricing page of each website.
2. What you need to do
Where there are internet and a computer, starting a dropshipping business is available. People can take it as a sideline and make money at home. Facilities are just part of the preparation. An online store and suppliers are required in the process of making profits.
A store and dropshipping supplier are essentials. Online stores are the window to attract customers. And suppliers are the assistant to fulfill orders. All your preparation work is around them.
Here is a step by step guide to illustrate what you need to do to make your dropshipping business ideas come true.
Find Products
A trending product can drive more customers to your dropshipping store and increases turnover. It's better if the trending product is distinct. It can help you to interest more visitors and to remember your store.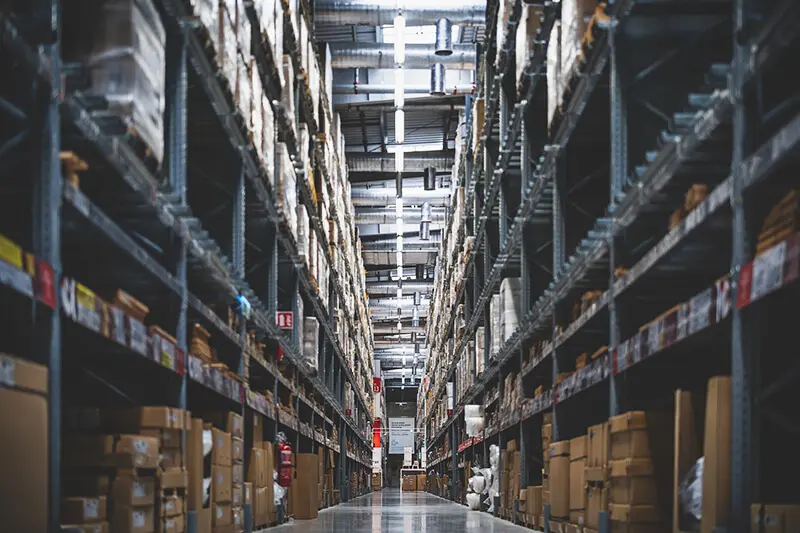 Analyze competitors
Competition comes along with hot items. To make yourself competitive, you need to analyze those who sell the same kind of product as you. Your competitors are enabled to tell you what to do and how to do better.
Create an online store
Prices are different on platforms. Choose a profitable one to create your store and leave more profit margin is good for long term running. There is one thing you need to pay attention to. That is the cooperation news between those websites. Shopify has teamed up with Amazon and AliExpress to support the dropshipping business. They launch preferential services to attract users. Be familiar with their news and policy can help you to make a better decision.If you are not sure about where to start or need any assistance, you may contact an ecommerce development company for consulting and support.
Find reliable suppliers
A reliable dropshipping supplier should accord with the criteria – wholesale price, quality products, ideal lead time, and quick response. It's beneficial to partner with such a supplier. You will receive fewer complaints from your customers and build up a trustworthy image for your store. Some dropshipping platforms provide the service, such as EPROLO. It has already selected reliable suppliers, and shopkeepers can just add dropshipping products from it.
Send order info
When you receive orders, you need to send the info to your suppliers. They carry the work of packaging and shipping. Beginners can request to package without leaving supplier information.
Track shipping data
You need to track delivery info timely. Problems like package damage and clearance may occur during the delivery. A quick response to solve the issues is helpful to customer retention. Some dropshipping platforms provide order tracking service. You can track the status conveniently.
Marketing
Dropshipping is a time-saving mode to run ecommerce businesses. Suppliers are responsible for order fulfillment. Therefore you have more time to manage your store. Marketing is critical to raise sales and recognition. Search engine optimization, social media, and email are commonly used in marketing. You can also adopt Google ads, Facebook ads, influencer marketing to help promote.
And you should not miss the role of branding. Branding, as a marketing practice, takes a long-term effect on the store. A good brand represents a credible image, which helps to retain customers and bring newcomers. You can build your brand by using print on demand services and selling white label products. They enable you to add a logo. In addition, customized packages like boxes, tapes, and gift cards are also advantageous. You can enjoy the service on EPROLO.
3. How to start Dropshipping for free
Now let's move to the topic of FREE dropshipping business model. Before you get too excited, there are a few things you need to note.
Dropshipping does not need to hold inventory. It means that you can start your business at a very low cost, or even for free.
Sound great, isn't it? But, there is no such thing as a free lunch. Dropshipping can not always be free. If you want to make a profit, investment is a must. Well, the truth hurts. However, starting a dropshipping business for free is not an impossibility. Though it is temporary, it's practicable. Here are the tips.
3.1 Find trending product for free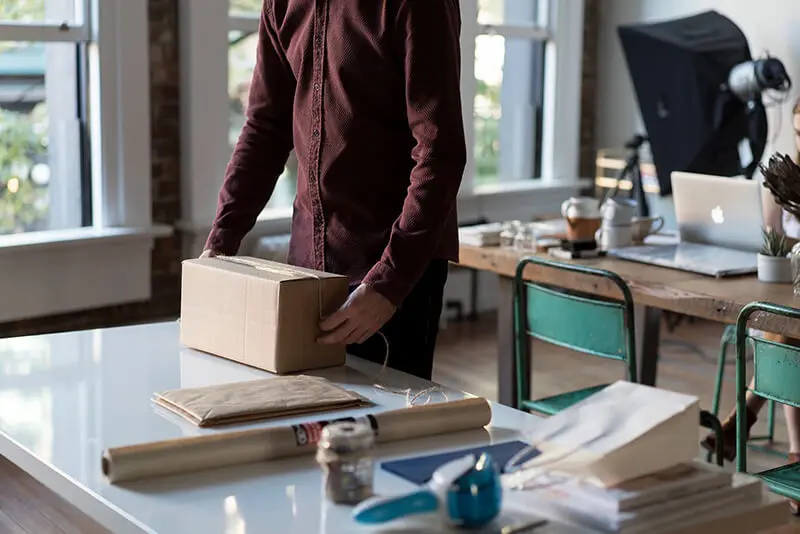 Best Sellers of Amazon & AliExpress
Amazon and AliExpress manage a category of hot products- 'Amazon.com Best Sellers' and 'Hot Products – AliExpress.' You can use them to find products to start selling online. Or you can subscribe to their email. New arrivals and recommendation emails will be sent periodically.
Google Trends
Google Trends is a free analytics website. You can type a keyword and check the trend of its search volume. The website is available to search by country. If the search volume trend is upward, consider it. But if not, discard it. You can check whether it is a trending product for your target customers.
Shopify Blog Post
Shopify Blog post shares useful articles about store management, including trending products to sell.
Trending Topic of Blog & Social Media
Magazine and News websites have set up a page of a trending topic. You can find a topic on particular industry websites, like fashion, etc. Trending on social media like Twitter is also helpful.
3.2 Analyze competitors for free
Google Search
Find your competitors in Google search results. Information such as product price, description, and reviews are significant to your store strategy.
SEMrush
SEMrush is a powerful analysis tool. You can check the following information: overall monthly traffic, ranking in Google, backlinks, keyword positions, etc. The website provides a 7-day trial.
Subscribe to competitors' EDM
Receive your competitor's emails. You can track what your competitors are selling recently and the discounts.
3.3 Create Shopify stores
Create your store on Shopify. The website is free to use for 14 days. And it does not require a credit card. You can use Shopify stores to test if you are capable of running an online business.
3.4 Find reliable suppliers
You need a reliable dropshipping supplier with professional customer service for your store. A platform like EPROLO is free to use to start dropshipping. You can install the application and import products to your store. The listed products have been selected and meet quality standards. The platform reduces the risk of poor quality. With 24/7 customer service support, you are free to contact them. Also, EPROLO provides auto order fulfillment and order tracking. So you can have more time to optimize your dropshipping store.
3.5 Free marketing methods
SEO
SEO (Search Engine Optimization) is a marketing strategy to improve the website. It can help to enhance traffic by editing the page content and improving the page's ranking in search results. You can start with a clear catalog. Content of product title, description and feature should be edited clearly and orderly. It will not have an immediate effect. But in the long term, you can see its magic.
Social Media
It's an effective method to increase exposure by using social media. You can create accounts on Facebook, Instagram, and Youtube. Relate those accounts to your store and update information regularly. Your followers will be the source of customers.
Email marketing
EDM (Electronic Direct Mail) is an important approach to maintain customer relationships. It's beneficial to grow repeat customers. You can use Shopify email marketing tools to send your email. For example, HubSpot, Sender, and Mailchimp are frequently mentioned. Those tools are free for basic use.