Are you attracted by the terms of "dropshipping platform reviews"? Then keep going with this report. You can find a detailed comparison of the two popular dropshipping suppliers – EPROLO and CJDropshipping. See if this report helps your decision.
1. EPROLO vs CJ Dropshipping Overview
Finding suppliers is a time-consuming task. You may have read a lot of recommendations on Google and social media. However, you still can not make a decision easily.
You are not the only one who is struggling with choosing suppliers. Comments fail to help with a quick choice. It is probably because they contain complaints and favorable reviews. The polarization of words just leads people to a crossroad.
There are many factors that affect judgments. The key is to know what your demands are. Platforms that you take into account have their merits. The difference is that which one meets your needs better. Here, the overviews of EPROLO and CJ Dropshipping would be helpful.
What is EPROLO
EPROLO is a drop shipping platform for people who run an ecommerce shop. It covers fulfillment services from product sourcing, custom packaging, shipping, and tracking. In addition to the mentioned, EPROLO supports more. Online store owners can use the platform to find, edit and import products; customized print on demand products, boxes and tapes; earn recurring commissions, and so on. In sum, it's a one-stop solution to ecommerce stores.
How does EPROLO work
EPROLO is available to Shopify, WooCommerce and eBay stores. For Shopify users, people can find EPROLO Shopify dropshipping app in the app store. WooCommerce users can install the plug-in into their store website and import products. And as an official partner of eBay, storekeepers can use EPROLO as their product supplier.
It only requires an email address to use EPROLO. You need to create an account and connect the platform with your dropshipping store. After connecting, you can do the following things: find 300k+ dropshipping items; source products by pasting links; edit product details; push products into stores; check customer's orders; track order and packages status; set pricing rules to automate prices; customize packaging boxes and tapes; etc.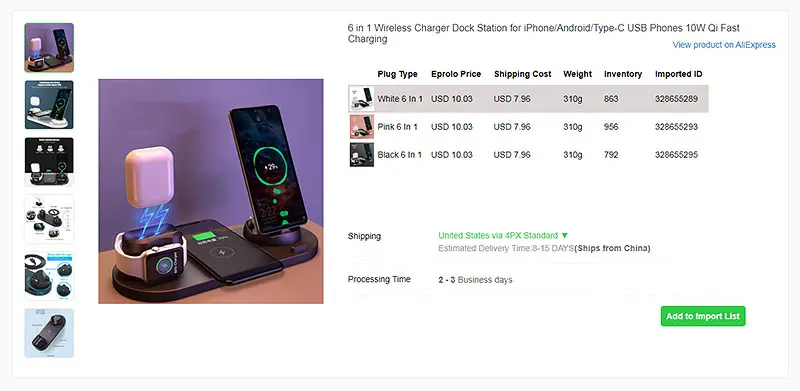 When you receive customer's orders, those will be synced automatically in EPROLO. You can choose a shipping method and it will only charge the product and shipping cost. After payment, the platform will take charge of fulfilling orders, pack and ship products to your customers. Moreover, package tracking numbers will auto update so you can click and track delivery status at once.
To provide a more convenient sourcing service, EPROLO has developed a Google Chrome extension for Shopify and WooCommerce dropshipping stores, which is called EPROLO – AliExpress product importer. Online store owners can install the extension and go to AliExpress. They can browse the trending products in the website and choose the favorites. There will be an EPROLO icon at the bottom right of the product. Click the icon so dropshipping business owners can easily import the item and push it to stores.
1.2 CJDropshipping overview
What is CJDropshipping
CJDropshipping is an e-commerce website with drop ship products. It accepts sourcing requests and provides CJ fulfillment service. It supports stores like Shopify, WooCommerce, eBay, Shopee, etc. There are a great number of trending products on its home page. And storekeepers are enabled to source products from shopping websites such as Taobao and AliExpress. Similar to EPROLO, it also supports product sourcing, quality control, custom packaging and shipping.
How does CJDropshipping work
You need to create a CJ Dropshipping account with your email address first. Then log into the platform and complete the authorization of your stores. After the authorization, users can list products to stores, edit products, check orders and inventory, require product videos, manage multiple stores, etc. Also, Shopify store owners can connect products they are already selling to CJ Dropshipping App. If you import them from CJ Dropshipping, product price and shipping cost calculation is available.
There is a List button under the product picture. You can click and enter the detailed page. Then you can choose variants, edit prices, country and CJ shipping method before listing. Or you can list the item immediately with no changes. The products you list will be added to the online store. As for managing products and customer's orders, you need to go to My CJ and check the details.
The sourcing requests of CJ Dropshipping requires an extension. When you finish installation, go to the home page and click Source More. AliExpress, 1688 and Taobao are shown below the button. You can choose one and jump to the website. There is a source button displaying at the bottom right of the product. Please notice that 1688 and Taobao are shopping websites that support the Chinese language only. If you want to source products from the two websites, you may need a translation tool.
2. EPROLO vs CJ Dropshipping Order Fulfillment
It can be said that fulfilling orders is the most important part of dropshipping business. When you decide to use a platform, it is the top priority to consider. So, how about the fulfillment service of EPROLO and CJ Dropshipping? For a clearer illustration, the comparison will go as follows: warehouses, shipping times and methods, and package tracking.
2.1 EPROLO order fulfillment service
EPROLO runs Chinese and overseas warehouses, which are located in Shenzhen, Yiwu, the US, and the UK. The dropshipping platform keeps inventory and manages them by its own team. All products, including the sourcing products from other websites, will be packaged and shipped in the warehouses centrally. There are several advantages to this. One is quality control. The platform will check product conditions during order processing. And damaged products will not be delivered. Two is the unified package. Various items of an order can be delivered in one box. Three is shipping info management. Suppliers' info will not show on the package boxes.
The delivery time and shipping methods of EPROLO are different based on product, country, and busy season. Packages usually take 6 to 15 days delivery. However, delays are sometimes unavoidable. Due to Black Friday, Christmas and other emergencies, shipping delays will occur. And to help reduce losses, EPROLO will send a notification email to online business owners in advance. As for shipping methods, EPROLO provides seven kinds in general, for example, US Express, CNE Standard, 4PX, and DHL. Dropshipping business owners can check the estimated delivery time and shipping methods on the product page.
Tracking numbers will be updated when items are shipped. It will show in Orders automatically. Click the number, and you can track the package in real time. It will jump to the shipping status page.
2.2 CJDropshipping order fulfillment service
CJDropshipping operates several warehouses in both China and overseas, such as Thailand, the US, Germany, etc. Its warehouses provide an FBA-like service that accepts private inventory. "It's a kind of CJ fulfillment service which allows you ship your own products to our warehouse and we pack and ship for you." Shopkeepers need to submit a request, including product details and the warehouse. Then the team will verify it. The request will be rejected if there is a problem with the product or warehouse. Not all CJ warehouses are available for the private inventory service. And CJDropshipping said, "We only charge some service fees". So, for online store owners, please check if you really want to use it.
The CJ shipping times is about 7 to 15 days, not including order processing time. Sometimes it can be as long as 40 days delivery. The platform support seven shipping methods and mostly CJ Packet. What is CJ Packet shipping? It is a method set up by the company, and deliver ordinary and electronic products mainly. Users can check other available shipping methods on the product page.
The tracking number is shown in Dropshipping Orders. You can visit My CJ and find. As for tracking, you need to open the CJ Packet shipping website and enter your tracking number in the blank. Or you can track the package by using other apps and websites.
3. EPROLO vs CJ Dropshipping Pricing
Hesitation may increase when coming to prices. An item that has never been used makes people more cautious. It's not easy to pay if you don't know whether it works well. But EPROLO and CJ Dropshipping clear up the worry. Both platforms are free to use.
3.1 EPROLO pricing
EPROLO does not charge any fee for installation and use. Online business owners only pay when they receive orders from customers. It means that dropshipping store owners function as a bridge. Customers pay for the product and shipping cost. EPROLO is an ideal choice for those who start a drop shipping business. Because there may be no order at the beginning and the shopkeeper can reduce investment costs.
There is a reward system in EPROLO. Users can complete tasks to enjoy extra benefits. For example, you can earn E-Coin and exchange them for dollars or other benefits.
Building one's own brand is a trend. To meet the need, EPROLO-Print on Demand has been put into use. And the app is also free. After installation, shopkeepers can find POD items and directly design their products on the platform. There are various trending products in it, such as bags, bedding, curtain, towel, wall deco, doormats, clothes, accessories, etc. Those print on demand products are supplied by cooperative factories in the USA, Australia and China, and do not require order quantity.
3.2 CJDropshipping pricing
CJDropshipping is free to use as well. Costs generate when online business owners get orders. In addition to general services, the website charges service fees for people who want to use its warehouses. The service fee is different due to products and warehouses. It contains a processing fee, shipping fee, and warehouse fee. Take USA warehouse for instance. Processing fees range from $0.6 to $5 per item, while the shipping cost is $2.4 to $7 per kilogram. And the USA warehouse fee charges $0 to $1.5 per day.
4. EPROLO vs CJ Dropshipping Refund Policy
After-sales customer support, such as a refund policy, is not only essential to customers but also to storekeepers. In drop shipping business, the after-sales customer support of storekeepers is heavily decided by the supplier. At this point, to read the supplier's refund policy is necessary for store owners. Otherwise, a refund raised by the customer could cause loss.
4.1 EPROLO refund policy
EPROLO protects dropshipping store owners in two ways. One is the shipping guarantee, and the other is its refund policy on order, product and package.
All packages enjoy a shipping guarantee. EPROLO offers a full refund if the package misses the shipping times, which is usually 30 to 40 days. And it's different depending on shipping countries and the busy season. The delivery time is counted from the date when the package leaves the warehouse.
As for refund policy, orders, products and packages are protected. If a refund claims, EPROLO will require photos or screenshots to confirm the condition. Online business owners can contact the customer service team and provide details. EPROLO offers a full refund or replacement when the following cases happen: product is damaged, incorrect, missing, or out of stock; order is canceled; package is missing during delivery; etc.
4.2 CJDropshipping refund policy
CJDropshipping offers three solutions for disputes, which are refund, resent and return.
CJ Dropshippping will handle delayed orders. Counting times are different due to countries and shipping methods. It's counted from the date that the order departed from its warehouses. The time is 60 days in general. For product issues, CJ Dropshipping will make a full or partial refund according to circumstances. Or the platform will resent the product. If anything happened, contact the customer service team at once.
5. EPROLO vs CJ Dropshipping Reviews
EPROLO and CJDropshipping can be found on Shopify App Store. People can check their reviews on the dropshipping app page.
5.1 EPROLO reviews
To date, there are 865 EPROLO reviews on Shopify app page. And the overall rating is 4.7, which includes 718 five-star reviews. To see comment details about the Shopify dropshipping app, please click here.
5.2 CJ Dropshipping reviews
To date, CJ Dropshipping has got 1282 reviews. The overall rating is 4.9, which includes 1223 five-star reviews. To see what users comment on the app, please click here.