Amazon and Shopify are two of the biggest eCommerce websites to run an online business. Since Shopify announced cooperation with Amazon, the two websites make it great convenient for merchants to manage their stores in one dashboard. If you have an eCommerce store on Shopify, you can add Amazon as another sale channel.
It's hard to tell how the integration is beneficial to the dropshipping business model, but as an extra choice, Amazon does meet some particular needs.
Though Amazon has opened to drop shipping business for years, it still remains the place to explore. Quite a few people are puzzled – how to dropship on Amazon? To answer the question, you need to know about its policy first.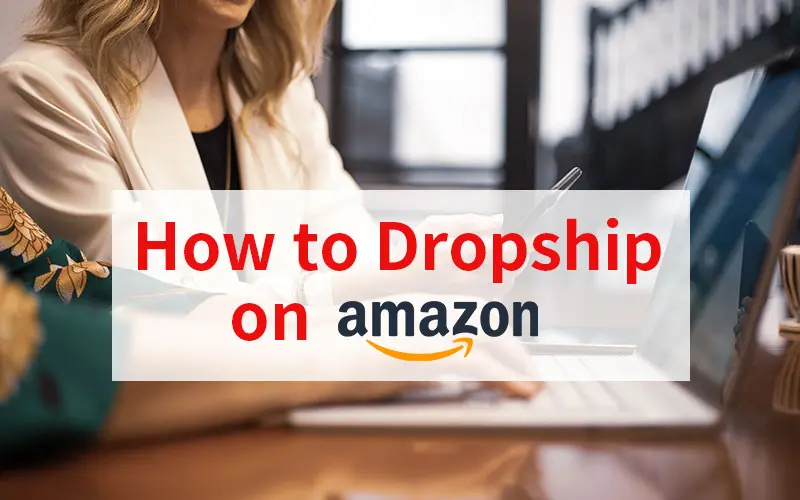 1. What is Amazon Dropshipping?
Amazon has unveiled a policy to illustrate the dropshipping issue. It functions as an official declaration that it's feasible to dropship on Amazon. As the seller of your products, you can make sales by displaying their info without stocking. You can free yourself from order fulfillment.
Briefly, Amazon dropshipping is an eCommerce business model that people can start selling on Amazon without reserving products.
The policy not only shows the practicability but also lists the eligibility. If you want to start a dropshipping business on Amazon, you should meet the following conditions:
An Amazon seller account and start selling products with it.
Only your info will be shown during packing and shipping, such as packing slips, invoices, gift cards, etc.
Responsible for product returns.
Pay special attention to examples of drop shipping that is not permitted:
Purchasing products from another online retailer and having that retailer ship directly to customers, if the shipment does not identify you as the seller of record or if anyone other than you (including the other online retailer) appears on packing slips, invoices, or external packaging; or
Shipping orders with packing slips, invoices, external packaging, or other information indicating a seller name or contact information other than your own.
2. Pros and Cons of Dropshipping through Amazon
There are several websites you can do dropshipping on. People can choose one to realize their business ideas. No matter which platform they use, the pros and cons of dropshipping business share something in common.
2.1 As for the advantages:
1) No Inventory Required
No inventory required is a prominent feature of the dropshipping model, which attracts a great number of people. The reason why it's attractive is that inventory accounts for a large proportion of the start-up costs. Besides, inventory places people at high risk if the product is unsalable. But people can get rid of the concern by using the dropshipping model.
2) More Time for Store Management
Amazon dropshipping suppliers take over packing and shipping. Shopkeepers do not need to engage in fulfillment. So, they have more time to manage their stores and provide good customer service. It is possible that shopkeepers can run more than one eCommerce store; for instance, they can operate Shopify and Amazon stores at the same time. And great customer service can help to get good reviews and build customer loyalty.
In addition to the benefits mentioned above, dropshipping through Amazon enjoys more positives.
3) Massive Customer Traffic
According to a report of Amazon, the platform has more than 2.4 billion visits during September 2020. Such large traffic will significantly increase the probability of getting customer orders. Moreover, if you are managing Amazon and Shopify store, you can flow customers between the two. It's beneficial to earn more money.
4) Trustworthy Store Image
After developed for years, Amazon has established a complete system and a credible image. The website has set up a series of policies to protect customers' and shopkeepers' interest. Doing dropshipping through Amazon is in the flavor of your store branding. You can build up a good relationship with customers and better operate your online store in that its mature system.
5) FBA
FBA (Fulfillment by Amazon) is a crucial project for Amazon sellers and has become a feature service of the website. To use FBA, sellers need to ship their products to Amazon fulfillment centers. Then Amazon will carry out picking, packing, and delivery work after receiving a request. With over 110 US fulfillment centers and 185 centers around the world, Amazon FBA is competitive in fast delivery. One-day shipping is available. Sellers can choose a fulfillment center that is close to their customers and stock. It's helpful to shorten the delivery time.
Fast and safe shipping makes FBA appealing to people. Plus, Amazon provides a low storage fee of $0.75 to $2.4 per cubic foot monthly. Although sellers have to pay more, the strength of fast shipping drives them to use Amazon FBA.
2.2 As for the disadvantages:
1) Competitions Increases Difficulties
No matter where you open an online store, competitions rocket as dropshipping being more and more popular. Competitions raise stricter standards to succeed. People feel hard to stand firm in the eCommerce market. It's inevitable for all, whether an Amazon shop or others.
2) Absent from Quality Control
Due to no inventory, the online retailer does not participate in packaging and quality control as well. It leads to a result that shopkeepers can not check the product before it is shipped. Poor quality dropshipping products may be delivered to customers and increases negative reviews. It is detrimental to the store brand. The quality issue is a common problem in the drop shipping business models.
Besides, there are less attractive aspects of Amazon dropshipping.
3) Transaction Commission
Amazon charges commission in every transaction. It means that when you have a deal, you need to pay a certain fee to Amazon according to the product category. In general, it is 15% of the total sale price. Because of the commission, you need to set a higher price to ensure your profit. It's likely that you will lose customers due to the unfavorable price.
4) Extra Fee
FBA is not a free service. If you use Amazon FBA to fulfill orders, you need to pay an inventory storage fee and fulfillment fee. The fulfillment fee contains customer services of picking, packing, shipping, etc. Both the storage fee and fulfillment fee are based on the weights and dimensions of packages.
3. What is the Difference between Amazon Dropshipping and FBA?
Dropshipping and FBA are both fulfillment methods of online business. An online store can not hand products to customers directly, for there is no face-to-face contact. To complete the order, storekeepers need a third party to help. And dropshipping and FBA are the choices. Storekeepers can choose the two methods to deliver products on Amazon.
There are differences between dropshipping and FBA:
3.1 Payer of Inventory
Inventory is the prerequisite to fulfill orders. Dropshipping and FBA branch in this issue. Subjects who pay for inventory are different. In dropshipping business models, storekeepers do not require to keep inventory while suppliers are in charge of it. They pay for stocks and warehouse fees. But in FBA, the payer of inventory reserve. Online retailers are the ones who need to pay. They have to purchase products and stock them in Amazon fulfillment centers. When there is an order, the online retailer will send a fulfillment request to the centers.
3.2 Implementer of Shipping
People who take over shipping are different in dropshipping and FBA. Amazon dropshipping suppliers process the delivery for storekeepers. They will choose an optimum shipping company to fulfill the order. As for FBA, Amazon carries out shipping. The fulfillment centers will pick, pack, and ship directly to customers.
3.3 Shipping Times
Shipping times in the dropshipping model are unpredictable. To meet various demands, drop shippers will choose a shipping option among plenty of choices. Shipping time is different, and it depends on what shipping option is using. Usually, it takes 10 days to deliver a dropshipping package. But orders fulfilled by Amazon have a fixed shipping time. Because the fulfillment centers are spread out, a storekeeper can stock products according to his target customers. Thus, it will save transportation time. Moreover, FBA arranges shipping by itself. This makes it possible to control the shipping time. Storekeepers can choose one-day shipping or two-day shipping by using FBA.
3.4 Destination Limit
There are sufficient shipping options for drop shippers to deliver products globally. Thus, dropshipping has less limit on destination. However, orders fulfilled by Amazon have restrictions in the service area. Amazon fulfillment centers are not completely covered in some countries. Therefore, online retailers can not use FBA to ship product if there is no fulfillment center.
In addition to the above, if Amazon store owners use FBA, they are more likely to win the Buy Box.
4. How to Start Dropshipping on Amazon without money?
As Shopify has teamed up with Amazon, it is available to manage the Amazon store on its dashboard. The integration makes it convenient to run two stores and realize your business ideas at once. If you want to dropship products on Amazon, using Shopify is a good choice. After connecting Amazon with Shopify, you are enabled to do the following operations: add products to Amazon; edit products on Shopify and display in Amazon; receive notifications of Amazon orders; fulfill Amazon orders on Shopify.
Now, here is the practice.
4.1 Add Amazon to Your Shopify Sales Channels
First, you need to be the seller of your products. You can sign up for one on Amazon Seller Central if you are new to the platform. Then, open your Shopify store. You can see 'Sale Channels' on the left of the navigation bar. Add Amazon as another sale channel and click 'Connect to Amazon.' After that, you can start selling on Amazon with Shopify.
But, there is one thing unfriendly. Amazon is only for USD or CAD. If you have set store currency out of these, you can not add Amazon to your sale channel.
4.2 Add Products to Amazon
You can choose a dropshipping niche and add products to your Amazon store via Shopify. Take EPROLO as an example.
If you use EPROLO as your dropship supplier, and you have imported EPROLO products to your Shopify store, you can add them to the Amazon store and start selling.
First, you need to create a listing on the Amazon sale channel. Click 'Create Listing.' Choose an EPROLO product from the Shopify catalog and add it to the listing. Then you will go to the editing section.
4.3 Edit Product Details
Here, you need to edit several details of dropshipping products listed, such as title, bullet points, description, etc. You can just copy the info which displays on Shopify.
You need to pay attention to the 'Variants' section. In this part, Amazon requires a product ID, which is also called GTIN (Global Trade Item Number), for each product, including the variants. You need to add a UPC or EAN code so that you can create the listing.
4.4 Publish Product to Amazon
When you finish editing, click 'Publish.' Then you will see your listing status shows as 'Pending.' You need to wait for a few minutes to publish the product on Amazon.
4.5 Selling Products and Fulfillment
After adding the product on Amazon, you are now ready to start selling. Using email marketing, social media, advertising or other methods to promote products listed. When a customer orders on Amazon, you will receive a notification on your connected Shopify store. Then, you can follow the previous operation in Shopify to purchase products and complete the order. The dropship supplier will process the order for you. EPROLO will take over packing work and ship the product to your Amazon customer directly. And you can track order status on EPROLO at all times. Then you can dropship on Amazon without much money invest. What you need to do is set up an Amazon store and a Shopify store without having to invest a lot of money.