Find a professional dropshipping supplier is a matter of primary importance. No matter which online store builder you're using, you need someone to ship your products. Oberlo is one of the Shopify apps that's mostly mentioned. So, how is the platform? Are there any Oberlo alternatives? The answer is here. Alternatives to Oberlo for Shopify, Woocommerce, and other ecommerce platforms are provided.
Oberlo Pros and Cons
If you are a Shopify user, you must not be strange to Oberlo, a popular dropshipping platform developed by Shopify. Like all dropshipping platforms, it aims to make the online business quick and easy. It helps to find high quality products to sell. People can use Oberlo App to connect their dropshipping stores with AliExpress suppliers. The platform provides the following services: find AliExpress products, import products from AliExpress to Shopify stores, and track the package status.
It has launched an Oberlo Chrome extension for Shopify dropshipping store owners. The extension helps with importing products to Oberlo while browsing AliExpress. So people can change product descriptions and sale prices, then sync listed products to their online stores. There is a convenient function if you use the Oberlo Chrome extension. That is, you can do product research and sort items according to shipping options.
Up to date, Oberlo has 2400 reviews on its Shopify app page, with an overall rating of 4.2. Complaints and commendations come together. So, what are the advantages and disadvantages of the Oberlo dropshipping app?
1) Find Products Easily
After doing product research, finding high quality products is always a primary essential. Linking with AliExpress, online store owners are available to a large network of numerous products and dropshipping suppliers while using Oberlo. It can be said that the amount of listed products of Oberlo is equal to AliExpress. Further, there is a window of AliExpress displayed on the platform after login. People can directly search dropshipping products on it, which is quite convenient for beginners.
2) Six Languages Available
Oberlo App supports languages of English, French, Spanish, Italian, German, and Portuguese. This allows people around the world to use it. People can change the language on the home page or in the account settings.
3) Free to Use
As a dropshipping app, Oberlo is free to use, though not completely. Its price drops from 0-$79.9 per month in 2020 to 0-$29.9 per month now. The Shopify app charges fees at different levels called explorer plan, grad plan, and boss plan. Users enjoy various features based on their plans.
1) Inconvenient Order Fulfillment
Fulfill order is critical to customer retention. But unfortunately, Oberlo does not make it convenient for its users. This is also the main reason why the platform got mixed reviews.
Oberlo does not fulfill orders automatically. The process goes in this way: when you get a sale in Shopify store, you need to place the order with the AliExpress dropshipping suppliers through Oberlo; click the order button you will direct to AliExpress and then need to pay; after the shipment of dropshipping suppliers, sync the order info from AliExpress to Oberlo.
Orders with multiple dropshipping partners will be more complicated if you are not using a high-price plan. You must place orders with each supplier separately on AliExpress. As for the bulk orders feature, you can pay thirty orders at a time.
2) Long Shipping Times
Shipping time is a big concern in the e-commerce business. And it is usually determined by dropshipping partners. However, due to the varied shipping options used by AliExpress suppliers, the delivery time of Oberlo is uncertain. Sometimes it could take months to deliver a package. Therefore, it requires online store owners to spend more time looking for trusted suppliers with fast shipping.
3) Shopify Users Only
Oberlo dropshipping app is developed by Shopify and can only be used in Shopify stores. As the dropshipping business grows, many storekeepers run more than one store. And they manage stores on multiple ecommerce platforms at the same time. Oberlo is not compatible with other platforms, only Shopify. The limitation force people to use an Oberlo substitute which is available to multiple platforms.
4) AliExpress Dropshipping Suppliers Only
Although AliExpress is the common choice to find dropshipping products, many items do not exist on it. It's very likely that the product people want is only sell on other platforms. And Oberlo can not help with that. If people have a product they want to sell, but AliExpress based companies do not offer it, they may seek sourcing agents. Dropshipping platforms with a sourcing service are increasing and make Oberlo less competitive.
7 Best Oberlo Alternatives in 2021
| Oberlo Alternatives | Pricing | Integrations |
| --- | --- | --- |
| EPROLO | Free | Shopify, WooCommerce, eBay |
| Spocket | $24-$299/month | Shopify, WooCommerce, Wix |
| Modalyst | $0-$90/month | Shopify, BigCommerce, Wix |
| Syncee | $0-$129/month | Shopify, BigCommerce, Wix |
| Ali2Woo | $0-$42 | WooCommerce |
| WooShark | Free | WooCommerce |
| WooDropship | $49 | WooCommerce |
EPROLO
Multiple Integrations
EPROLO is an Oberlo free alternative, here is a comparison article of EPROLO VS Oberlo. Being a dropshipping supplier, it has user friendly integrations with Shopify, WooCommerce, and eBay stores. The platform has more than 300 thousand products, which cover categories from clothing, jewelry, car accessories, beauty, health, sports, etc. You can find 107 dropshipping product subcategories in EPROLO.
What if you run a store on platforms besides the mentioned above, like Esty, Wix, and BigCommerce? Can you use EPROLO too? The answer is YES. What you need is an account so that you can add products and import orders to EPROLO. The platform can carry sourcing and fulfillment work.
Free Dropshipping Platform with one-stop solution
Providing one-stop dropshipping services, EPROLO is available to edit product descriptions and import them to online stores. Also, auto-sync orders, fast shipping, inventory management, one-click tracking, and custom package are available. The shipping time of the company is about 6 to 15 days. Some products are enabled to ship from the EPROLO US warehouse, which shortens the delivery into 2 to 5 days. Though the time will be affected by shipping countries and busy season, EPROLO provides expedited shipping if needed. All dropship products are packaged in EPROLO self-operation warehouses, which is beneficial to quality control and includes custom packing.
Product sourcing is an outstanding advantage of EPROLO. People can import products from AliExperss easily in its dashboard or use the EPROLO Chrome extension to help. What makes EPROLO one of the best Oberlo free alternatives is that orders of AliExpress products will auto-sync to Ali Orders. Then dropshipping store owners can pay on EPROLO. It will take over the fulfillment of the AliExpress products and ship them to the customers.
What's more, sourcing products from other websites is possible too. You can find items from Alibaba and wholesale websites. Then submit a sourcing request with the product link, and the team will help with order fulfillment.
EPROLO has also developed a Print on Demand dropshipping platform. Store owners can use it to customize product details and import custom products to sell online. People can find 30 kinds of POD products, such as bags, clothes, bedding, towels, wall decor, doormat, phone cases, etc. Those high quality products are manufactured by China, Australia, and US-based companies.
Spocket
Spocket is one of the Shopify Oberlo alternatives and can also be used in WooCommerce stores. Not only that, it is available to Wix, BigCommerce, Ewcid stores, etc. With user friendly integrations, it's quick and easy for dropshipping business owners on different ecommerce platforms to find products. There are over fifteen product categories on the website, from clothing, bath, baby products, phone cases, watches, toys, pet supplies, and so on. 80% of Spocket's trusted suppliers are US and EU-based companies. And the shipping times are 4 to 14 days in general. Sometimes packages take a longer time to ship from other countries. As for processing, store orders will be displayed automatically on the Spocket Orders Tab. Then online business owners can make the payment.
Dropshipping beginners have a demand for testing so that they may order a sample. Many popular dropshipping platforms offer such a service, so does Spocket. People can open the product page and click order samples. As one of the dropshipping alternatives to Oberlo, after you pay, the supplier on Spocket will ship it.
Sourcing from Alibaba is a difference between Spocket and Oberlo. Shopkeepers can import Alibaba products to Spocket after the authorization. To fulfill an order, shopkeepers need to create the order on Alibaba then checkout.
Modalyst
Modalyst is another one of Shopify Oberlo alternatives. Over one million products on the website cover eighteen kinds, for example, fashion, cellphones, watches, and sports. It works with some prominent brands like Calvin Klein and Puma. And a large network of dropshipping suppliers is available for order fulfillment. Shipping times vary based on suppliers and shipping countries, which range from 4 to 20 days. Some dropshipping products could take months to deliver.
Besides fulfillment services, Modalyst also provides POD custom products and tracking services. The website works with Snob Apparel to provide print on demand service. You can customize product details and sell products online. As for tracking, dropshipping store owners will receive an email from the supplier with a link to tracking information.
Source from AliExpress on Modalyst is available. You can find dropship products directly on the platform and search by AliExpress suppliers. Or you can use the Modalyst Chrome extension to import products. As for fulfillment, you need to connect Modalyst with the AliExpress account. When there is an order, you need to sync the order to AliExpress and pay on it. There is a connect entry in the dashboard.
Syncee
Syncee is an Oberlo substitute for Shopify dropshipping stores, etc. With three million products, Syncee provides over twenty product categories, such as kids, clothing, and bags. It's a platform focus on finding products to sell. Dropshipping store owners can search by product categories or suppliers, and upload products to stores. It should be noted that some suppliers require a usage application. Online store owners need to submit a usage request so that they can import dropshipping products. For order fulfillment, Syncee will send order info to the supplier after payment is done by storekeepers. The usual shipping time of the platform is 6 to 15 days.
Syncee allows sourcing from Alibaba. People can search Alibaba products on its dashboard. Then create a catalog for listing the products that want to sell in the store. Orders of the products will show in Alibaba Orders. Fulfillment will start after finishing the payment.
Ali2woo
Ali2woo is an Oberlo alternative for WordPress stores. People can use it to import unlimited AliExpress products and edit product descriptions. The supplier's inventory will be sync automatically. The website has also developed a Chrome extension to help with importing products from AliExpress. To fulfill orders, Ali2woo plugin will connect the store with the AliExpress account, and sync orders to the website. Then ecommerce store owners can pay for the dropship products on AliExpress. Pay in bulk is available by using the Chrome extension.
Tracking order is one of the advantages of Ali2woo. Users can sync the tracking number in the Woocommerce dropshipping plugin from AliExpress with a few clicks. After setting, users can directly open the status page by clicking the tracking number.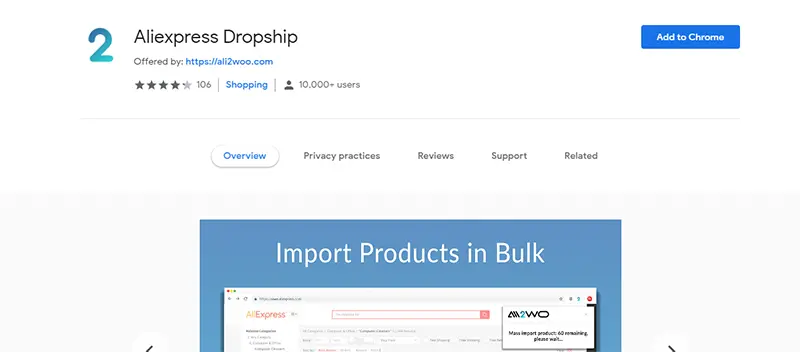 WooShark
WooShark is another Oberlo alternative for WordPress shop websites. The Woocommerce dropshipping plugin can import products from AliExpress, including product price and stock, shipping method and cost, and reviews. It also launches a chrome extension to import AliExpress products. After installing the extension, ecommerce business owners can edit product info directly on the product page, like variants, images, title, description, etc. Then, they can sell products and get orders. When receiving an order, shopkeepers need to place the order on AliExpress so that the supplier can fulfill it. Besides AliExpress, WooShark is possible to source products from eBay, Amazon and Etsy.
WooDropship
WooDropship is a WooCommerce Oberlo alternative. People can install the plugin to edit product info and auto add orders to AliExpress. It develops a chrome extension to help sourcing products from AliExpress. It can import products to WooCommerce stores conveniently. As for order fulfillment, store orders will be auto-synced to the WooDropship dashboard. Then click Fulfill Order, it will sync to the AliExpress cart. People can pay on AliExpress after filling in the address.