Trained eCommerce traders have smelt the opportunities in the footwear market. Many are moving out. Is it worth dropshipping shoes now? All in good time. Data proves it. As the second most important segment of the fashion market, shoes are expected to reach a global size of US$440 Billion by 2026. The trend goes up. It's never a late entry to the shoe online businesses. Just find the right shoe dropshipping supplier, and success will knock on your lot.
Valued and high quality shoe supplies are listed behind. Get them and make a successful shoe eBiz.
Is Dropshipping Shoes a Good Idea?
Yes. The shoe market offers potential for increasing sales. According to Footwear Report, it will grow at a CAGR of 4.4% by 2025. All categories of the Footwear market are increasing by more than 30%. If you dropship shoes, there is a large room for revenue. Besides, dropshipping is the most profitable way to sell different shoe types. Because businessperson does not need to pay warehouse storage fees, which helps minimize startup costs.
13 Best Shoe Dropshipping Suppliers
Dropshipping shoes forums are buzzing with a saying – the better supplier you find, the more you earn. Here are 13 premium shoe dropshipping suppliers that meet all requirements. Whether you're looking for one to resell name brand shoes online or sell print on demand shoes, they are what you want.
1. EPROLO – Forever Free Dropshipping Platform
Dropship shoes from China is common because the country has been a leading footwear producer. If you think the same, here is a free Chinese shoe supply – EPROLO. It's one of the best dropshipping platforms and covers all kinds of women, men, kids, and baby shoes. EPROLO has warehouses in China and USA. The delivery time ranges from 4 to 15 days.
EPROLO offers a one-to-one sourcing agent to help find shoe products. You can contact the agent via live chat. Or use its extension if you want to source and dropship from AliExpress. With the dropship shoe company, you're enabled to access unlimited footwear categories and sell a large shoes variety online.
Plus, you can enjoy automated dropshipping fulfillment, selling print on demand products, and branding services.
Shoe Categories:
Athletic Shoes: Hiking Shoes; Running Shoes; Climbing Shoes; High-tops
Sneakers: Skate Sneakers; Casual Sneakers
Boots: Work Boots; Combat Boots; Uggs; Army Boots
Heels: Platform Heels; High Heels; Cone Heels
Slippers: Clogs; Flip Flops; Slip-On Slippers; Sliders
Others: Plus size Shoes; Leather Shoes; Canvas Shoes
2. Alibaba
As a giant in B2B eCommerce, Alibaba has always been the first choice to wholesale shoes from China. You can find nine main shoe categories on the website, like ladies' shoes, outdoor shoes, slippers, etc. The footwear wholesaler is also available to dropship name brand shoes. You can find famous shoe brands such as Nike and New Balance.
Shoe Categories:
Functional Shoes: Massage Shoes; Boat Shoes; Walking Shoes
Boots: Hiking Boots; Rain Boots; Platform Boots
Slippers: Clogs; Flip Flops; Hotel Slippers
Kids Shoes
Heels
Sandals
Shoes Parts & Accessories
3. BrandsGateway
Dropship name brand shoes can be easy if you use BrandsGateway. Offices located in Sweden, Finland, and Estonia, the European dropshipping company allows retailers to buy wholesale branded items. Shoe names like Dolce&Gabbana, A. Testoni, Dsquared, Jimmy Choo, and Plein Sport are listed.
Shoes Categories:
Platforms & Wedges
Pumps
Flats
Sandals
Sneakers
Boots
Loafers
Formal Shoes
Casual Shoes
4. Yabelo
Yabelo is a Sweden online B2B wholesaler and distributor for online shoe businesses. It is a great source for Amazon and eBay dropshipping sellers to dropship name brand shoes. You can find various branded fashion merchandise, such as Tods, Adidas, Puma, Reebok, and many more. Those shoe products are purchased from official licensees.
Shoes Categories:
Mixed Shoes
Boots
Flipflops
Sandals
Canvas
Sport Shoes
5. FootwearUS
Finding US-based footwear dropshipping suppliers? FootwearUS is a quality source. It has been in the industry for 40 years and is very experienced in wholesale and dropship shoes USA. FootwearUS provides shoes for both women and men, but inclines towards the former. Online retailers who major in drop ship ladies shoes can find multiple stylish shoe items on the website.
Ladies Shoe Categories:
Sandals: Dress Sandals; Leather Sandals
Flats: Causal Flats; Open Shank Flats
Heels & Pumps: V-Shaped Pumps; Slingback Pumps; Platform Heels
Boots: Leather Booties; Ankle Boots
Clogs & Mules
Loafers & Slip-Ons
Oxfords & Lace-Ups
6. EasyUSA
As for shoe dropshipping suppliers, EasyUSA is another respectable one. Its products cover women, men, and children, but women fashion shoes are the main. There're over 17 categories of female footwear you can resell online, for example, Mary Janes, Ballet Flats, Rhinestone Sandal, High Wedge Sandal, etc. If you want to drop ship ladies shoes, EasyUSA is a good supply.
Women's Shoes Categories:
Boots: Rain Boots; Leather Boots
Slippers: Clogs; Flip Flops; House Slippers
Sandals
High Heel Pump
Flats
Leather Moccasin
Water Shoes
Canvas Shoes
7. City Shoes
City Shoes is one of the largest ladies' shoe dropshipping suppliers in UK. It focuses on the women's footwear industry and has supported massive retail and online stores. You can find women's shoes in all styles from the UK dropshipping supplier. Drop ship ladies shoes will be simply partnering with City Shoes.
Shoes Categories:
Trainers
Heels
Boots
Flats
Sandals
Casual Footwear
Espadrilles
Faux Fur Footwear
Loungewear
Metallics
Slippers
Tie Up Footwear
Wedges
Wide Fit
8. Banggood
Banggood is a wholesale shoes dropship supplier headquartered in Guangzhou, China. It divided shoe items into four major categories: women's shoes, men's shoes, outdoor shoes, and shoes accessories. The Chinese agent has over 30 global warehouses and provides a shipping time of 2 to 25 days. Among those shoe subcategories, sneakers take up a large space. If you want to dropship sneakers, try Banggood.
Shoes Categories:
Sneakers
Beach & Outdoor Sandals
High-top Trainers
Boots
Heels
Slippers
Dress Shoes
Shoes Accessories
9. Footcraft India
Some e-trade shopkeepers would like to find suppliers for shoes dropshipping India. Here comes Footcraft India, a supplier with a name very direct to demands. Footcraft India is one of the best dropship shoe distributors in South Asia. It consists of a considerable number of footwear manufacturers so that the website can provide direct-factory prices. If you target the woman, man, and kid shoe market, Footcraft India is an ideal supplier.
Shoes Categories:
Slippers
Clogs
Sneakers
Canvas Shoes
Sandals
Belly Shoes
Moulded Shoes
10. Shopperr
Shopperr is another recommended supplier for shoes dropshipping India. There is a free Starter Plan for online shoe sellers. No minimum order quantity is required. You can resell footwear with zero investment. But it should be noted that the dropshipping shoes supplier supports Amazon and Shopify stores currently.
Shoes Categories:
Flip Flops
Slippers
Clogs
Women Rain Boots
11. Printify
Thinking about dropshipping Print on Demand shoes? Printify is what you're looking for. The USA shoe dropshipper works with over 90 printing facilities around the world. The rich manufactured resource is able to give full customization. All you need to do is to pick up a product, upload your design, and create your own branded products. The rest work will be done by Printify.
Print on Demand Shoes Categories:
Indoor Slippers
Men's Slide Sandals
Unisex Flip-Flops
Men's High Top Sneakers
Men's Canvas Boots
Men's Low Top Sneakers
12. Italian Shoe Factory
Setting up a unique private label shoes dropship line is not dreamy. With this foremost footwear manufacturer – Italian Shoe Factory, you can sell your own designed shoes and even private label them. Its custom made shoe services include handmade bespoke shoes, custom orthopedic shoes, and others. There is no MOQ. As for the lead time, the dropshipping shoemaker takes 5-8 weeks to finish your order.
Shoes Categories:
Women's Fashion Sandals, Flats, Heels & Boots
Designer Fashion Sneakers
Men's Casual & Dress Shoes
Custom & Bespoke Shoes
Bridal & Evening Shoes
Flip Flops & Sandals
Polo riding boots
Concept Footwear
Vegan Leather Shoes
13. Unlimited Footwear Group
Unlimited Footwear Group is a leader in the fast-fashion footwear market. It supports reselling on-brand shoes, like G-Star RAW, Levi's, Gaastra, Björn Borg, Supertrash, etc. However, this is not the end. The footwear supplier allows private label shoes dropship. It has an in-house design team to make white-label shoe products. You can choose your favorite collection and label it. Most of the tailormade shoes are produced in European countries.
Can You Dropship Name Brand Shoes?
Yes, you can. It's legal to dropship branded shoes. You can find dropship shoe distributors with official licenses to fulfill your sales.
The topic is quite popular these days. You can see many online sellers interested in Nike dropshipping and ask if it is legit or not. This is a microcosm of dropship name brand shoes. Good news is that you're allowed to do so. Not limited to reselling Nike shoes, you can also dropship shoe brands like Adidas, Foot Locker, Bata, New balance, and others. What you need is a verified supply. As for another approach, you can apply to be an official online retailer of the big brand. Check the seller policy of a big brand and then submit an application.
What Are the Challenges of Dropshipping Shoes?
Shoes are high profit margin products and the market sees no shrinking sign. Perspicacious businessmen see the opportunity of dropshipping shoes. However, challenges run after it.
First of all, fake shoes spread unchecked and make online store owners harder to obtain customers' trust. Due to the dropshipping model, sellers absent themselves from inventory management and fulfillment. Sellers are easier to be deceived by unreliable shoe dropshipping suppliers. And you may not even know you are selling inferior shoe counterfeits. Losing customers is plain to see.
Another challenge is the intense competition. A paper by DUT University showed that "The European franchise buyers, particularly in the fashion and footwear sector, are primarily interested in retail." It's true. A flow of merchants enters the shoes market. You can feel the stiff race. This forces dropshipping shoes resellers to find a way to win. Sometimes, they begin with price and lead to a vicious price war. As a result, online shoes store owners may only narrow their profit margin without a way out.
How to Dropship Shoes Successfully?
Challenges are enormous. But it doesn't mean that you cannot take over them. Running a successful dropshipping shoes business is not that hard. Here is a step-by-step guide.
1. Do Market Research
Starting with research will never be wrong. It can effectively avoid failure if one is well prepared. There are a few things that you need to decide, for example, your target customers and selling footwear niches. You can first picture the customer's genders and ages. Then, choose the types and the best-selling shoes dropshipping products.
2. Find Shoe Dropshipping Suppliers
Starting with research will never be wrong. It can effectively avoid failure if one is well prepared. There are a few things that you need to decide, for example, your target customers and selling footwear niches. You can first picture the customer's genders and ages. Then, choose the types and the best-selling shoes dropshipping products.
As for the dropship footwear suppliers, EPROLO is the one that supports both print on demand and branding. EPROLO POD platform offers high-quality shoe products which allow 3D printing. A great number of free elements are provided to help design. Moreover, you can review 3D effect in real-time. Some customizable categories: canvas shoes, slip-on, sandal, sports shoes, boots and high top.
In addition, EPROLO print on demand dropshipping platform can do custom packing, such as custom package boxes, scotch tapes, gift cards, etc. The designed shoes will be shipped under your logo.
3. Create Shoes Design
To win buyers, it's necessary for you to dig deep into buyers' preferences when choosing shoes. For example, the fashionable design is the first consideration when buying women's shoes. After you get ready for the pattern, upload it to the dropshipping POD platform. Next, you can import the designed product to your online shoe store.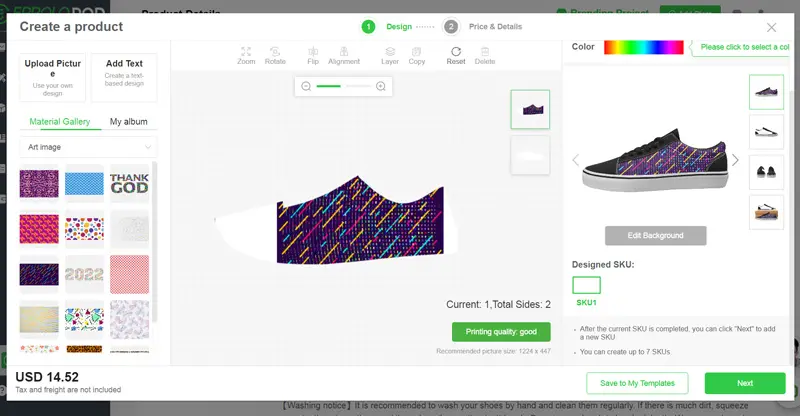 4. Create Online Shoes Store
An online store is a bridge to connect sellers and dropship shoes suppliers. You can create a selling shoe website with Shopify or WooCommerce. Besides, there are many other e-commerce marketplaces to sell footwear products. Here are some best places to sell shoes online: eBay; Amazon; Tradesy; Grailed; Mercari; etc.
5. Fulfill Dropshipping Orders
When you get orders, you need to contact the shoe drop shipping supplier for fulfillment. How does it work? Take EPROLO for instance. After you have imported the custom shoes to your store, those orders will be auto-synced to the dropshipping platform. Next, pay them on EPROLO.
The supplier will send your orders to shoe manufacturers and proceed print on demand shoes. Then, EPROLO warehouses will package and ship the shoes to your customers.
6. Focus on After-sales Service
After-sales service is a big part to get repeat customers. Since you have saved time through dropshipping shoes, you can put your eyes on the services and obtain the trust from buyers.