With its simple business model and minimal investment requirements, dropshipping is an easy and lucrative way for budding entrepreneurs to enter the business world. As of 2022, ecommerce sales across the world reached a whopping $5.2 trillion, so online businesses are all the rage right now – something anyone would want to cash in on!
Dropshipping is particularly suitable for newbies because it doesn't come with any overhead or startup costs that most businesses need. In fact, you can start a dropshipping business for free without any investment at all!
In this blog, we'll go over how to start dropshipping for free and the best suppliers you can turn to.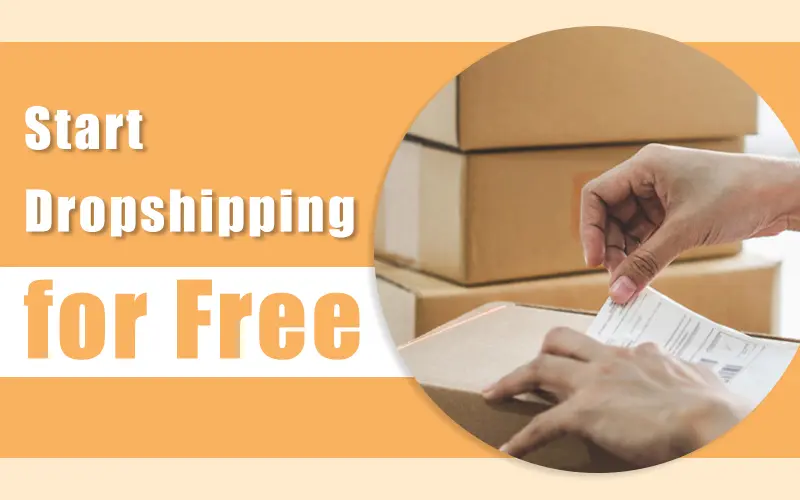 Is It Possible to Start Dropshipping for Free?
If you're just starting, you may wonder: can you really start a dropshipping business for free? The answer is a resounding yes, but let's go into the details.
The dropshipping business model involves you being a middle-man of sorts. Your customers place an order with you, and you forward this to your suppliers. The suppliers are responsible for the storage, packaging, and shipping, so all you have to do is the marketing and customer support.
In theory, this means you don't need to put in any money. In practice, though, you may have to pay a small price for a dropshipping platform where you can run your ecommerce store. However, there are plenty of options with free plans to choose from as well.
As an entrepreneur, you must find a supplier with good-quality products to partner with, and you're ready to start your dropshipping business without spending a dime upfront!
How to Start a Dropshipping Business for Free in 2023
If you want to start dropshipping for free, you're in luck! Here, we'll delve into the steps to kickstart your dropshipping business for free.
Choose Your Niche
The first step in starting a dropshipping business for free is to find the right niche. You want to find winning niches to dropship that are with market demand and the potential to generate profit. Some entrepreneurs select their niche based on their own personal interests, but this is not a requirement.
You'd want to look into what sort of products are trending, what the target audience is, and whether competitors are already operating within the same niche. It may be tempting to head into a market with a lot of demand, but you also want to be careful about your competition! If there are too many players in the market already, it's very easy to fall behind the early birds.
Find The Best Dropshipping Suppliers
The next step is to find a reliable supplier – or suppliers! – who can handle the products for you. Ideally, the suppliers won't have any upfront fees for dropshipping services and will have a reputation for high-quality products.
Do your research thoroughly before you decide to partner with someone. We'll explore some of the best dropshipping suppliers in a bit so you can make an informed decision.
Before moving further, you want to establish your brand identity. By now, you should have done your research on your target audience and the kinds of brands they are usually associated with. Using this, you want to design a logo and craft a brand story that lets your audience develop a connection with you. Establishing your brand is important because it will help you with other aspects of your business.
Create An Online Store
Once you've partnered with suppliers, you want to create an online store where your customers can place orders with you. There are plenty of platforms out there that offer a free plan, but you can also choose to pay a small fee for more premium features.
You want to set up some of the major pages like your homepage, your product listings, and a space for customers to contact you if needed. Make sure your store's design is an accurate representation of your brand identity!
Select Products For Dropshipping
Now that your store is up, you can select best dropshipping products for your listings. Go through your suppliers' product offerings to find what fits your brand image, what your target audience is likely to purchase, the level of quality you're looking for, etc. You also want to keep in mind profit margins!
Be careful about what products you add to your listing, but make sure to have enough variety to cater to people on all ends of your target spectrum.
Go Over Pricing
Now it's time to determine pricing. Keep in mind factors such as the cost of the product itself, shipping fees, and profit margins. You don't want to keep your prices so low that they don't cover the costs, but you also want to make sure they're not so high that they fall out of your customers' range. Make sure you do your research before you set prices.
Marketing And Promotion
Finding relevant items to your niche is critical for dropshipping success. A niche-specific strategy enables you to target a specific set of enthusiastic clients about a specific topic or interest. For example, if your specialization is fitness, concentrate on dropshipping exercise equipment, workout clothes, or health supplements.
You can position yourself as an expert and connect with people interested in your goods by catering to a certain niche.
Order Fulfillment And Customer Support
The journey isn't over once your customer makes a purchase! Once an order is placed, you have to communicate with your suppliers to process and fulfill the order. During this process, make sure you respond to your customers' queries and address their concerns. A positive experience will likely bring the customer back for another purchase in the future.
Though your store may seem perfect, there's always room for improvement. You can update the layout and design after some time or make adjustments as you add more products to your listing. Website analytics are also useful in determining what works for you and what needs to be changed. Keep an eye on these, and make adjustments where necessary.
Expand Your Brand
As your dropshipping business grows, you can try increasing your product offerings and even targeting new market segments. By this stage, your business will have been established so that you can start investing some percentage of your profits into further growing it. This could mean paid marketing campaigns or using more premium features on your website.
Best Dropshipping Suppliers to Start Free Dropshipping Business
EPROLO is a supplier with a wide range of products and services for dropshippers. You can pick products across different categories, from fashion and electronics to home goods and more.
The platform provides fast shipping, with the option to expedite in certain regions when needed. Real-time inventory management, custom packaging and branding options, and a transparent price structure exist. If you're starting your dropshipping business and need a supplier, EPROLO is a great option for you.
Ali Express is an online marketplace that offers a wide range of products from various suppliers, making it a popular choice for dropshippers. It has a user-friendly interface, extensive product selection, and competitive prices, making it a convenient and accessible option for entrepreneurs in the e-commerce industry.
The platform also ensures a secure transaction process through its buyer protection policies. Whether you're starting out or looking to expand your dropshipping business, Ali Express offers a reliable platform and essential tools to support your growth as a dropshipper.
SaleHoo is another valuable resource for dropshippers looking for suppliers. With its extensive range of product categories and detailed supplier information, SaleHoo provides a platform for aspiring entrepreneurs to access reliable and quality products. The platform also offers market research tools and a supportive community to help dropshippers in their business endeavors.
Whether searching for fashion, electronics, or other sought-after items, SaleHoo provides a trusted platform to connect with reputable suppliers and thrive in the competitive landscape of e-commerce.
Zendrop specializes in connecting dropshippers to high-quality suppliers, making it another great option. With a wide range of products to choose from, it will give your online store the variety it needs to stand out from the competition.
The order fulfillment is seamless, and the product sourcing process is also automated. Zendrop can be easily integrated with popular e-commerce platforms like Shopify, making your job much easier. It has all the tools needed to kickstart your dropshipping businesses – particularly for a newbie!
Wholesale2B is a dropshipping platform that offers a diverse range of products from various suppliers. With Wholesale2B, entrepreneurs can access a wide selection of items across multiple categories, providing opportunities to curate a great product catalog.
Wholesale2B has a very user-friendly interface, real-time inventory updates, and efficient dropshipping services. Whether you're starting a new venture or looking to expand your existing business, Wholesale2B is a great option for you!
How to Start Dropshipping for Free: FAQs
1. Can you start dropshipping with no money?
Yes, you can start dropshipping with no money. Look for free platforms and low-cost suppliers, and use social media for your marketing. It may take some careful planning, but it's quite possible to start dropshipping without any money involved.
2. How can a beginner start dropshipping?
To start dropshipping as a beginner, research how to go about the process. Be careful when searching for suppliers and products. With some reading and analysis on the market and your competitors, you'll be ready to start your dropshipping business.