On Mar. 18th, 2020, the Malaysian government announced Movement Control Order (MCO). MCO is a drastic step to contain the spread of Covid-19 infections by limiting the movement of the people. Due to this policy, hypostatic stores are not operational in the next few months.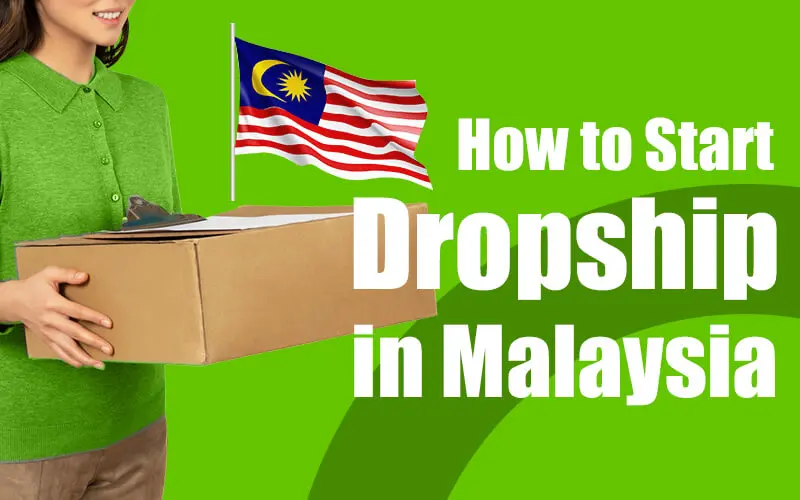 According to the data from the National Statistics of Malaysia, we can see a growth of fourfold in the online business model. As the country wages its fight to contain the Covid-19 pandemic, this trend sets to continue upward.
Everyone knows that there is no better time than now to bring their business online. But how do you start selling online? What can be profit businesses? We will study the dropshipping business model today. And learn how we can be successful with dropshipping in Malaysia.
Is it profitable to dropship in Malaysia? Short answer – yes! With more and more Malaysians shop online, it is no better time to grab this opportunity.
What is Dropshipping?
Dropshipping is a business model wherein the seller accepts customer orders but does not keep goods sold in stock. Dropshipping means that you do online marketing, make sales transactions and customer service. Your dropshipping agent does order fulfillment on your behalf.
Why should I dropship Malaysia?
Low entry cost
You don't need to buy a large quantity of stock beforehand and keep it in the warehouse. Find reliable suppliers, and they will handle the delivery for you from their warehouses.
Product choices
You can select thousands of items and list them in your store without much cost and risk.
Market positioning
You can upload dropshipping products you want to sell on platforms like Shopify or WooCommerce. You can also sell them on an established eCommerce platform like Lazada, Shopee or eBay.
Saving time
There is no need to manage the product order logistics. You can focus on selling online and let your reliable suppliers handle your orders. It saves a lot of time with drop-shipping.
Competitive prices
There are numerous dropship suppliers in Malaysia with different pricing levels. You can be competitive in pricing.
How can you start dropshipping business in Malaysia?
1. Create Your online store
At the beginning of dropship Malaysia, you need to create your online store. The first step is to compare and pick a suitable eCommerce platform. I have listed the features of some reliable and popular platforms below for your reference.
Lazada
Being one of the largest eCommerce platforms, Lazada is one place where you can dropship Malaysia easily. Start an online account with Lazada is free.
There is a commission deduction by Lazada for every sale you make. Lazada constantly runs promotions and advertisements so that there will be plenty of internet traffic to its site.
Shopee
A solid competitor for Lazada, Shopee is fast becoming the largest eCommerce platform in Southeast Asia. Just like Lazada, starting a seller account is free.
Shopee makes a commission deduction on every sale you make on its site. With its creative advertising and ease of back-end seller platform, you can start dropshipping here.
Shopify
When you consider how to dropship in Malaysia, you can create your eCommerce store. Shopify is a wise choice. A hosted platform, Shopify allows you to create your own branded store using their platform tools. This way, you can design your store and sell your product niche without any restrictions. Shopify is not free.
A basic plan starts from USD29 per month. But you are guaranteed to receive support if you have any problem with your site. There are plenty of third-party Shopify experts that can expedite the creation of your store too.
Having your own Shopify store also means you have less competition from other sellers. Your store visitors only will see your high quality products, so the chance of them buying from you is very high. You can source from any dropship supplier Malaysia and sell anything you like. You are not bound by rules and regulations sets by other eCommerce platforms like Lazada.
WooCommerce
If you want to start your store with minimal cost, then WooCommerce is a good choice. WooCommerce is an open-source plugin that you can install for free on your website. It's straightforward to start one. Just purchase a domain name of your choice and a web hosting plan. Then install WordPress Content Management Software on your site.
WordPress is free of charge. Some WebHost providers can preinstall it for you too. Then, from your WordPress administrator panel, you can download and install the WooCommerce plugin. Now, your website has eCommerce tools activated.
If you have a problem with your store, plenty of WooCommerce experts you can hire to help you. You can focus on selling products, online marketing like social media promotion and customer service.
There are plenty of dropship agents Malaysia that offer product and orders automation with WooCommerce. We will discuss this later in this article.
2. Choosing Your Product Niche
As an ecommerce business owner, you must define a niche or product range to sell online. It will help you narrow down your target market and your potential dropship supplier Malaysia.
Here are some ideas of product niches you may consider for your dropship store.
a) Hair Products
b) Home and Kitchen Products
c) Beauty Products
d) Pet Supplies
e) Home Decor
f) Baby Products
Are you ready to start your dropshipping store? There are different dropship agents Malaysia for your online business. Let's check it out.
3. Dropship Suppliers in Malaysia That Can Support You
EPROLO
To avoid all the product sourcing hassle, you can use a dropship sourcing agent like EPROLO. EPROLO is a forever-free platform for every shopkeeper. And it acts as your good partner. The purchasing department will source high quality products you want to sell online and staff double-check for quality assurance. EPROLO is responsible for packaging and shipping them to final customers on your behalf.
Setting warehouses in Shenzhen and Yiwu, China, so that the prices offered are wholesale prices. EPROLO has warehouses in the US and UK. The shipping time can be fast. Your customer orders can arrive within 6- 12 days by securing special delivery channels to various countries.
EPROLO has two apps and one plugin that can support Shopify or WooCommerce stores. With automation dropshipping, you can sync your store orders with EPROLO automatically. The warehouse stock will automatically be synced to your store.
You can also import products from AliExpress. Just a few clicks to copy and paste the product listing link into the import ALI PRODUCT function. ERPOLO will quote the product's pricing for you, and you can sell it immediately on your website. After getting wholesale prices, you have even wider pricing rights, which can be a perfect point to skyrocket sales and keep customers.
With English-speaking staff, so when you have a problem with your orders, they can help you quickly. They have a team on standby 24 hours every day.
At the time of this writing, they are running a branding program. You can create a custom brand or logo on your packaging easily with their services. This way, your customer will feel special when they buy goods from you, unlike others who get goods from general suppliers.
What's more, it is free to use their services. There is no subscription fee, so you can focus on selling products and promoting your business in Malaysia.
Taobao
Taobao is one of the most popular eCommerce in the world. Most new drop-shippers will usually come here to look for new products. The vast choices and cheap pricing make it attractive to make Taobao your supplier.
However, Taobao is designed to serve directly to consumers. It does not have the right tools to integrate with the dropship store. They are serving mainly the domestic China market, and the platform is only available in the Chinese language. Because of that, it makes product sourcing difficult. Moreover, Taobao has a strict policy in shipping products overseas.
AliExpress
AliExpress is an alternative of Taobao to English-speaking dropshippers. The platform is in the English language, and the prices are in US Dollars.
It is attractive to source your products here due to the low cost. But, do beware. Most products can take up to 60 days to arrive at your customers! As with Taobao, AliExpress does not have tools to integrate with your dropship store. You will need to add the product you have chosen to your store using the hard way – by copy and paste method.
There are plenty of fake brand goods listed on AliExpress. This is because AliExpress does not screen its sellers. So your customers might receive fakes and demand refunds. You will want to avoid these hassle as it will cost you money and time to deal with these problems.
CJ Dropshipping
Another alternative dropship supplier is CJ Dropshipping (CJ). Based in China, CJ offers services like EPROLO as well.
While CJ sources its products, independent suppliers can rent its warehouse storage. With its own and independent suppliers' products combined, CJ can offer a variety of product choices.
CJ uses a delivery channel called CJ Packets. Using CJ Packets, your orders can reach your customers within 6-15days. However, some products will need up to 40 days to arrive if that independent supplier supplies them.
Kumoten
If you are looking for a Malaysian dropship sourcing supplier, then you can try Kumoten. They are a Malaysian company and have a warehouse here. The products from the local warehouse can be shipped faster than other competitors. But the local products choices can be somewhat limited compared to other international suppliers. The local product delivery is 1-3 days. They too have access to overseas products, but those delivery times are longer, about 9-14 days.
Kumoten provides integration with an eCommerce platform like Shopee or Lazada. They also have support for the third-party plugin for EasyStore and Lelong.com. They do not support Shopify or WooCommerce at the moment.
Starting an account at Kumoten is not free. An Instant Account will cost you RM69 onwards, while a Prime account will cost you RM89 onwards. You will need to pay more to access more services and platform privileges.
KNT Marketing
Another Malaysian dropship supplier you can consider is KNT Marketing. They focus on baby-related products, and if you have chosen this product niche, this is an excellent place to start selling.
KNT Marketing does not impose any MOQ. However, it doesn't offer any stock level automation with your store. When a customer places an order with you, you have to order the product from KNT. KNT will then arrange the order fulfillment, including invoicing, packaging and shipping to customers on your behalf.
The advantage of using KNT as your supplier is that fast delivery as the warehouse is in Malaysia. However, you may always have to check the stock availability with KNT because of the lack of eCommerce automation tools.
A Fashion Story (AFS)
If your product niche is female fashion and jewelry, it is the supplier you would want to engage. Based in Malaysia as well, there is plenty of female clothing and accessories to choose from. Just like KNT, there are no automation tools that can integrate with your store. If you want to be the dropship agent, you will have to order the product from them, and they will handle the delivery for you.
Interestingly, AFS offers two different dropshipping programs. You can join immediately with their free plan. But if you want to enjoy extra benefits, enroll on their premium dropshipping program. For RM30/per, you will get a 20% discount from their listed price and 1% reward points. The premium dropship plan will be a better deal if you plan to be serious in this dropshipping business.
There you have it—a comprehensive guide on how to run profitable businesses in Malaysia through dropshipping.