One of the most popular profitable home business ideas is to dropship clothing. To start your dropshipping business with ease, a dependable dropshipping supplier is imperative.
Picking suitable dropshipping clothing suppliers helps ease order management. It saves your time in clothing product sourcing. No matter which retail clothing industry you engage in, the supplier will handle inventory and shipping. Be it unbranded clothing, men's or women's clothing, or private label clothing, a supplier will help you earn above-average profits via your clothing selling business.
If you're a rookie, it could be a challenge to sort out a satisfied dropshipping platform among the plethora of options. That's where this article comes in, walking you through the 11 best clothing dropshipping suppliers. We'll elaborate on their main advantages for selling clothing online without bias.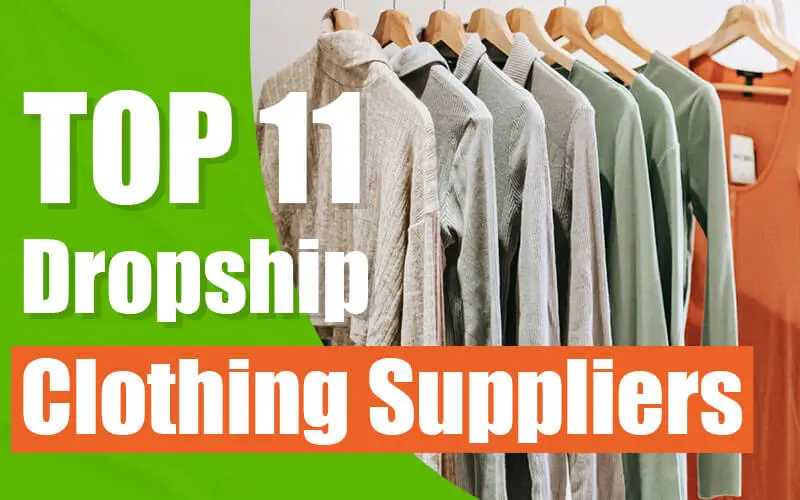 11 Best Dropshipping Clothing Suppliers
Browse this list of dropshipping suppliers you can count on to start your trip to sell clothing online.
EPROLO
Let's kick off with EPROLO, which stands out from other dropshipping clothing suppliers for its convenience and efficiency. It's shipped with a straightforward dropping platform that can be integrated directly with Shopify, WooCommerce, etc. It sells T-shirts, Hoodies, Sweatshirt, and other clothing products at affordable prices for high-profit margins. Any clothing dropshipper can quickly seek products, follow up the orders, and handle shipping – all without leaving your office.
One more attractive benefit this standalone clothing dropshipping supplier can offer is its Branding Project. With it, you can dropship your clothing brand with custom label, hangtag, packing bag, etc.
Want to start your own clothing brand business in EPROLO now? Get free Black Friday & Cyber Monday coupon code "BFCM20%" to enjoy a 20% discount when buying the branding membership plan!
How do you dropship clothes with your own brands? EPROLO breaks the process into four simple steps:
Sign up EPROLO Branding Project and log in
Choose and activate a Membership Plan
Confirm the design diagrams offered by EPROLO
Pay and complete the orders with a custom logo
Here's a video tutorial for dropshipper to sell private label clothing.
Tasha Apparel
Tasha Apparel is a USA-based dropshipping supplier serving clothes for girls and women. It prides itself on providing clothes that cater to the latest styles and fashion trends.
If your clothing store's main focus is the wholesale wear market, then this supplier is what you're looking for. It gives all the online clothing sellers 50% – 80% wholesale bulk discounts. It offers a range of apparel types like tops, pants, jeans, skirts, lingerie, and more. For shipping, it guarantees to deliver all the ordered products on time after quality inspection.
DropCommerce
Launched in 2018, DropCommerce supplies a variety of cheap goods to sell from overseas and clothing is one of them. It has diverse clothing categories, which include but not limited to men's clothing, women's wear, kids' apparel, etc.
As stated in its portfolio to dropship clothing, suppliers are entirely from North American. Dropshipper can source all the clothing products from real business brands across the United States and Canada. You can get an ideal dropshipping profit margin and pricing.
Besides, it ships the clothing from North America with the fast USA delivery service.
Contrado
Contrado promises to dropship clothing and other custom-tailored products and deliver orders within 2 – 7 days. This dropshipping service provider values highly in product quality. It aims to sell the finest handcrafted clothing products like dresses, skirts, leggings, plus-size clothing, trousers, coats, swimwear, loungewear, or sportswear. All the clothes are designed for men, women, and kids.
Based on its portfolio, the sale prices and the profit margin are both under your control. The dropshipping supplier also claims that every user can make at least 20% profit from each order.
My Online Fashion Store
My Online Fashion Store is another dropshipping supplier headquartered in the USA for clothing selling.
This company lays out two drop shipping programs. With either of them, any dropshipper can choose what kind of clothing they wish to sell in the store. You can also get access to the wholesale price list and achieve the updated stock for clothing and every week. It also provides a custom product packaging service. You can also benefit from its quick delivery within 5-7 business days, free returns, and 7/ 24 customer service.
BrandsGateway
Another reliable option to start your clothing business is BrandsGateway. It's noted as an automated drop shipping company for clothes from luxury brands.
It specializes in providing numerous luxury clothing from world-class brands and designers at a fair price. Every dropshipper can enjoy up to a 90% discount on the goods. Every week, it guarantees to add up to 250 new products. You can check them out directly on the platform and upload the satisfied ones to your store.
No minimum order amount is required for any dropshipping orders. As long as the product is ordered, this dropshipping supplier offers worldwide delivery within 5 days. The shipping cost of each order is at least $17.
Immediate Apparel
Immediate Apparel, a B2B clothing distributor, also delivers dropshipping services for clothing dropshippers.
It has a huge stock of clothing products, containing over 15,000 apparel styles within 13 categories. This supplier gives you the freedom to choose what you'd like to drop ship: dresses, jackets, pants, skirts, sweaters, and more. It also devotes itself to releasing new, well-designed, high-quality clothing regularly. All the clothing could fit any occasion such as casual and formal wear and any season.
This supplier provides precise images and attractive product descriptions for each clothing item. All of them can be used in your clothing dropping store to appeal to more customers and scale your sales.
ModeShe
As an online clothing distributor, ModeShe's best-known virtue is its leading women's streetwear fashion. That's also true for its program to drop ship women's clothing. It offers trended street fitness wear, dress, jeans, shorts, etc. If your target audience is women aged from 18 to 35 who love trended streetwear, you can consider this platform.
ModeShe's dropshipping platform has integrated directly with Shopify. If you've started your clothing business with Shopify or you plan to do that, you can sync your store information to there. This makes it a breeze to manage product lists and place orders.
BelleWholesale
Another dropshipping supplier for women's clothing dropshippers is BelleWholesale. It also has a few traits that help it to stand out.
It has a hot-sale items recommended section for dropshippers to source the latest and trended clothing products. Same as Immediate Apparel, the clothes are all shown with appealing images and product descriptions. You can directly sync and utilize them in your store. Once an order is placed, you'll get an extra 5% discount. When total sales reach $120, there's another $10 off. As stated, each dropshipping order is shipped with priority direct mail delivery. It requires no extra charge if available.
Gertex
For those longing for hosiery clothing products to dropship, Gertex just has everything you need. Whether you intend to dropship custom clothing or branded clothing, it can meet all your needs.
With its dedicated clothing designer team, you can expect a frequent update for all clothing categories. This involves socks, winter wear, headwear, footwear, baby clothing, and more in textures, color, prints, pattern, and so on. This Canadian dropshipping supplier also works with famous clothing brands. It supplies dropshipping services by selling clothing from Great Northern, Snugabye, Densley & Co, etc.
CCWholesaleClothing
The last listed dropshipping program for online clothing store owners is CCWholesaleClothing. Its easy-to-use dropshipping platform enables you to buy clothing in bulk or dropship one item at a time. You can access over 3500 clothing items in its portfolio of products along with weekly updated new ones. Better still, you can order anything you want to dropship at a wholesale price.
This company stores all its clothing collections in a warehouse in Los Angeles, U.S.A. When you submit an order, it'll process the order in 1-3 days. The ordered item will be shipped from the warehouse straightly or the suppliers headquartered in Los Angeles.
Q1: Can you do dropshipping with clothes?
You can, as long as you have an online clothing store. With that, all that's left to do is to find a dropshipping supplier. A good dropshipping platform will handle everything. For example, it helps you do clothing products sourcing. It enables you to sync the product information to your store. It completes the order shipping all on its own.
All in all, starting a dropshipping business is a hands-off way to make money at home. It only requires you to upload the clothing products and submit the order. Then the dropshipping service provider will take care of the rest.
Q2: Is dropshipping clothing profitable?
Absolutely it is. As reported, the global dropshipping market revenue has been projected to reach nearly $2.5 trillion worldwide in 2021. The e-commerce clothing & fashion industry has accounted for 46 percent. Therefore, dropshipping is still profitable.
To earn money with dropshipping, you'll need to make a reasonable and workable clothing business plan. After finding the right clothing niche topic, you'll need to implement the dropshipping plan right with dropshipping suppliers. If all goes well, a build-from-scratch online clothing store can go from nothing to earning $1,000, $2,000, or even $5,000 per month in a year. This could be higher if you do a private label clothing sale.
Q3: Is there a free dropshipping supplier for clothing?
Yes, EPROLO should be your go-to dropshipping supplier if you have a strict budget. It gives you the freedom to connect your clothing store to the platform. You can search the clothes you're after from its built-in product portfolio. Then, you just need to click one button to import and upload the selected products to your store. It won't charge you a cent until you place an order.
Read also: How to start dropshipping for free?
It offers all the clothing products, as well as other items, at low wholesale prices. And it's up to you to control the sale price and set up the profit margin.
For dropshippers who want to build their clothing brands, it's so nice to issue two branding membership plans at a fair price. One is lifetime Junior Membership costs $19.90. The other is Senior Membership charging $99.00 per year. The good news is that EPROLO gives you a 20% discount to both membership plans to start your own clothing brand business. Just go to EPROLO and enter Black Friday & Cyber Monday coupon code "BFCM20%" to get that!